Give something away for free
Well known for designing the Royal Danish Playhouse in Copenhagen and numerous award-winning, low-cost housing complexes, Lundgaard & Tranberg Arkitekter's co-founder, Lene Tranberg, presented the Futuna Lecture Series in three New Zealand centres earlier this year. She was interviewed by Justine Harvey.
Justine Harvey: Why become an architect?
Lene Tranberg: I come from a family that is very interested in the process of making. Both my parents were teachers and instilled in us a love of making things – ceramics, woodworking, painting and drawing – so I grew up in a family where we like to do things.
JH: How did architecture capture your imagination?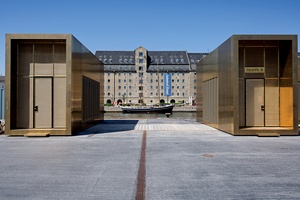 LT: In my country, we have a wonderful tradition of the public room. After the Second World War, we initiated a welfare programme that included a structure of very good social housing and schools – and all those things that knit society together in a decent way. For me, that's the starting point in architecture – that we have a strong feeling of sharing and generosity in the way we treat the planet and the things that surround us, as well as the things we create.
All of this should be connected to the social aspect – to give society an imprint of integration. I think architecture has an enormous impact on that; you can actually move things. It was very important to our practice to have those shared values based on humanity and sustainability and building technologies. We produced a lot of social housing in relation to planning during the first 20 years of our practice.
JH: Is it relatively easy to produce that type of work in Denmark?
LT: We have a long tradition of public competitions at home but it depends on what the values are in the architecture. It's not interesting as a design object alone; it should be connected to something. We have to bring stories to those generations to come. If you look around at the city as a whole, it can be very confusing what the values really are but, if you dig into it, then you can see more. It's like coming here [to New Zealand], for example; if you look around, there are a lot of public spaces that are really nice so, I think that, inherently, we are all longing for that connectivity with society. It's really important for architects to take that on board.
JH: Connectivity is a crucial element that can be lost easily when designs become bogged down in bureaucracy and planning processes.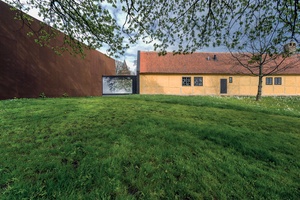 LT: Exactly but, if you're bringing the good stories in, people can't deny it and that's my point. So, if you really have something to give, then you can convince everybody that it's a good idea and not just because it's a good design that comes with the inherent values. It's what becomes wrapped within the design that is important for me.
JH: I think 'the public' is underestimated. The world is changing to the point where the public can have more power and is starting to have more influence over their built environments.
LT: That comes out of that feeling of not being connected to society. There is a big lack, so people raise that power because, if you look around, you can be confused as to 'what is our culture?' and 'what are our shared values?'
To bring that back to a project we designed: we had a commission for Nordic Bank in Copenhagen and we discussed exactly these things. The request was for a typical design but we said, "What if we connect this to a new recreational structure that would open up a connection to the southern area of Copenhagen through a very nice landscape?"
This was needed because there was no natural environment in that part of the city; thus, we created a pathway that could integrate further developments over time. The good thing was that, when we opened this project on the first day, it was announced as the best skating park in Copenhagen and now the people in the bank have a good relationship with the skaters and are proud of what they have achieved because they can see that it works.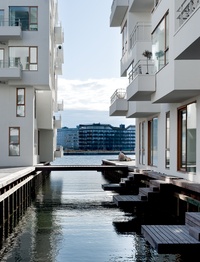 JH: Your social and low-cost housing is interesting and both of these are topical subjects in New Zealand right now. We've tended to build things as cheaply as possible here and not necessarily with an eye to great design, whereas in Copenhagen you have a population that understands and appreciates design.
LT: That's because we have a long history of design being integrated into our society.
JH: Where did that come from and how can we create that sensibility here in New Zealand?
LT: It came from the understanding that, to make an existence, you had to make tools to craft the things you needed and we took that craft and turned it into Arts and Crafts. A lot of that knowledge was lost through industrialisation but there is a focus now – particularly with younger designers – to look back to those earlier days and to combine craftsmanship with industrial production.
JH: Tell us about your Tietgen Dormitory project?
LT: That's a very interesting project because it was only through a donation by the Nordea Denmark Fund that the building was able to be built. The site is in a new development area called Ørestad, which had a very consistent, linear building structure. We were influenced by the Hakka people of south-eastern Fujian, China, and their circular communal houses known as tulou, so we created a low-rise structure that engendered a high level of community.
JH: Your practice has won many awards for public buildings; if you had to pick one to focus on, which would you choose?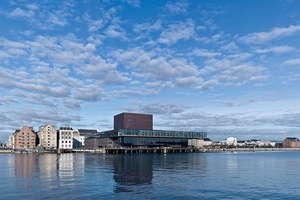 LT: It's difficult because every building has its own merits but it's all about how it relates and responds to the context and to the idea of giving something back; when you take something away to create a new structure, you should always give more back. I think that is something that all of our buildings achieve.
The Royal Danish Playhouse, for example, has a foyer that is totally integrated with a new promenade that is connected to the city. By going there, you are actually aware of what's happening in the theatre; maybe you'll go in and experience a performance in the foyer, and these are often free, so you remove that perception of the theatre being a monument that sits separate from the general public. You reinstate it as being integrated with our lives in an ever-changing fabric.
JH: We are building numerous apartment complexes here at the moment but, unfortunately, there are not many good-quality ones at the lower end of the cost spectrum.
LT: Don't you think you can spend the same amount of money doing nice things that could last and make people happy? It's not a contradiction. If we are being a little more intelligent in how we do things now, that will have an impact on how we further society in generations to come. It will tell them that this is what we were sharing during this period of 50 to 100 years and it was not about doing only what was convenient but it also had substance and told a story about society.