Auckland's East Quadrant finished office building by Dominion Constructors creates a vibrant eastern gateway to the city.
A mix of Chinese granite and stainless steel, East Quadrant's façade is a striking feature of what is a unique building comprising everything from its own weather station to riveted railway relics discovered during excavations.
The $31 million project, incorporating 12,318 square meters of commercial and retail space, is targeting a five star green design and built rating.
Progressive Building editor, Clare Chapman, talks to project manager Brendan Lindsey about the recently completed 18-month construction of this distinctive eight-storey building.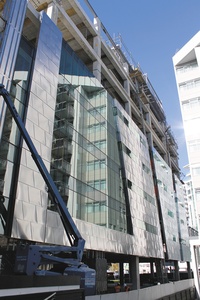 Being a redeveloped site, were there any issues during the excavation?
The site had previously been used as a car park, so it was basically just a flat concrete slab covering up old buildings' foundations. There was once a railway building there too, which we know from historic photos we have dating back to the 1930s. We dug out the old column bases from this building, and being so old, they were manually riveted rather than welded. They are a tribute the skill levels of that era so we kept them, painted them, and turned them into external seats to keep the heritage of the site alive. We also found evidence it was an old tip site, probably very early last century. Another interesting find we came across were boulders that had probably been dumped to form a sea wall at some stage. We had some bore holes drilled early on to try and assess what levels of contamination there were across the site. We found one particular hot spot, which had very high levels of contaminants including arsenic. Working with EnviroWaste and using their specialist analysing equipment we separated the highly contaminated areas from the lower levels of contamination and disposed of each type at the appropriate disposal site.
Did you face any challenges during the piling?
It was quite challenging as it was in the middle of winter, which is never ideal. Because of the very poor, soft ground conditions, it was very challenging moving the piling rigs around the site. We had to bring in additional hard fill to create access roads to get around the site. Also the boulders and old foundations were obstructions that had to be overcome.
The build was completed in 18 months. How did you ensure the tight timeframe was adhered to?
The rain screens and façade panels were all prefabricated. The rest of the stainless steel cladding was measured on site then fabricated in the Thermosash workshop, so it basically clipped into position once it was installed. Prefabricating components off site reduces the amount of construction time on site, improves quality, and lowers the chance of accidents. It also takes away the weather element. We also went with Speedwall, which is a profile metal that is filled with lightweight concrete, for stair and lift shaft walls. The benefit of this product over traditional gypsum construction is we could start building the critical core walls before the building was weather tight. Speedwall is weather resistant so it doesn't matter if it gets wet. We didn't have concrete core walls so Speedwall enabled us to go ahead with stair walls and lift shaft walls well ahead of what we could have with conventional Drywall. The Speedwall was also prefabricated off site so went up quickly. The stairs themselves were made of precast concrete.
Were there any changes to the design in the building phase?
AECOM, one of the tenants, wanted an internal stair so they could move within their three floors without having to use the lifts; the idea being it improves communication within the company, encouraging people to walk through the building and talk, rather than email. So we had to accommodate this in the structure. It meant modifying the structural design with as little disruption to precast production as possible. We omitted some hollow core units and tweaked the beams and layouts to create voids to get a big internal staircase between the three floors.
How did the space constraints of the site affect the build?
It is a very constrained space. We were building to the boundary on all four sides so there was very little lay down area available to us. It was a matter of planning all deliveries very carefully, so we were just bringing in everything only when we needed it. We used mast climbers for access to the north elevation where most of the on site assembly was required as opposed to fully scaffolding it. We had three platforms operating off masts, which meant we could have three different trades working on the same elevation all at once. And because the façade panels and rain screens for the other elevations were prefabricated off site, it greatly reduced the amount of scaffold access that we needed.
What was involved in the creation of the façade?
The building went through the urban planning department of the council, and the brief was that it was to be a gateway building so it had to be quite unique, have features that make it stand out, and have more architectural merit than most standard buildings. The façade was designed to reflect the origins of the site. Although it is reclaimed land now, it was once ocean, in pre-European times. So the stainless steel is symbolic of the shimmering ocean, and the blue and green fins represent the waters of the Waitemata. Its design creates quite an impact, with lots of raking angles. We tendered the façade package, and went with Thermosash because they had a track record of delivering complicated façades, and this one wasn't typical. It's a very complex design – the drafting time just for the façade took three full time staff 7000 hours to complete – it required 2910 stainless steel cladding tiles, and almost 2000 production drawings. The selection of materials also creates a visual impact, including the stainless steel, which was assembled to look distressed so it creates a lot of movement, as well as the granite on the exterior of the building which is also a striking feature. There's a progression of coloured fins going around the southern curtainwall panels; they're made with laminated glass and the colours are created with different colour combinations of two pieces of glass. The curtainwalls required 652 specifically designed high-performance panels with low-E insulated glass units with the vision area requiring a 32.38mm thickness to meet thermal and acoustic specifications.
The building design has been given a Green Star rating of five, and you are aiming for a five star built rating as well. What are some of the sustainable features incorporated in the building? When going for a design rating you think of every point you can actually get, but when it comes to the built rating you've got to decide which ones you are finally going to go for, and actually build, because you've got to balance up the benefit with the cost. Obviously you want to get the five star rating and you want to follow green building principles, but at the same time you've got to be mindful of cost for the client. So it's a combination of creating a building that meets the client's functional requirements and budget, and achieving the sustainability requirements for the rating as well. It's a fine balance. We are targeting some points for innovation including the transport subsidy, which is basically an incentive for the tenants to use public transport. AECOM (a tenant) were given a subsidy to spend on their staff using alternative methods to get to and from the office; there are also 72 bike racks available to tenants. We're using restricted-flow faucets, shower heads, washbasins, urinals, and toilets, so it is also low in water consumption. And there is a weather station on site linked to the irrigation system so it doesn't turn on when it's raining. The carbon dioxide emission is lower than in a standard building; we reduce the amount of energy it takes to run the air-conditioning systems, for example, there are carbon dioxide sensors in the meeting rooms linked to ventilation and air-conditioning which stops the systems kicking in until the rooms are occupied to a pre-set level. Sixty per cent of the steel used has a post-consumer recycled content, and the Speedwall and structural steel has a recycled content as well.