The pioneering design philosophy and achievements of the Danish engineer Ove Nyquist Arup (1895-1988) are being celebrated in an exhibition in London, where he spent his professional career. Colin Martin explored Engineering the World: Ove Arup and the Philosophy of Total Design.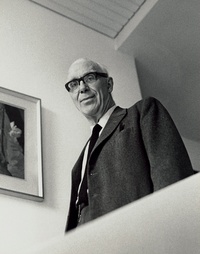 Ove Arup's ideas about design were formulated in the 1920s and 1930s, when Modernists believed that design and technology could improve society. He met and corresponded with architects, including Walter Gropius and Le Corbusier, and collaborated with experimental architectural practices, including Berthold Lubetkin's Tecton Group.
The technical virtuosity of their first joint project, London Zoo's Penguin Pool (1933/1934), was critically acclaimed. Its playful design of interlocked, spiralling ramps constructed from thin reinforced concrete was dependent on a structural analysis based on complex mathematical calculations. It established Arup's reputation as a consulting engineer.
Similar collaborations shaped Arup's views on how buildings should be constructed. A founding principle of his firm, established in 1938, was that design should be informed by a knowledge of construction methods.
"Total Design means to join all the professions right from the start," he wrote. "The architect should be part engineer and the engineer should be part architect in order to achieve a fruitful collaboration."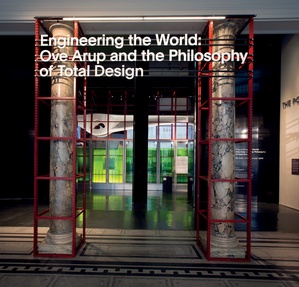 That wasn't the case with Jørn Utzon's original concept for the dramatic contoured roof of his Sydney Opera House (1957–1973), which he designed without any engineering consultations. Arup's structural engineers took six years to resolve how the roof's geometrically undefined curves could be built, with the turning point being their identification of a geometrically elegant 'spherical solution'.
In doing so, Arup pioneered the use of computers in complex engineering calculations required to solve structural problems and revolutionised how architects and engineers worked together, forever locking them into creative partnerships of equals.
"Our point of view is in favour of teamwork rather than stardom," he wrote. "The data, the knowledge required, can be found not in one person but in a number of persons." Without Arup, the abstract forms of buildings designed by 21st-century architects, including Frank Gehry and Zaha Hadid, would have been unrealisable.
In the late 1960s, Arup reduced his direct involvement in the firm's projects and focused on ensuring its future by nurturing a new generation of engineers who shared his design philosophy. In collaboration with an emerging generation of architects, they developed new approaches to construction, creating a new High-Tech style in which the engineering of a building defines its appearance.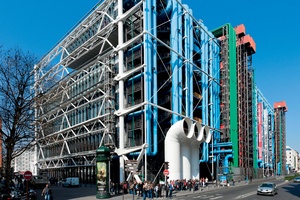 Arup's engineers worked with architects Renzo Piano and Richard Rogers from the beginning, to define the style of the Centre Pompidou (1971–1977). The building's external structural frame (notably its gerberette beams), service pipes and ducts – all of which permit its vast, flexible interior spaces – became its defining features.
"With new materials, new technologies, jobs are getting larger and more complex and design is split between dozens of other professions, specialists, experts, manufacturers and contractors," wrote Arup.
Even he would be amazed by his legacy, a firm numbering 13,000 employees working in 90 offices worldwide, whose contemporary projects demonstrate how engineers are instrumental in designing and building the 21st-century world. 
The Engineering the World: Ove Arup and the Philosophy of Total Design exhibition can be seen at The Victoria and Albert Museum in London until 6 November 2016.