Family house by Dorrington Architects
A family house by Sam Atcheson in the Auckland suburb of Point Chevalier matches form, function and future proofing.
A full section is a rare thing in Auckland. One on the water's edge is even rarer. Rarest of all is owning one and building a modest sized house on it, well back from the road's edge. That is what Sam Atcheson of Dorrington Architects & Associate's clients did in the Auckland suburb of Point Chevalier.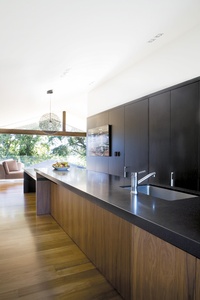 The site has views of the harbour framed by huge, established trees. The plan is configured as two separate box shapes with a corridor connecting them. This created kids spaces and grown up spaces and the opportunity to be flexible in the future. The house is unimposing from the street; but the long path from the road allows time to take in the detailing. The ground floor is concrete, with the first floor in black timber. The red front door is a warm, inviting entry. On the south-east side is a garage door, cleverly blended with materials and palette. It is a single garage happily at odds with car culture, and currently used for storage of everything but the car.
Inside, a long concrete gallery runs from the entry hall to the second part of the house, the kids area. Tall vertical windows the gallery create a light, patterned space with glimpsed views to a protected outdoor living are on the south-west side. A study, bathroom and bedroom running off the entry are unobtrusive, with concrete sliding doors that blend seamlessly with the look and feel of the entryway and gallery space beyond. Upstairs is the main living area and kitchen. The stairs open into the room and lead you straight towards a large, sheltered deck. A galley kitchen has built-in work spaces that can be concealed by closing cupboard doors. A dining table that runs off the end of the work bench looks to be but isn't, attached. This can be moved into the living space or outside when needed.
One of the cabinet doors in the kitchen is a secret door to the master bedroom and en suite. I would not have seen it without the help of my tour guide. In keeping with the rest of the house this space is carefully finished and modestly proportioned. In the second building, which sits close to the water's edge at the northern end of the site, there is another informal living room. Full height windows and sliding doors show off a sheltered view of the full, green garden and the water beyond. With two bedrooms, a bathroom and separate external access, the space can be easily repurposed for guests or as a rental apartment at a later date.
In the meantime the house functions perfectly with the family's lifestyle, without skimping on form.