In conversation: On the road
Three young architecture professionals recently returned from career-building overseas excursions. We talked to them about their experiences and the lessons gathered along the way.
Sarah Rothwell
Marketing Communications Manager, Jasmax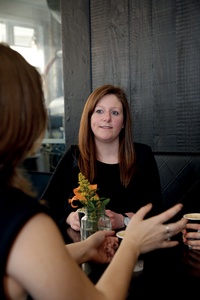 Awarded: The Ivan Mercep Award, a $5,000 grant and a week of paid exploration time to pursue a personal development opportunity.
Cities: San Francisco, New York and Chicago
Visited: Perkins + Will, Knowledge Architecture Conference, San Francisco. James Corner Field Operations, Array Architects (healthcare specialists), Bloomberg and Interior Architects, New York. Sasaki, Chicago.
Areas of interest: "There was an element of architectural interior tours and personal growth and development too, but I wanted to learn about the challenges others had. The Knowledge Architecture Conference is the global conference of the developer of our intranet, but they are architects who have developed knowledge-sharing software for architects and designers. Sasaki are the architects who have done all the urban planning and landscape development for converting the riverfront in Chicago. It's a massive project so it was incredibly interesting."
Arnika Blount
Architectural Graduate, Jasmax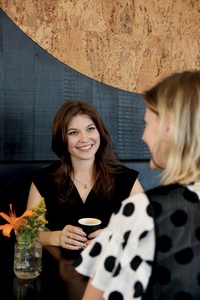 Awarded: The Ivan Mercep Award, a $5,000 grant and a week of paid exploration time to pursue a personal development opportunity.
Cities: Copenhagen and Aarhus
Visited: AA_Aarhus Summer School, held at Aarhus University, Denmark.
Areas of interest: "The Architectural Association and Aarhus University run workshops to investigate the applications of computational tools and design at different levels of scale, from full buildings through to the designed object. The workshop helped to clarify my thinking; I believe there's a lot of possibility there.
At Jasmax I fill a more traditional project delivery role, but I've seen some really amazing work being done in the digital modelling universe. I have also seen a real disjunct between what was being visualised at a conceptual level at university and what is actually being built. I wanted the opportunity to look at the software and the projects and ask the question: how easy, how applicable are these tools?"
Keri-Ann Cunliffe
Junior Interior Designer, Warren and Mahoney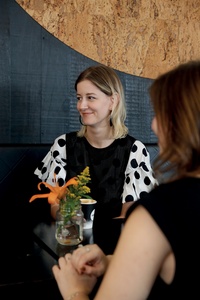 Awarded: "DIAlogue on Tour" scholarship, an expedition which took five designers from Australia and New Zealand to Europe.
Cities: London and Stockholm
Visited: Tom Dixon's research and design studio, Universal Design Studios, David Collins, and Mentsen, in London. Form Us With Love, furniture design company; Claesson Koivisto Rune, architecture and interiors practice; Clara von Zweigbergk and Shane Schneck, who designed for Hay, in Stockholm.
Areas of interest: "There was a real variety. It wasn't just architecture and interiors: it was also furniture. It was all about having a dialogue, getting inside some of these fantastic practices, but also having conversations about how they approach business design, thinking, and just covering a wide range of topics."
***
For these three architectural professionals, the opportunity to see how things are done overseas was hugely beneficial. Each of them came away with some key ideas to take back to their workplaces, especially around how technology was being used and how cities were being planned.
On visiting David Collins' offices in London, Cunliffe was struck by the value in design: "They built a show home and their mantra behind this was that it had to be 'Instagram-able'. It had to be approachable for social media, clean and perfect and really sellable. They generated a huge amount of interest and ended up building another four different typologies of this showroom; that gave them license to do things like design couches for the different showrooms and eventually to develop a furniture range."
Cunliffe also noticed that each of the studios she visited had dedicated model-making workshops and staff, with some keeping libraries of models. "That trickled back into how they valued design. Their design processes are very iterative, slow and considered, and it was being done away from the computer, which is just so refreshing. I'm definitely looking forward to trying to do that."
Blount was interested in how model-making was being taken to new extremes with the use of 3D printing. "Visualisation is a buzzword in the industry at the moment, and visualisation software and 3D printing are things that our design and technology teams are making more available to the practice. People do tend to think of 3D printing as something to be produced once the designing is done, whereas there is this whole other use – prototyping, the process of model generation and iteration, which I think can get lost."
Rothwell noticed the difference in communication between local firms and overseas ones, which tend to have a more rigid hierarchy. "It's a strength of New Zealand culture that you can pick up the phone and get to the top of a business. We should be prioritising this and making sure we keep it that way… it comes back full circle to openness and retaining a sharing culture across the design industry."
Blount visited some design shops in Denmark on her travels and found it was not too dissimilar to walking into local stores, which shows the widespread popularity of Scandinavian wares. She also appreciated some of the town planning in places like Copenhagen.
"Along the canals there is this subtle paving work where the texture shifts and suddenly all the bicycles are going exactly where you want them to go, based on the way the topography is being managed. It's an excellent reminder that you can do a lot with a little if you think about it very carefully and respond in kind."
Cunliffe was taken by the contrasts evident in the streets of London. "There is this traditional tapestry coming in, but then it also breaks away from that and becomes quite modern. It was really textured in terms of pattern and colour, with a kind of industrial eclecticism next to the traditional aspects."
Rothwell noticed the different personalities of the American cities she visited. She observed the impact of the history of fires and earthquakes in San Francisco, and saw a 'rough around the edges' version of London in New York. She was impressed by a short stay in Chicago, which she says felt like a true city. "It was really solid and the buildings were very industrial, and everything was very hard surface – marble but with that industrial warmth."
Yet, for these talented women, design ideas and planning pointers also came via slightly more fun, anecdotal observations. Rothwell: "I went to a baseball game and we got the cheap seats. Just behind the scoreboard opposite us there were these old townhouses and they'd converted their rooftops into stadium seating, so you could see over into the stadium. Those seats were more expensive and sold out – I think it was because you could take your own beer!".