Good news in the new year for architects and designers across the country: New Zealand's largest online employment marketplace, SEEK, has revealed architecture and design and property-related industries as the front runners for growth in 2016. 
The prediction is based on analysis of growth in SEEK's national job vacancies for the last quarter of 2015, compared with the last quarter of 2014. The A&D industry was up 44 per cent, followed by real estate and property, up by 29 per cent.
From month to month SEEK's new job ads have reflected the strength of the Auckland market, and November 2015 was no different, with design and architecture jobs increasing by an incredible 114 per cent from the same time in 2014.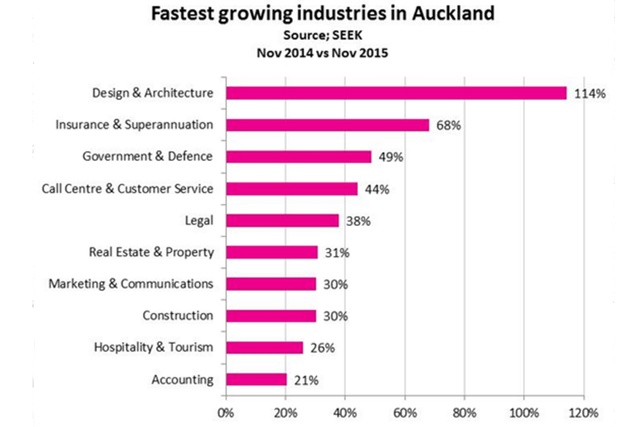 Commenting on the situation in Christchurch, Janet Faulding, general manager of SEEK New Zealand said, "SEEK saw unprecedented demand for engineers, project managers and construction workers through 2014 and into early 2015 to support the rebuild. However with most of the essential, straightforward, or lower-value construction repair work completed, attention now turns to the bigger and more complicated projects, which are arguably more subject to oversight by local council and private insurers."
Broadly speaking, the employment opportunities across New Zealand continue to be driven by the strength of the housing market, with related industries showing year on year growth in new job ads.