Young New Zealand artist Jillian Whitmore explores the intersection between art and architecture with her translucent watercolours. Whitmore will be exhibiting a solo exhibition titled Juncture at the Fine Arts Whanganui Gallery, opening Friday 26 August.
Here, she speaks with Amelia Melbourne-Hayward about her upcoming exhibition, spatial theory and the ideas of temporality within her beautiful works.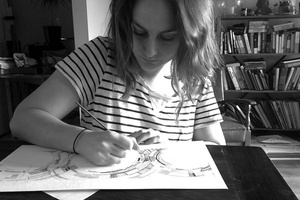 Amelia Melbourne-Hayward: What aspects of the built environment most inspire your art?
Jillian Whitmore: When I first moved to Wellington I was drawn to the colours and patterns of the urban environment, prior to that I was familiar with looking up and painting skies full of clouds and tree lines. In Wellington I was struck by the reflections of light, colour and pattern within the many intricate sections of modern tall glass buildings.
Wellington is a very busy and constantly evolving city, there are always new developments and new architecture being built, and I enjoy watching these buildings unfold on daily commutes, seeing the structural beams being lowered into position and the scaffolding being installed around them. The most inspiring part of the built environment in urban cities is that it moves very quickly and transforms dramatically every day.
AMH: You state that you have a large interest in spatial theory – where do you think this came from? What early or formative experiences prompted this?
JW: I have always had a strong connection to the space around me and have always been curious of how these spaces were designed and by whom these spaces were used. In an urban environment with a larger population, one space becomes many kinds of space for different people. I was intrigued by standing in one spot – usually a transitory space: a bus stop or a train station. I saw people travelling from work or school, people busking, people cleaning the floors, people working at the ticket booths, people sleeping on benches; this one space was used for so many purposes yet it was still one space.
My first encounter with spatial theory was with French anthropologist Marc Auge's work. He discusses the super-modernity of our urban societies and the 'non-places' we inhabit everyday but take little notice of. 
I later became influenced by Michel Foucault's 'Heterotopia', architect Lebbeus Woods' 'New Spaces' and urban sociologist Ray Oldenberg's 'Third Spaces'. These all had intriguing definitions and ideas of space within the urban environment, and they encouraged me to think deeper about the space we inhabit, how we interact with it and what it might one day become. My art practice fell deeper into a world of spatial theory and I discovered a passion for architecture and futurism.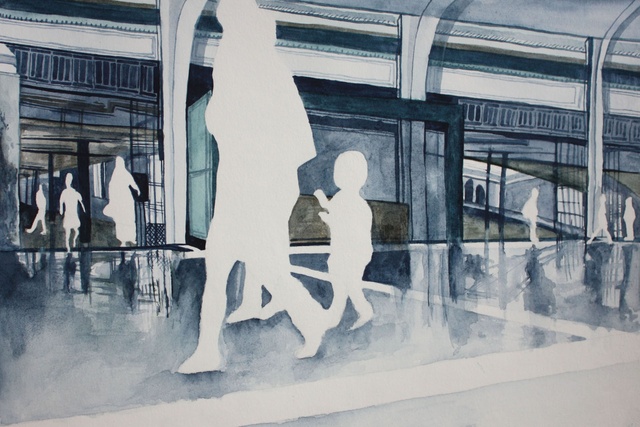 AMH: The concept of change and temporality is a driver in your designs. How do you convey this through your watercolours?
JW: In my earlier installation works (see 2014 works), I crafted flat watercolour paintings into three-dimensional shapes and objects, scattered them across a room and observed how people responded to a type of 'new space'. By entering the work, people discovered that they felt uneasy, that their presence would disrupt the built space, and that if a breeze came through, it would change the space and transform it, causing the person to navigate through the work and find a different route out.
Permanence is increasingly becoming a concept of the past, especially in our contemporary built environment – objects and infrastructure are not meant to last. The relationships we have with places and spaces are so fleeting and temporary, this concept transforms into the physical fleeting environment. Using this concept of temporality to drive my organic architectural designs, I propose a future, more fluid city that represents the reality of these ungraspable spaces.
My most recent watercolour works (see 2016 works) are explorations of potential future built environments. I use layers and geometric shapes to express the movement and temporary nature that the space would have once built. The idea is that the built environment will change and transform to fit the needs of the people who are using it at any given time, to create a deeper relationship with our built environment and allow interaction in completely new ways.
My works describe a solution to the temporary nature of our current environment on an extremely futuristic and hypothetical level. In this future society we would demand our infrastructure to transform with us as humans. I imagine the designs are made of a type of organic material that can change with us. This would cut down the cost and waste of deconstructing the solid built environment and replace it with one that has the technology and freedom to change its physical appearance and spaces with the high demand of our needs.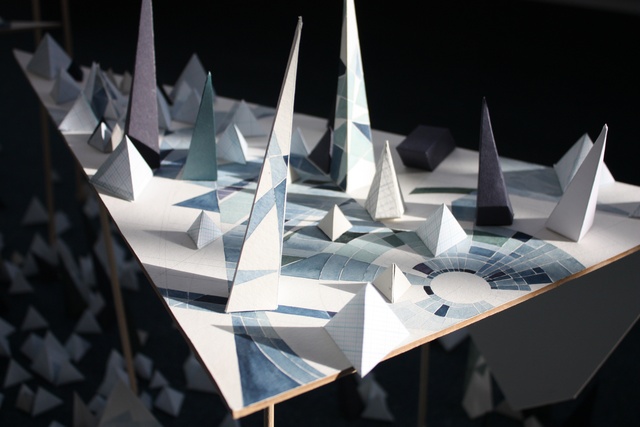 AMH: Do you think that architecture is art? 
JW: In my opinion, and as a generalised statement, I believe that yes, architecture is art, but it's complicated. I see the world through a very intense creative lens. I see every form of creativity as art no matter what the medium, process or method, and I strongly believe that everyone is an artist, no matter what level of creativity you have. I see certain architecture as a highly creative discipline that very much behaves like art.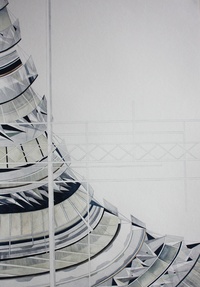 You only need to view the works of master architects like Zaha Hadid or Frank Gehry to see that their architecture is most obviously a form of art. There is a scale, like anything in this world, and some architecture is obviously designed to be extremely creative, stand out and make a statement – which is what art is all about to me. These kinds of architecture are trying to communicate to the public using the same language as art.
But to say that all kinds of architecture is art is a complex statement. When we start to consider everyone's ideas and perceptions of architecture it becomes a very difficult argument. There is no right or wrong answer, just ideas that we can share with each other to better understand how each of us see the world.
I feel that this line that is placed between creative disciplines is a barrier and can sometimes hold back exciting collaborations and interdisciplinary opportunities. I am in no way suggesting that my works be seen as functioning "architecture", if anything, I am purely hoping to inspire architects as they have inspired me.
I can only try to influence people to think about our surroundings and to question how we use our current spaces, and, ultimately, to add to the body of work that pushes the boundaries between art and architecture.
AMH: How did your work change after moving from the rural environment of Whanganui to the urban one of Wellington?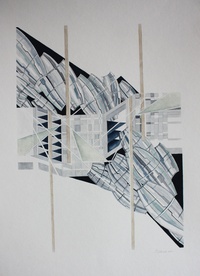 JW: As an artist who is so influenced by surroundings, in Whanganui I would commute along the river every day and observe the change in light and place. I was very interested in place, time and nature and painted large scale oil paintings of scenes within Whanganui (see 2012 works). These works were more peaceful and quiet, and touched on the beautiful empty, desolate spaces in Whanganui. Upon moving to Wellington the first thing I noticed was the pace and the quantity of people and the multitude of spaces, a huge contrast from Whanganui.
AMH: What parts of Wellington's cityscapes are most inspiring to you?
JW: Anywhere in the CBD, looking up at the reflections in the buildings at new perspectives that many take little notice of. Observing the people in the streets and watching them interact with the space of the built environment, noticing how people will stop and stare up at the construction of a new building. As a society we seem to be attracted to change, we want to be involved and witness transformation.
AMH: Can you explain a little about the ideas and concepts behind Juncture, your upcoming exhibition?
JW: The works exhibited in Juncture are what I would call 'concept design' stage drawings. These works are very abstract and express the complexities of trying to comprehend the entirety of one space that encompasses many different perceptions and relationships. They are often dense and seem to push and morph into one another as they transform with the environment, sometimes developing a more organic and live nature. I chose to call my exhibition Juncture, as the collection of works depict a series of abstract spaces, and within each of them there is a place where things join.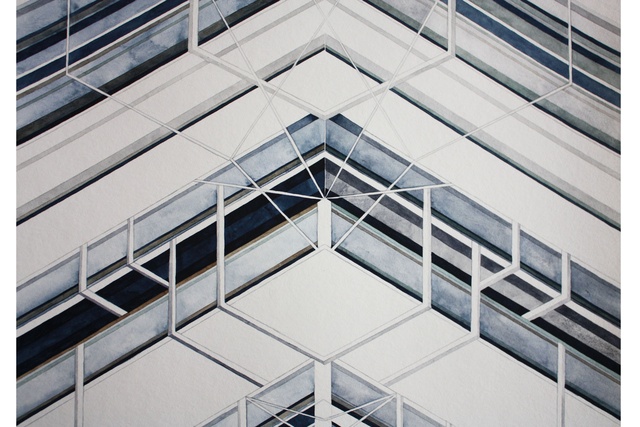 AMH: Finally, what are your future plans regarding your art? Have you got new directions or avenues you would like to explore?
JW: My future plans are to explore some of my concepts as indepth studies, creating multiple view points of the potential environments. I would also like to explore computer-aided drawing programs and different rendering software, animated media through to model-making and installations, and potentially exhibiting through a more professional architectural process.
Watercolour painting is where the concepts begin, I currently have a large body of work to draw on and create a more developed design using my abstract spaces. Collaborating with an architect would be an interesting experience to discover how they would interpret one of my designs, and to gain recognition from the architecture world as an artist would be great to further merge the boundaries between disciplines.
I currently see my work placed in a gallery setting at this stage. I am seeking a gallery that could represent my works, thereby providing a space where I could exhibit my new environments that encourage the public to think about our current spaces and places in a more in-depth and curious way, and to imagine what the future city might look like, how it might behave and how we would interact with it.
Whitmore will be exhibiting Juncture at the Fine Arts Whanganui Gallery, 17 Taupo Quay, Whanganui. Opens Friday 26th August to 23rd September. For more of Whitmore's work and to contact her, see here.