Moores Bay is a secluded subdivision on Kawau Island in Auckland's Hauraki Gulf. The 20-minute ferry ride there skirts the infamous Mansion House where Sir George Grey and family gathered an exotic menagerie of wallabies, kookaburras, weka, peacocks, zebras, possums and monkeys during their tenure.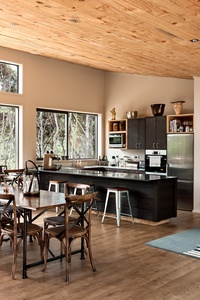 Arrival at the private mooring deposits one directly beside a late-1800s, red and white cottage which, rumour has it, was home to Governor Grey's mistress. The alleged love nest is now the centrepiece of Moores Bay's communal area, which includes a swimming pool, barbecue and other such amenities. The cottage has been completely and sensitively renovated with an eye to retaining much of its history including remnants of newspapers dating as far back as 1881 used to line interior walls.
"The cottage is rustic rather than tailored," says Kerry Knight, director of Equinox Capital, the company developing the bay and owner of the house we've come to see. He speaks of a lengthy process of replanting native bush, removing 20 derelict buildings and trying to "tidy everything up, restore it into a natural low-key environment as opposed to [bringing in] security gates and concrete paths and stuff like that."
The land subdivisions have been made to accommodate up to 12 homes but he is hoping for a maximum of seven owners who are keen to keep the area as low density as possible. He speaks with disdain about transplanting Auckland metropolitan mansions into a location that doesn't suit such extravagances.
The house itself sits atop a north-facing hill bordering the mouth of the bay and with magnificent views. Besides retaining a certain simplicity in materials and forms, the brief to architect Tom Rowe of Rowe Baetens Architecture also called for a certain discreetness in style so that the abode would blend into the foliage.
Rowe speaks of putting limitations around the building footprint and the decision of making the roof as an inverted truss as a way to minimise external height while retaining strength. The living room follows the perennially popular modern bach open-plan layout with a central, rectangular fireplace providing a small subdivision. A rear patio provides maximum protection from the wind and is designed as a comfortable area for entertaining.
Building on a remote section of an already underdeveloped island – only around 50 people live here permanently – is not without its challenges. Materials were either helicoptered or barged in making things such as the price of concrete rise by about 10 times per cubic metre. A freshwater reservoir, which was used for fish farming was shut down and, early on in the building process, the underground rivulets had a tendency to bubble up in random places when it rained.
Yet Moores Bay is hoping to capitalise on these quirks and has the feel of a slightly rustic, yet upmarket getaway. There are plenty of walkways and nature trails and other more civilised amenities nearby: an on-site property manager and caretaker, the private jetty, a quick boat ride to the Matakana markets and the excellent Kawau Island Yacht Club.
So, will this be the new Waiheke? "No," says Knight emphatically but with a grin, "the new Martha's Vineyard."