Colombo Street's lone survivor has sparked policy change
Up to 40 people died in the 2011 Christchurch earthquake due to unreinforced masonry. Since then, Ann Brower, the sole survivor of a bus crushed by falling masonry in the February 'quake, has worked tirelessly to get changes made to policy surrounding the strengthening of buildings that have unsecured or unreinforced masonry.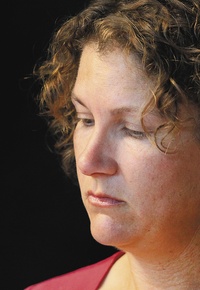 Thanks to Brower's advocacy, it was announced in early September 2015 that the government has halved the timeframe to make the country's most earthquake-prone buildings safer.
Building and Housing Minister Nick Smith commented that the changes are a direct result of advocacy from Brower, and these changes to the Earthquake-Prone Buildings Amendment Act will focus on the 2,000 most dangerous buildings across New Zealand with unreinforced masonry. Buildings that protrude into public space that are used often by pedestrians and vehicles will be required to be assessed and fixed in half the normal time.
It is estimated that approximately 40,000 buildings will be affected by the legislation, with buildings in the most at-risk areas now to be assessed within two and a half years and fixed within seven and a half. The new legislation is a positive and much-needed improvement on earthquake-strengthening policy, and at the same time a welcome win for "people power".
The below interview with Ann Brower was first published in Architecture New Zealand magazine in March 2012.
During Christchurch's 22 February earthquake, the façade of a heritage building collapsed, killing 12 people, leaving Ann Brower as the sole survivor. Ann Brower is known to most New Zealanders from the news reports that followed the tragedy that day.
But, many readers may not realise that she is currently a senior lecturer in public policy at Lincoln University and she has a Berkeley PhD in environmental science, policy and management. Architecture NZ readers may also recall Ann's compelling article about the South Island high country land reform: 'Land rort, Pakeha style' in issue 1, 2010. Her experience and professional expertise place her in a unique position to discuss the reasons behind the building collapse and whether any lessons are being learned.
What is the history of the building at 603 and 605–613 Colombo Street?
The building was a Category 4 historic building, which essentially means that it is 'desirable but not essential'. It was fairly nondescript, to be honest. It wasn't a high-end rental building; it contained an internet café, a South-east Asian restaurant, a recyclable goods business and a 'leather direct' store.
In 1982, the Christchurch City Council wrote a letter to the owners of number 605–613, declaring the building 'dangerous' in an earthquake and requested strengthening, but none was done. In 1991, the council discovered cracks in the parapet and again requested strengthening but nothing happened to rectify it. In 2005, the owners requested a 'change of use' for the building. This would normally trigger changes to be made to the building in accordance with earthquake regulations but, due to the high costs involved, these changes were not required by Council. The approach was "normally we should require strengthening but we won't on this occasion".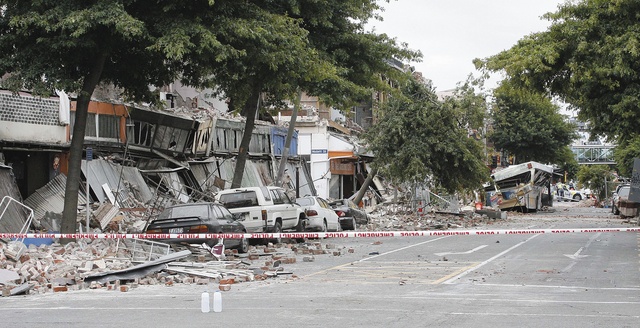 At the beginning of February, the Royal Commission of Inquiry heard two days of evidence about this one building that caused 12 deaths and my injuries. On Day 1 of the hearing, we heard the building owners say that re-attaching the façade that had separated from the cross-walls by 44mm would have cost $200,000. Repairing the building enough to make it safe to occupy was impossible (the $200,000 strapping job would have protected passers-by in the street, but would not have made the building safe to occupy). So, the building owners approached the council with their plans to demolish the building due to imminent danger to the public of the façade leaning out over Colombo Street, which is after all the main street of town. Council staff replied that they had no choice but to follow a consent process, which would take six months at least to complete. So on Day 1, the building owners blamed the council for delaying demolition with the consent process. Council solicitors blamed the Resource Management Act (RMA) for requiring consents and said that they had no discretion in the matter. The Council solicitor asked the witnesses, "Is it your testimony that we could just flout the RMA?" Council's hands were tied, they said.
The trouble is that, in September, a unanimous Parliament had untied Christchurch City Council's hands. Parliament gave the City Council precisely the power to flout the RMA in order to protect public safety.
On Day 2 of the hearing, council staff admitted that they were aware of this power, but found it draconian, so used it only three times. Neither heritage nor the RMA was to blame here. Council ignored the powers that Parliament granted. Since when can a city council second-guess a unanimous Parliament?
I should also add that this hearing was originally scheduled for early December. But, Council solicitors requested it be delayed for several months after new evidence about Council's delays on demolition and its failure to put up a fence posed "reputational issues" for the Council. "These two buildings are particularly fraught," the Council solicitor said in The Press.
So, do you think that the Council knew that it was a potentially dangerous building?
Even before the 'quakes, it was well known within Council for a very long time – nearly 30 years – that this was a potentially dangerous building. It's not a matter of what I think. The evidence is there in the Council records. They knew.
What damage occurred to the building during the earthquakes?
On Boxing Day 2010, a 4.9 (magnitude) 'quake caused quite a lot of damage in Christchurch city centre. The next day, an inspection was performed by someone contracted by the council who noted that the façade had become separated from the structure by 44mm. It was leaning out into Colombo Street. In a report, the inspector wrote in big letters with highlighted asterisks: "reassess current barricade urgent attention main thoroughfare". Every "severe" box was ticked on the form: "severe overhead falling hazard", "severe structural damage" and "severe neighbouring building hazard". However, somehow, the Council interpreted the form to mean that Mollett Street was the main thoroughfare and that it needed barricading. But, since Mollett Street was already barricaded, the result was that no cordon was erected on Colombo Street and there was no 'make-safe' strengthening done to the building to protect the public.
Is this a case of bureaucracy, a 'burying of heads in the sand' or worse?
The Council knew what could happen in an earthquake. Everyone predicted it but no one prevented it. The main thoroughfare was interpreted by the Council to mean Mollett Street rather than Colombo Street, but anyone who knows Christchurch understands well that Colombo would be the main thoroughfare being referred to by the inspector. In fact, probably many people who don't even know Christchurch have heard of Colombo Street. But, who had ever heard of Mollett Street? It is a private lane, one block long, that practically no one had ever heard of. At this point in the hearing, Justice Cooper asked, "Mollett lane is a main thoroughfare, is it?"
This reminds me of the 'twinkie defense' in San Francisco's famous Harvey Milk murder trial, only we can call this version the 'Mollett Street defence'.
In comparison, how did the buildings adjacent to number 603 and 605–613 Colombo Street respond to the earthquake on 22 February?
According to the engineer, the building next door at 615 – which consisted of the same construction, was from the same period and was actually part of the same building, but has a different owner and address – didn't fall into the street because it was reinforced. After September's 'quake it had been 'red-stickered' but, in this case, the owner made repairs. The façade had been tied to the structure with steel straps. The building did collapse inwards during the February 'quake but, because of these preventative measures, it didn't hurt anyone on the street. In my view, what happened that day on Colombo Street was entirely preventable.
So, in your opinion, who is to blame for the failure of the building?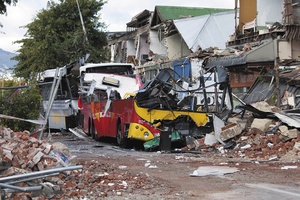 For the failure of the building, my view is that the owners are responsible. For the 12 deaths, I believe that the City Council is responsible because they could have implemented safety measures but they chose not to. They could have enforced their decision but they didn't; they requested repairs but didn't follow up on it. Morally, I'd say that the owners are to blame and, legally, I'd say that the council is to blame. And, Parliament let the Council off the hook with the 2004 Building Act, which, as I understand it, rather than setting a national standard, allows local councils to set up their own local codes for known 'earthquake-prone' buildings. Although on 14 September 2010, a unanimous Parliament passed the Canterbury Earthquake Response and Recovery Act 2010, which gave Canterbury councils special powers to enforce repair requirements and bypass lengthy consent for demolition where a building is deemed to be dangerous.
Why didn't Council require strengthening for unreinforced brick and masonry buildings?
Well, basically the Building Act 2004 was optional for the most dangerous buildings. It required councils to have a policy but did not say what that policy should be. Christchurch opted for the passive approach, which is what Mayor Bob Parker called it, so this meant that there were no strengthening requirements for these 'quake-prone buildings – mostly unreinforced brick and masonry.
The City Council failed to set a standard or to give itself the power that Government afforded it in 2004; the Council failed to act. But, Government also failed to set a robust mandatory national code, which is what many earthquake-prone countries around the world have set.
The fact is that earthquake codes should be mandatory. The idea of building codes being optional for the most dangerous of buildings is absurd. It essentially gave local authorities the power to ignore the law.
Why did Christchurch Council not use its special powers under the 2010 legislation?
I have no idea. 'Why it happened' doesn't matter now, other than it happened. I bear the scars and 12 people died. They could have used the power Parliament gave them to speed up demolitions or impose strengthening to buildings in the interests of public safety, but they didn't.
They could have put up a fence, but they didn't. They knew what would happen, but did nothing to prevent it.
Do you think that there has been a passive approach to earthquake codes by City Councils all around New Zealand and not just in Christchurch?
Well, Wellington took an active stance in response to the Act but, whether cities like Auckland, Palmerston North or Dunedin have taken an 'active' stance, you would need to check. It is concerning.
The bottom line is that New Zealand is a small country and it's also well known as the 'Shaky Isles'. The Alpine fault runs the length of the country and the rest of the country, including Auckland, is shot through with countless other smaller faults. Wherever we live in New Zealand, there is a risk of earthquake. The damaging Christchurch earthquakes ranged from magnitude 4.9 to 7.1 but what will happen when the Alpine fault goes and produces an 8, similar to the 'quakes in Japan?
You stated, after giving testimony at the Royal Commission of Inquiry into Building Failures in the Christchurch Earthquake, "Absorbing all liability creates a moral hazard. That's economist-speak for unwittingly encouraging risk by cheaply insuring against it." Can you please elaborate?
Essentially, building owners are not liable for costs if an earthquake occurs and the building falls down and kills people. The ACC, i.e. the public, absorbs the risk and the cost. But, the ACC can't sue the owners or the Council to recoup costs. It would have cost $200,000 to strap the building so the façade and parapet would not collapse into the street. If the law were different and the owner were liable for what happened, then $200,000 wouldn't seem like very much money to steel-strap the façade of the building as a preventative measure. Actually, it would seem like a pretty good investment compared with the risk of having to pay for deaths and injuries. Saving my left leg has cost ACC $108,090.38 so far, approximately. In total, the earthquakes will cost ACC $200 million, which makes them the nation's most-expensive disaster in human health terms.
Building owners are not responsible for this country's most-expensive disaster to kill or gravely injure people. That liability is absorbed by ACC. Of course, one would have hoped that building owners would each have had more of a conscience, but economically there was no incentive or requirement to do so. For a regulation to work, it needs to create either a requirement to comply or an economic incentive to comply. The Building Act 2004 does neither. When there is no requirement from Parliament or the City Council, and there is no economic incentive from liability, then strengthening a dangerous building is all cost and no benefit.
How could liability be implemented?
First of all, New Zealand needs a mandatory building code for earthquake safety for all buildings everywhere. It should not exempt the most dangerous buildings.
But, in terms of liability and incentives, if, for example, there were a minimum earthquake standard or code for all buildings and if a building owner then implemented preventative measures that were way above the Code, then they should receive a discount to their ACC levies, rates and insurance. It could be a bit like getting car insurance, whereby all drivers have insurance but the safest drivers have lower premiums. So, by actively minimising the risk of building failure during an earthquake, the owner benefits financially. And, if the owner were made to pay dearly if the building didn't meet the code and injured or killed people during an earthquake, then there are consequences. A system along these lines would have a different outcome, don't you think?
But practically, there is no way to set those fees high enough to create an incentive to fix the building. Building owners do not now pay ACC levies to my knowledge. In order to make fixing the building that crushed us an attractive proposition economically, ACC levies and rates would have to be more than $200,000. However, the Government is always reluctant to put costs on owners and employers, but that comes at a price.
So the moral of the story is that building codes should be mandatory. The Government needs to suck it up and require all buildings to be safe in the inevitable earthquakes here in the Shaky Isles.
Unfortunately, we've been living beyond our means. If we can't afford to make these changes to our buildings, then we need to build fewer buildings but better-quality buildings. We need to be more frugal about the way we live. The cost is too high in terms of life and injury.
How did the various parties respond during the hearing?
It was interesting because the judge and the lawyers for the deceased and injured were probing but gentle, whereas the Council's legal team were very defensive and at times appeared aggressive, in my view; they really pressed the witnesses. The contrast was interesting and you can read what you will into that. What are they preparing themselves for?
Do you think there will be lawsuits as a result?
I would be very surprised if there were none. I'm not a lawyer and I don't know the detailed facts of each case so I'm unsure if they meet the terms of gross negligence. But, in saying that, I'd be surprised if there were no cases. However, many of the cases are in tricky legal positions, because preventative measures were taken prior to the earthquake, even if many of these failed. In our case, no measures were taken. But, if building codes were mandatory and were followed up, then it would be a different landscape, wouldn't it?
When will the Commission's reports be published?
The Commission is releasing two reports: the first report in June is intended to inform the building laws and one would hope that it will recommend that the building codes become mandatory; while the second report in November will go through each case, building by building, to work out what went wrong. We will probably be able to see the patterns of failure within this information.
Have there been any recent changes to the earthquake building codes? Are the lessons being learned?
There have been changes made to local codes and laws, as you would expect; they are being improved and enforced now. But, at a Government level, I'm not aware of any changes to the Building Act. Perhaps the Commission's report will instigate changes. But, even if these happen now, it will still take years to implement. As to whether lessons are being learned, it's hard to tell. I hope so. I still hope that we learn from what has happened. I'm crossing my fingers but not holding my breath.
What have been people's reactions to your criticism of the state of the Colombo Street building?
I have encountered a number of people who seem to have the attitude that this was "just bad luck" and "it was the earthquake that did this". But, I say, "No, it was not; luck played no part in this". If the building had been fenced off, if it had been strapped as was recommended, then 12 people would be alive today. We can try to understand it, to find a reason for it, but ultimately there are no real excuses. People are being too forgiving for what happened in Christchurch. You can say that no one has control over the earth. 
But, we did have control over our buildings and the city failed to take control. New Zealanders are essentially very trusting, which is a great attribute. There has always been a general belief that people would do the right thing: that owners would strengthen their buildings, but clearly they didn't. We could have looked to international standards – to Japan and to California – to ensure that our codes were up to scratch but we didn't.
You lived in California for some time. How do the state's earthquake standards compare with New Zealand's?
To be honest, I think that many Californians would be appalled to see that New Zealand's building codes are optional. In all my years in California, I rarely saw an unreinforced building. I'm sure that there are a few that slip the net but they're rare.
Has anyone compared the two regions in this regard?
I'm not sure but the empirical evidence is there. The death and injury toll in New Zealand was much higher per capita than the tolls in the large Californian earthquakes of recent years and there were far fewer deaths in California. San Francisco's Loma Prieta earthquake in 1989 caused 57 deaths among a population of around four or five million, while the death toll for Los Angeles' 1994 Northridge 'quake was 72 people among a population closer to 10 million. This would suggest to me that the building codes in New Zealand are inadequate.
Some say that the ground acceleration was greater in Christchurch but the Northridge 'quake was pretty close (1.7G) to our 2.2G acceleration, and it shook for more than twice as long. Our 6.3 magnitude 'quake was particularly violent but it wasn't a 7 or 8. I just hope that we really look hard at all our New Zealand cities now because, if one of the main faults goes, it will be felt throughout New Zealand. The force diminishes with distance but, if it's a really big one, it will still be a sizable earthquake wherever you live in this country.
How can the architectural community try to help ensure that the Code changes needed actually happen?
Well, that's a tough one as many of the changes need to be made at Government level. In terms of what architects can do to help: they could try to lobby Government to implement a mandatory building code and the setting up of incentives for building owners. They could certainly help to educate building owners, to suggest a moral obligation to design buildings well above Code.
So, in the meantime, should architects be designing over and above Code and should building owners be prescribing this, in spite of its current failings?
Absolutely. Yes. Make sure buildings are to or above Code and make sure your plans are not deviated from. The Pyne Gould building is an example of where the architect's plans were deviated from. Also, design and build to last; make sure your buildings have style and substance. When we cut costs, we often cut substance before cutting style. If a building owner doesn't have the money to build over the code, then don't do it. It will be interesting to ask architects if they are often compromised in this way. Yes, it would.
What has been the medical process you have been through?
I spent two months in hospital and then two months on crutches. I'm still recovering – I broke my leg, pelvis, a small part of my spine and my hand. They were serious injuries but nothing permanent or catastrophic. At least now I'm back to running, jumping and playing the violin. My ankle still hurts but it's getting better; I can't imagine how I would feel if I were not fine or if I were a family member of one of the 12 people who died.
And emotionally?
Emotionally, I don't know how to describe it. There are words to describe what happened but there aren't words to describe how you feel about it, other than that 12 people died instantly. Extraordinarily, New Zealand is normally a very, very caring place to live but this was not caring. The rebuild is going on and we're moving on but, if we explain away what happened during the earthquake, then it is bound to happen again. I just don't want it to be forgotten or explained away because it was entirely preventable.
Given the severity of the event you experienced, it seems amazing that you survived. Does it make you more driven to lobby for changes to policy?
I think it is part of being the only survivor. I feel like I owe something to everyone who was on the bus. This was wrong and it should never happen again. Christchurch is a clear example of how we've been living beyond our means and that we can't afford to keep doing that. The ACC has taken up the slack but that's not good enough. We've been privatising the profits and socialising the risks of buildings we can't afford; it's taking the privatising of profits and the socialising of risk to an extreme. The public absorbed the risk but the private sector received the benefits, which makes it somehow sustainable to live beyond our means, but it's wrong.
Our culture and ways of thinking in New Zealand have changed now; if you see someone walking down the street looking up, then looking left and right along the street, then up again and then they walk quickly across the street, then you know they are from Christchurch. These earthquakes have permeated the consciousness of the people.

Views expressed are Ms Brower's and not those of AGM Publishing Ltd or the editor of Architecture New Zealand magazine.