Mahuki: connected museums
Te Papa's mandated mission is to preserve and treasure the past, enrich the present and help New Zealand meet the challenges of the future. Mahuki, Te Papa's innovation programme, is contributing to this mission.
Today, the mobile internet is ubiquitous. In New Zealand, 70 per cent of the population now own a smartphone and/or tablet compared with 46 per cent just three years ago. This means a huge shift in people's behaviour and expectations, which affects businesses of all types.
Everything, from friends' status updates to pre-ordering your morning coffee, is on demand on your device. As digital users, we expect the right piece of information to be at our fingertips, and we expect not just to consume content but to be able to create and publish it as well. These dynamics are sweeping the world, disrupting multiple sectors including the media, hotels, transport and retail. It's clear that the culture sector is ripe for digital transformation, too.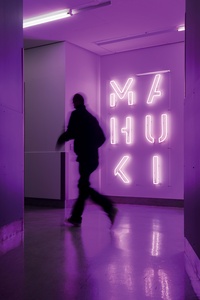 As cultural focal points for our communities, museums must find ways to keep the exhibitions and other experiences we use to interpret collections and knowledge for audiences and their changing needs fresh, accurate and relevant.
At Te Papa, with a discipline strength in Natural History, for example, climate science and knowledge are updated in rapid cycles. As Te Papa enters a five-year renewal period for our fixed exhibitions, modularity and the ability to refresh content and reconfigure exhibition components 'on the fly' will be essential.
Also key to the role of museums is the ability to enable and promote discussions around nationhood and identity.  Contemporary audiences want to be empowered to contribute to their national story, rather than simply being served information. For this reason we need to include the voices of our communities, enable conversations and sharing, and provide places where audience-generated content can sit alongside more traditional and authoritative narratives.
From a spatial perspective, architects and exhibition designers will need to consult with technologists and plan for buildings and spaces in which it is possible to install robust and ubiquitous internet connectivity. They'll need to design flexible exhibition and programme spaces that invite audiences and communities to co-create and collaborate. Mahuki, for example, is a 320m2 innovation space on site at Te Papa, with a range of flexible zones.  
Te Papa is highly respected internationally for its ground-breaking bicultural model of museology, and the museum has strong relationships with cultural institutions around the world. Our goal with Mahuki is to build on this reputation and make a significant contribution to New Zealand's prosperity. We aim to do this by empowering a cohort of creative companies to innovate, partner with and meet the needs of the local and global culture sector, with any luck winning prestigious international customers (e.g. London's Natural History Museum) on the way.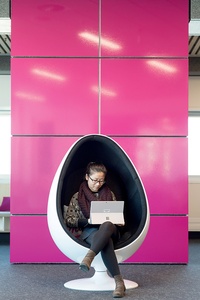 A number of other cultural institutions worldwide – including the Smithsonian, New Museum in New York, the British Museum and ACMI in Melbourne – have also established innovation centres. These generally take the form of co-working or incubation spaces that enable a collision of ideas between digital, museum and exhibition design practitioners to create new museum experiences.
With Mahuki, we've elected to take a more commercial approach to encourage sustainability, and the programme model has received international praise. We'll run a structured, in-residence entrepreneurial initiative annually over four to six months. During the programme, up to 10 teams work on sustainable solutions for the transformation and audience experience challenges facing cultural institutions globally.
Mahuki's first cohort of teams includes expertise in gaming, voice recognition, holograms, mobile and digital platform design. We hope this first innovation programme will add to the visitor experience that enables our audiences to interact with and grasp ideas deeply, with their hearts as well as their minds.