New Zealand architects use a wide range of architectural devices to control natural light in the home.

Within the architect's arsenal, mastering light is one of the most powerful weapons. To transform sunlight into a magical spatial experience is a major goal of good architecture. 
"Architecture is the masterly, correct and magnificent play of masses brought together in light. Our eyes are made to see forms in light: light and shade reveal these forms," said Le Corbusier, one of the most inspirational architects of all time.
"We learn from being exposed to great architecture," explains Julian Mitchell of Mitchell & Stout Architects. "The best architects discover how to use light to express space in distinct and specific ways," he says. "Controlling it carefully is the hardest thing but the results are worthwhile."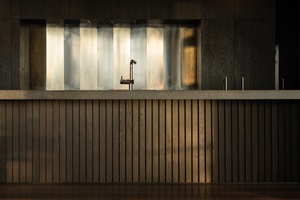 Nowadays, computer software – using GPS, climate data and architectural drawings – can work out how light might operate within a specific house design, but currently its prohibitively expensive to use. Instead, architects spend time on site, often at different times of the day, working out the movement of the sun, the geography and the climatic conditions. 
Architect Hugh Tennent of Tennent Brown Architects adds another process: "I often think about where cats want to be – those are the spots where you need to capture the sun." In fact, cats follow the sun's mapping across the floor because sitting in its warmth helps cats to conserve energy. 
Similarly, a well-designed house will conserve its energy, retaining warmth and light in the winter and keeping it cool in the summer. Its plan requires appropriate orientation and configuration to face the sun ideally to the north (living in the southern hemisphere) but, when a site is not facing north, spatial planning and window placement – such as angled roof planes, clerestory windows and skylights – become even more crucial in controlling sunlight into the home. To do this, architects need to understand the quality of the light.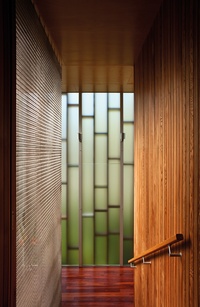 New Zealand and Australia are lucky to not have the high levels of light pollution that affect many urbanised parts of the world; this means the quality of light tends to be brighter – and the skies bluer. Architect Kerstin Thompson, of Kerstin Thompson Architects (KTA), works in both countries and suggests that the colours are also quite different. "In New Zealand, for example, there is this tradition of the black house and I think the landscape is darker with more shadow and it's murkier; whereas Australia is dry and bright and bleached."
But, she suggests, the light here is equally as bright as in Australia (and we have similar UV issues). "In New Zealand, it's more moderated by the wetness of your landscape, whereas, in Oz, many of my house designs have deliberately dark palettes because the sun is too strong; it's overpowering – relentless, even. We design our interiors to moderate that and provide relief from it, hence the use of shadows and darkness."
To control bright light, Thompson suggests limiting the amount of windows you create in the first place to achieve the right framing and amount of light. She also suggests reflecting light off one surface onto another, creating a "soft but illuminating" effect. Sometimes she incorporates glass inserts or 'hit-and-miss' brickwork to dapple the light. "It's not just about controlling the right amount of light but also the right amount of darkness – of shadow."
Mitchell agrees that reflection is a great device. "Walls that are painted light with reflective colours tend to help bounce light around. Of course, you can't beat mirrors – both to extend a room visually and help distribute light more deeply into it."
Filters and screens assist in creating privacy and security. Commonly-used materials or devices include polycarbonate sheeting, louvring, perforated aluminium, mesh screening and specialist glazing. Mitchell's own home in Belmont, on Auckland's North Shore, uses Durolite Opal, a fibreglass sheet material that transmits light gently and is easy to retrofit. "We use it regularly for Japanese shoji-like screens," explains Mitchell.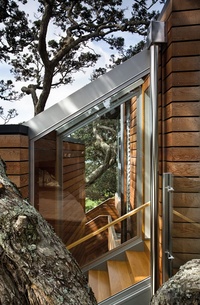 Another screening device is a unique Kiwi product called Kaynemaile, which is constructed using a 2,000-year-old chainmail structure from modern materials, including bullet-proof glass. Strong and cost-effective, it can be seen in public and commercial buildings around the world and is now gaining traction within the home, especially as floor-to-ceiling balustrading. Kayne Horsham, CEO and founder of Kaynemaile, says its 3D structure "naturally creates beautiful shadow play". These shadows can be made kinetic, too, with the addition of movement – from an open window breeze, for example. 
But the most commonly-used material to control sunlight is, of course, glazing. "In recent years, we have noticed that homeowners are wanting larger windows to connect with the world around them," explains Andrew Hibbert from glass manufacturer Viridian Glass.
For Kiwi houses, he recommends installing double-glazed units with premium low-e glass, such as Planitherm XN, which has UV filters and excellent thermal qualities. In urban environments, where houses are increasingly being built closer together, glazing that helps reduce noise and improves security is important to consider too. 
Below, four architectural 'masters of light' offer insights into using natural light to create beautiful and highly-functional New Zealand homes.
CREATING MYSTERY
Pete Bossley – Bossley Architects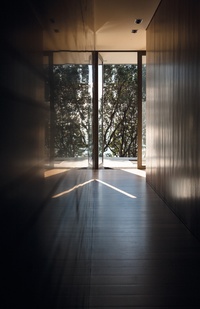 "We are somewhat obsessive about the way we incorporate natural light into our projects. I often refer to New Zealand as having wonderful skyscapes to complement our great landscapes. They are constantly changing and are, of course, a fantastic source of endlessly varied natural light. We introduce light in a number of ways to animate the spaces, so the internal atmosphere is modified by the active input of light. At Thorne Bay House, light from above is brought into the central spaces via skylights, penetrating deep into the heart of the home. In this case, the light is partially dappled by the pohutukawa that reach over the building. As the sun moves across the sky, light rotates through the home, adding depth and mystery to the already dramatic connection between the spaces and the sea."
CELEBRATING SHADOW
Pip Cheshire – Cheshire Architects
"This passage [Cooper House] is at the bottom of a descent from the wide open sky dome of the top storey, down through five levels to the filtered light under an umbrella of cliff -top trees. The descent is a dance with the pohutukawa and their manipulation of the north-eastern light. High above, one sees the ripple of wind-ruffled reflection through foliage but down here, at the stair's last landing, we are compressed, dark below natural ground level, the glare of courtyard sunlight a promised release. The passage is narrow and our eyes are close to the stone blade bisecting the house; light ricochets off the polished stone, reflecting Rangitoto Island's crown."
CONTROLLING SUNLIGHT
Marshall Cook – Cook Sargisson Pirie & Williams Architects
"Brilliant bright light needs to be controlled as much as soft gentle light. In New Zealand, the high levels of reflected light enhances as well as destroys the magic of colour and shadow. Our architecture is always about preventing the high lights from overwhelming the low lights, so clear storeys and windows up high have more control than windows down low. Low-levelled windows can be orientated horizontally to cut back the light levels and the upper levels can be vertical to let in as much light as you want to. If louvres are adjustable – which are always a good system – they can relatively be tall to give opportunities for variation of light intensity. It's about the correct contrast between the outside and inside."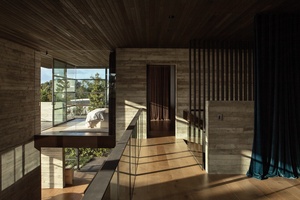 SPATIAL CHARACTER
David Ponting – Ponting Fitzgerald
"Dynamic space is essential to a bespoke home and a tall void through the living area is a powerful way to add such drama. This feature obviously brings height and volume but, just as importantly, it allows sunlight to penetrate deep into the home accentuating the surface finishes and contemporary spatial character. While offering these advantages, solar gain must be addressed also and, using generous eave overhangs, is a great solution, essential in fact when an outlook is to the north-west. As practical as eaves are, they provide a defining sculptural form to the exterior aesthetic of a home as well, optimising an opportunity that benefits both inside and out."