Before being upgraded, the Newtown Park Apartments in Wellington were what they were: a clutch of stark multi-storey buildings located on the former industrial site of New Zealand's last tram yards which closed in 1964. By the 2000s, this public housing complex was itself reaching the end of the line, and in need of a protective new lease of life – from top to bottom and from outside to inside.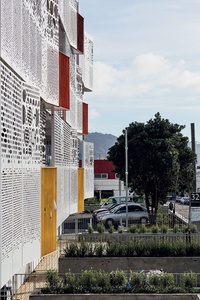 Isthmus and Studio Pacific Architecture were partnered for the transformation, completed this year, with Dan Males and Marc Woodbury from the respective practices involved from the outset. 
Looking back on the project – part of Wellington City Council's multi-million dollar housing upgrade programme over two decades – the pair recall the fundamental emphasis given to the external landscape. 
In essence, the plan was to give tenants something other than a brutalist asphalt landscape to look down upon – rather, a "connection to green", to be observed when stepping through to a front door, and room for community life within the newly created spaces between, were the preferences.
Describing what's been achieved, Males and Woodbury recall just how much the previously disjointed and out-dated way-finding between the buildings worked against a meaningful flow, as well as against the kind of improvements to personal and community safety that project adviser Frank Stoks could provide direction on as an expert in crime prevention through environmental design (CPTED). 
For Woodbury, a standout result has been stitching together the complexity of the compact site's different scales into the context of the surrounding grain of a neighbourhood of single-storey villas and to provide infinitely clearer entry points. He agrees that although its abruptly high-rise profile would likely never be repeated, there are relevant lessons to be learnt about successfully managing intensified housing. 
He also breaks out a in smile at the thought that the tenants are freely making use of reallocated spaces in their own ways, be that putting planted herbs to use in the kitchen or placing small laundry racks on discrete balconies. 
Male's satisfaction comes from having instituted smaller grids within the overall master plan to forge a stronger communal effect; employing a landscape of folding lawns and single species that are civic and quite bold in shared spaces, balanced out with low-maintenance plantings that are "more gardenesque the closer they are to buildings".
A group of pohutakawas has been retained, and new plantings of pin oaks were selected to help integrate the apartments into their neighbourhood context. 
For City Housing programme manager Sonia Waters, the introduction of a well chosen exterior colour palette to the apartments – for which Studio Pacific Architecture collected two Resene Total Colour Awards this year – and the thoughtful landscaping are the "make or break" elements that have lifted the upgrade from a refurbishment to a fresh identity.
An additional key benefit of the landscaping is that removing visibly institutional aspects such as garish signage serves as another small way to break down the unjust "stigma" with which social housing is prone to being labeled. For their part, Males and Woodbury shared a determination not to allow any aspect of the landscape to be diminished by any lesser investment of time or available budget. An example of making ends meet was the sustainable and cost-saving initiative of recycling good quality paving once used in Wellington's decommissioned Manners Mall.  
The expectation is that these extra efforts and attention to detail – underpinned above all by City Housing's well recognised attention to the privacy, dignity and vibrancy of the lives of the people living at Newtown Park – will again stand the test of time, in an inner-city suburb of Wellington book-ended by another recent (and award winning) Isthmus project, nothing less than the prestigious and extensive grounds of Government House. 
Between such stark contrasts it's encouraging to consider that each project received an equal degree of true landscaping care, thoughtfully and respectfully applied.