NZIA board co-opts Māori architectural graduate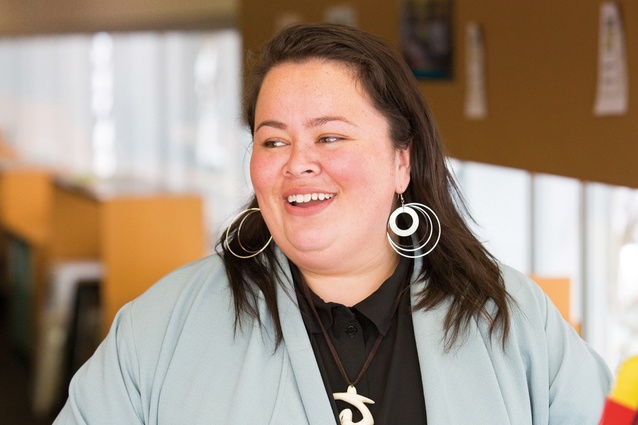 The New Zealand Institute of Architects has recently co-opted Elisapeta Heta – architectural graduate at Jasmax – as the Ngā Aho representative to its board.
At 29, Heta is one of the youngest board members ever appointed. Her tribal affiliations are Waikato Tainui and Ngāti Wai on her father's side and Samoan-Tokelauan-English on her mother's side.
She has been appointed through her involvement in Ngā Aho, Aotearoa's national network of Māori design professionals. In 2014, the New Zealand Institute of Architects organised a hui with Ngā Aho to discuss support for Māori in architecture.
A Kawenata (covenant) between Ngā Aho and the New Zealand Institute of Architects has been drawn up and will be signed at the NZIA in:situ conference in February.
"This covenant sets a benchmark," Heta says. "It is about recognition of Te Tiriti o Waitangi. It outlines Ngā Aho and the NZIA members' relationship, and duties to the Treaty. It is empowering."
She says that it's important to have someone who has achieved in leadership, visible to Māori. "Māori and Pacific Island representation in leadership positions and in the profession of architecture is very low," she says.
"A lot of Māori and Pacific Island graduate architects get pulled back into their communities, because they're well educated. It motivates me to show that it's possible to achieve equal commitment to career and community."
Alongside Rameka Alexander-Tu'inukuafe, Brendan Himona and Haley Hooper, Ms Heta has helped set up Waka Māia at Jasmax, the practice's Māori cultural navigation group. The entire Jasmax practice is involved in waiata and pōwhiri, and regularly seeks cultural direction from Waka Māia on projects.
Overall, she says that many organisations and architectural practices in New Zealand have a long way to go in responding to the Treaty of Waitangi (Te Tiriti o Waitangi). "There's still a lack of understanding," she says. "It's not malicious, but it's sometimes offensive."
"My job in a leadership position on the council of the New Zealand Institute of Architects is to be part of the solution, not the problem. That's why I'm honoured to serve on the board – it's an active move to help make change."