Obituary: Don Donnithorne
Maurice Mahoney honours Don Donnithorne, a characterful Christchurch architect with a lasting body of work, including the Air Force Museum of New Zealand at Wigram and the Netball Centre in Hagley Park.
Don was a unique character who worked well into his 80s, departing from us at the grand age of 90. He was also my long-time friend of 70 years. We met as teenagers when we were both architectural students. During the daytime, we worked as draughtsmen and, in the evenings and weekends, we studied with about 20 other students in a little studio known as the Christchurch Atelier.
Don was working for architect Paul Pascoe, who was then the most avant-garde architect in the city. Young Don was pretty 'with it' too; he was typically dressed in a smart, three-piece, bespoke tailored suit in a checked beige fabric, in contrast to the grey suits of the day, and certainly made him stand out from the crowd.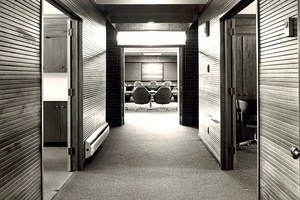 Don was different from the rest of us in another way too because, while we all lived in the suburbs, Don lived in a hotel right in the city. His parents were hotel proprietors of the Embassy Hotel and, later, the Excelsior. We all cycled to and from work each day but Don could simply walk there. We envied him.
After a few years working with Paul Pascoe, Don joined architect Melville Lawry as his sole assistant. Lawry's office was in the dome at the top corner of the dear old Regent Theatre building. Three years later, I was offered a job there too. Don was a very natural designer, so much so that Mr Lawry allowed his 22-year-old employee to originate and draw up the designs for all his clients' projects.
Most famously, when Don would have been only about 23, he was made entirely responsible for the design of the Evangelical Church of Jesus at the corner of Colombo Street and Moorhouse Avenue. It was probably the practice's largest-ever commission and it is amazing that he was asked to design a project like that at such a young age, when he was still a long way from being a qualified architect. But Don was always prepared to tackle any design challenge that came his way.
While we were working together, I noticed that a very cute young lady would often come to the counter to chat with Don. I learned that her name was Dawn and that they were soon to be married. In 1949, their wedding was held at St Michael's Church of which Don was a regular attendee. Soon after, he found a section in Yaldhurst Road, designed a lovely house to go there and had it built by one of his favourite builders. That very special house became home to a growing family and was later enlarged to accommodate them better.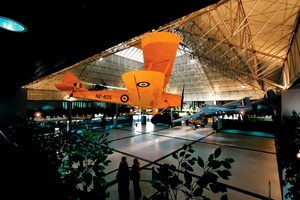 Years later, the property next door came up for sale and Don bought it. He demolished the house, landscaped the garden and built an amazing studio/guest room above a large garage, which was to house some of his growing collection of Italian cars.
Don really lived for architecture and always gave it his very best. He was an instinctive, original and naturally gifted designer so his work is easily recognisable; no one else produced anything at all similar. He admitted to being influenced by the work of Frank Lloyd Wright and by Danish architects – especially in terms of using and expressing natural materials in his buildings wherever possible.
The output of his practice over the years was significant and its results around Christchurch, and beyond, are testimony to his imagination and design ability. In more than 50 years of running his own successful practice, besides designing about 150 houses, Don produced a great range of work from churches to multi-storeyed apartment blocks and retirement villages.
His design legacy in Christchurch includes the Netball Centre in Hagley Park, the Air Force Museum of New Zealand at Wigram and the Bishop Julius Hall of Residence at the University of Canterbury – all of which are still proudly standing following the 'quakes. Sadly, of course, as for other architects in the city, many of his buildings have now gone.
Deservedly, Don collected a number of awards for his work. Undoubtedly, the one that meant the most to him – as it should have – was announced in the Queen's Birthday Honours of 1987: an MBE.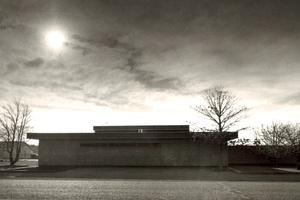 There have been at least eight awards from the NZIA, also, and one special award from the Crippled Children Society for his design of Holdsworth House: the first Building for Disabled Persons award to be made in New Zealand.
Don was always an active member of the Canterbury Branch of the NZIA and spent time as a committee member and one term as Chair. For 35 years, he served on the Plans and Sites Committee of the Church Property Trustees.
One of Don's passions was his concern for Historic Buildings, which led him to become Chair of the Canterbury Regional Committee of the Historic Places Trust. He was a strong campaigner through newspaper articles and 'letters to the editor' for the retention and preservation of threatened buildings.
Don was one out of the box: friendly, kind and thoughtful; a loving husband, father and grandfather; and a very good friend. He was certainly one of Christchurch's most significant architects of our time.
31 July – 5 August 2016; born in Timaru, Canterbury.