Nicole Stock joined more than 120 leading education design practitioners who gathered together in Melbourne for Old School/New School, a one-day forum about the future of education design.
Robots are going to take our jobs; or those jobs will be outsourced to countries on the other side of the world; or we'll all be freelancing, doing multiple projects at once rather than a nine-to-five job. This isn't fear mongering. It is our new reality described by Jan Owen, CEO of the Foundation for Young Australians, at the Old School/New School conference on education and architecture, held in Melbourne on 18 May.
Automation, Globalisation and Flexible Working are three key global drivers that will shape our economic and social world, and, indeed, already are. None of these influences are necessarily bad, though they certainly will be for future generations if we aren't adequately prepared for this volatile, complex, ambiguous and uncertain world.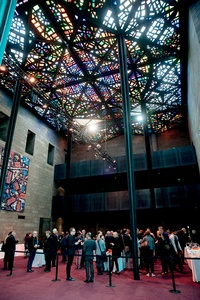 What Owen was suggesting was that the world will be different and will value different skills than today – such as technical and digital literacy, and enterprise abilities like financial literacy, critical thinking and problem solving, confidence and resilience, creativity and project management. The average 15 year old today will have 17 jobs in five different industries. They may never work in an office, the traditional ladder won't exist, and they may never retire. It will be a different world from the one we grew up in.
This is why 'how we teach' and 'the spaces we teach in' need to change alongside the economic, cultural and social forces that buffet our world. Indeed, the big out-take from this conference was that change will be one of the few constants, and preparing children to respond to change is going to become a more central part of education.
This contextual framing, both at the beginning by Monica Parker, founder of London-based workplace consultancy Hatch and Jan Owen at the end, anchored pedagogic changes – not in the creative whimsies of architects, but in a rigorous understanding of the purpose of education and research into how the world will change and what skills we will require to develop to successfully navigate this new world.
Set within this framework, it became immediately obvious that Victorian stand-and-deliver teaching with the accompanying presenter-listener spatial arrangement was not just outdated, but also usurped the collaboration, decision making and communicating that will need to be fostered and practiced. However, just how we move on from traditional teaching to a new environment was more complicated than 'build it and they will come'. Indeed, education is political – not only with actual government and council involvement but also with the internal politics within schools, particularly tertiary institutions.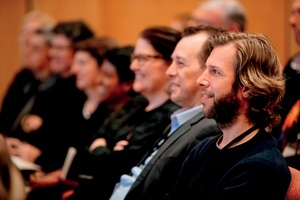 Marco Berti from University of Technology Sydney described the development and occupation of Frank Gehry's Dr Chau Chak Wing Building. He spoke about its architecture but also revealed the long-calcified hierarchies and politics that are ingrained in university life, dismissing any "magical power of architecture to make people more collaborative", and stressed not to underestimate the strength of pre-existing power relationships (the fight for the best office, the pulling of rank, the anathema of giving up an office for open plan).
Even in primary or secondary schools, all the architects spoke of strong-willed head teachers who drove changes through. Change needs leaders, and those leaders need to be embedded within the school, not just by way of an outside consultant.
This isn't to say that the architecture and space have no impact on behaviour. Research that Parker cited suggested the opposite; where an ability to modify the space you are working in grew engagement and knowledge retention significantly, and retention rates of information can be as high as 75 per cent for 'practise while doing', although as low as five per cent when being 'lectured to'; so, spatial arrangements that support doing and making and teaching others are essential for developing better performance.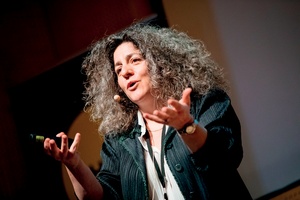 And, interestingly, while 'collaboration' is bandied around with great enthusiasm, and collaborative project spaces are important in this new paradigm, the speakers were all aligned in suggesting that perhaps we had tipped too far in this direction and that spaces for 'contemplation' were just as important. The variety of environments is a central tenet of Innovative Learning Environments.
This was a conference about the architecture of education and, yet, I've barely touched on the buildings themselves, or the renowned speakers like John Wardle, Debbie Ryan of McBride Charles Ryan and London-based Michál Cohen of Walters & Cohen. These architects were all inspiring and the architecture impressive.
But, again, architects are the interpreters of briefs, of ambition, of ideology. To understand the pedagogical sea changes behind the buildings, put these spaces into context and underscore the importance and need to rethink what our schools look like and how they operate. We need the right environments to support those new styles of learning because the world is changing and what we need to learn is changing too.