On The Rise: Geordie Shaw
The ArchitectureNow On The Rise series, supported by Resene, focuses on up-and-coming young designers and architects from across New Zealand. For the second interview in the six-part series, we talk to Geordie Shaw, an architectural graduate at Wellington's architecture+ studio.
Amelia Melbourne-Hayward: Was architecture something that piqued your interest from an early age?
Geordie Shaw: When I was young I really enjoyed painting and drawing, alongside all those classic childhood experiences that you hear every architect talk about. I played with Lego; I built forts. I wanted to be an architect ever since I figured out what they did at about 10 or 11. From the first year of high school I already knew all the subjects that I needed to take to set me up for the degree!
AMH: Can you briefly describe your architecture career for me?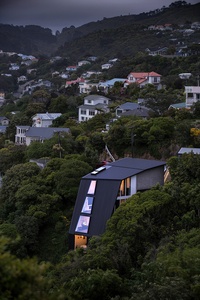 GS: Straight after finishing high school in Christchurch I moved to Wellington to study architecture at Victoria University. I graduated in May 2012. It wasn't a great time to be looking for an architectural graduate role, to be honest! Out of our class of 80 there were about half a dozen who managed to quickly find a job. It was tough, but in a way it forced me to decide that I definitely wanted to work in architecture.
I got my first break with bbc architects, volunteering part time on a pro bono project for my church. As that project was wrapping up they offered me a full time position, working on the 45 Degree House, which was featured on Grand Designs in 2015.
I ended up working at bbc for four years and I learnt a lot there, it was a really great company to work for. They cultivated a real family atmosphere and I had a lot of support.
AMH: What led you to move to architecture+?
GS: I got to the point where I wanted to see a different approach as well as get into some different scale architecture. I've been with the firm almost a year now and I've mainly been working with Stuart [Gardyne], which has been a phenomenal opportunity. Everyone here is quite relaxed and everything receives a very measured approach.
AMH: What are some of your favourite parts of the job at architecture+ so far? And the most challenging?
GS: The variety of the job is the best part of it for me. When I started I was working on a high end alteration addition as well as a low cost housing project. Being able to do two totally different projects at the same time is really exciting.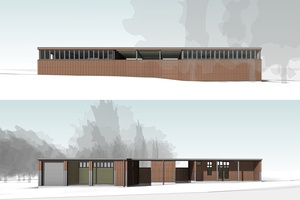 The most challenging part has been the elevated level of attention to detail. I'm currently working on a workshed where every single element and relationship between parts and materials has been worked out precisely. You can't get away with thinking 'close enough is good enough', but that type of attention to detail appeals to my personality!
AMH: What about the realities of working in architecture in general as opposed to what you thought it would be like as a student?
GS: The big one is the lack of design opportunities that, as a graduate, you generally don't get many of. It can take a long time in practice to gain the additional skill sets required to make helpful design contributions to a project.
AMH: You completed a couple of freelance projects while you were at bbc architects. Which project do you think you learnt the most from?
GS: The fit out of FRANK's café with my wife Emma and friend Luke – also architectural graduates – was the most rewarding project I've completed. We only had three months to complete the entire project, including demolition. It used to be this really dated, dark wine bar with terrible circulation. With the shoestring budget that we had I couldn't be happier with the result – there were so many things to balance in a very small space.
AMH: Do you think it's important for up-and-coming architects to do those sort of freelance jobs?
GS: When you're at uni it's often 95 per cent design and then maybe 5 per cent documentation. When you start working it's the opposite, but until you actually do a 40-hour week of drawing up cladding details you don't really understand what that means, and some weeks you do think 'this isn't what I signed up for'.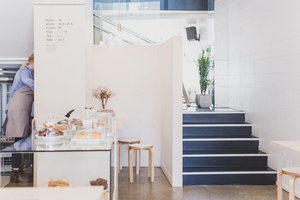 When we finished FRANK's it re-ignited the passion for architecture in all of us because we were at the coal face, dealing directly with the client and making design and budget decisions as well. If you can do a few pro bono projects that's also great, because then your clients are often people who would otherwise not go to an architect.
AMH: You've published some architectural writing over the last couple of years, do you have any stories in the pipeline or plans for future work?
GS: I've got a book I want to write that will centre around stories of how famous architects have died very peculiar deaths. For example, Antoni Gaudí died after being hit by a tram on his way to church. In his devotion to the Sagrada Família he had stopped taking care of his appearance, and taxi drivers refused to take him to hospital as everyone assumed he was a beggar.
The research area of my thesis was around the New Zealand Wars and that's had a bit more interest in the press lately which I think is really important.
AMH: What is the connection between architecture and the New Zealand Wars?
GS: With my thesis I tried to address how the physical remnants of the New Zealand Wars have been lost or erased over time. I undertook a tour around the country and visited a range of battle sites. Some of them are marked, but a lot of the Māori pā were turned into farmland, and a lot of them have been completely forgotten. One of the opinions that comes through is that because neither side decisively won the war, everyone wanted to forget about it.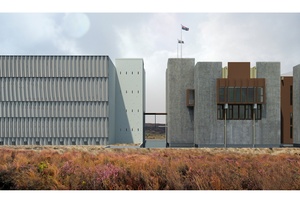 I chose nine things that I thought were interesting aspects of the New Zealand Wars, such as a unique defensive fortification that a tribe might have come up with. I took each of those stories, translated them into an element of architecture and then assembled those pieces together into an extension to the Army Museum.
AMH: What areas or aspects of Wellington's built environment do you think could be improved?
GS: Taranaki Street needs a lot of attention – it's lost its historic connection to the waterfront. The Basin Reserve used to be a lagoon with a channel that ran right down to the harbour, it was going to be dredged and used like a canal.
I think one of the biggest issues in Wellington is that there's still a lot of privilege given to vehicles. I think we could create a central city that is car free. Most counsellors campaign on making a walkable, liveable city, but there's only so much that the council can do when the government's transport strategy is focused on more roading.
AMH: Can you tell me about any projects you're working on currently with architecture+?
GS: The workshed, in Waitaki, is the main project that I've been working on for the last few months. It's deceptively simple, but the thought that goes into the details is intense. The other project I've started on is a house on Great Barrier Island which utilises timber in a multitude of ways.
AMH: You're currently renovating your own apartment, do you find you approach your own space differently than you do a project for work?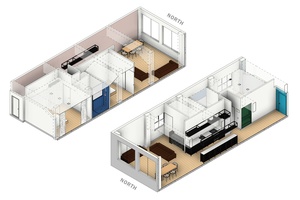 GS: Yes, I think so. The obvious ways are that you've got no creative limits – you can be a lot less safe with suggestions for things. Because we're doing it on a very tight budget we've had to be quite creative about choosing different materials.
AMH: If you could build any public project anywhere in New Zealand, what would you like to design? And what about residential?
GS: A museum for the New Zealand Wars. In terms of residential projects, I'd build a high quality, compact accessible house for my parents close to Christchurch's central city. A house that they could retire into; somewhere I can add a little bit onto and then stay there when we want to visit!
AMH: Who are some of your design influences?
GS: I've had different influences over time and I think you leave parts of some behind and pick up parts of others. The earliest architect I was really fascinated by was Le Corbusier, he was building stuff in the 1930s that would have seemed like spaceships at the time.
More recently I have been influenced by architects who I can see have good work but also leave something other than just well-designed buildings as a legacy. One of these is Rural Studio, a university collective in the States who go out and build in very poor areas. In New Zealand, John Scott is a big influence. Emma and I got married in Futuna Chapel, which was very special for us.
AMH: What piece of advice would you give to your student self?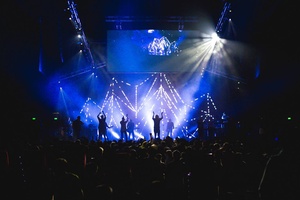 GS: I think it took me until third year to stop doing all nighters, so my advice would be that the work that you do in the middle of the day is going to be just as good as the work you're doing in the middle of the night, if not better.
AMH: Sounds like a good piece of advice! Where do you see yourself in the next ten years or so?
GS: The long term dream is for Emma and I to have our own practice together. Architect Tom Kundig spoke recently in Wellington and in his lecture he said, "Find your own empty blue patch of the ocean". I think it's important to find your one area that is unique to you and in which you can be successful. I'm just not entirely sure what that is yet!
Another interest of mine is to be able to provide a kind of architecture that is accessible to a lot more people than it currently is. Architects need to be not just architects but also advocates for the profession, otherwise for the most part in New Zealand, people just think 'an architect… why would I need one of those?'
AMH: As part of the series we asked you to create a type of mood board to illustrate your influences and inspirations. What ideas are behind this and why did you use these particular Resene colours?
GS: The mood board is made up of objects, finishes, products and of course colour that Emma and I are selecting for our apartment renovation. It's styled simply as a recreation of my desk at work which has been littered with this stuff for the past few months as we try and agree on all the combinations.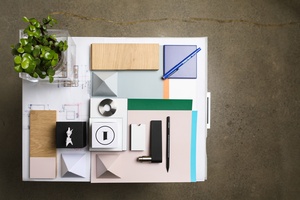 We were inspired by Le Corbusier's approach to colour in several of the residences he designed – the Weissenhof-Siedlung Houses, Villa Savoye and Villa La Roche. Many of his projects utilised pure white surfaces, raw concrete and natural timber offset with polychromatic colour schemes to enhance form, volume and space.
Our apartment features steel factory windows and concrete structural elements, so utilising surprising planes of colour is a means to balance the industrial feel and create a stimulating yet homely interior.
AMH: Lastly, what are five essential things that you need to do your job properly?
GS: Music, I have to have music. My day is ruined if I forget my headphones. The classic pen and paper is still unbeatable for speed and ease for sketching or note taking. Tamari almonds from Moore Wilson's are my go-to snack; I don't drink coffee but there's a soda water tap in the studio that has become quite addictive.
The right shoes are important too – comfortable enough for walking to work or kicking a ball around during smoko; but smart enough for meeting with clients or playing receptionist, as I sit closest to our door!
Read the first On The Rise interview with Haley Hooper here, and the third interview with Maria Chen here. You can find the fourth interview, with Ed Dromgool, here.
The ArchitectureNow On The Rise series is generously supported by Resene.