On The Rise: Te Ari Prendergast
The ArchitectureNow On The Rise series, supported by Resene, focuses on up-and-coming young designers and architects from across New Zealand. For the sixth interview in the series, we talk to Te Ari Prendergast, an architectural graduate at TOA Architects in Auckland.
Amelia Melbourne-Hayward: Was architecture a passion from a young age?
Te Ari Prendergast: It wasn't a profession that I really knew existed. Both my parents were teachers and I thought I'd probably be a Māori teacher.
AMH: Well, you ended up completing a Bachelor in Applied Science and a Masters in Ecology at Lincoln University in Christchurch. How did you end up at architecture?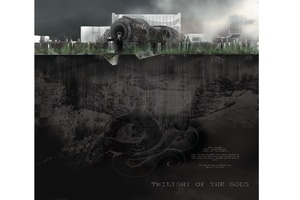 TAP: I had a real passion for climate change and through my science career I realised that the building industry probably has the biggest impact and also the biggest opportunity to create change. I always liked drawing and could write well, which helped. 
AMH: You moved to Wellington to do the Masters of Architecture at Victoria, what was that like? Did you enjoy living there?
TAP: I loved the people in Wellington and the group of friends we had, everyone was creative. It didn't matter what you wore or how you dressed, there was always someone crazier than you or doing something more interesting. We used the university workshop a lot – that's where I started making jewellery.
AMH: Where did you get the idea for your final thesis on a Ngāi Tahu carving school, based in central Christchurch? 
TAP: Tā Apirana Ngata started the Māori carving school as a way to revitalise our culture. With the Christchurch earthquake, yes, the buildings fell down, but there was also this massive loss of identity that was felt by the people. When you rebuild a city it's unfamiliar. The idea was that these carvers would retell the stories and through storytelling rebuild culture and connection.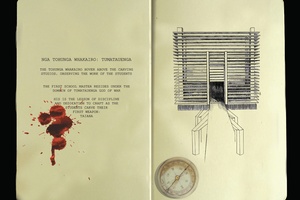 I didn't complete any plans, sections or elevations because architecture is all about experience. I described it as moments of moving through the building and I also had some larger renders of what the building actually looked like. I was quite influenced by what The Bartlett were doing at the time, which was large scale, detailed line drawings and story telling.
AMH: Has your thesis influenced any of your work that you've done since you've been in practice? 
TAP: Absolutely, it's become my manifesto for how I design. It doesn't matter what kind of project it is, I always look at it from the point of how the building welcomes you, how it manaaki's (looks after) you. I'm always honest about the fact that I utilise my Māori values and identity to design a building. When I meet with clients it's a positive merging of their values and mine. 
AMH: After completing your MArch in 2011 you moved back to Christchurch to work at Royal Associates, who were one of the first Māori-owned and run firms in New Zealand. That must have been an incredibly interesting and challenging time to be working in Christchurch. What sort of projects did you work on?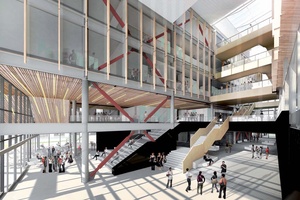 TAP: My first project was the blueprint – probably the biggest urban design project in the history of New Zealand – so to be on the design team, in my first architecture role, was huge! We really promoted ourselves as Ngāi Tahu architects, as it was a real opportunity for us to reconceive this very colonial city of Christchurch as an indigenous city.
We also worked on the Avon River project with Opus and the Regional Science Innovation Centre at Canterbury Uni with Jasmax, which is soon to be completed.
AMH: What do you think about the outcomes of what you worked on in Christchurch?
TAP: With the blueprint I was quite aware of the realities of the situation, which is that everyone was under-insured and the new buildings were over-engineered and double the price. So the fact that anything got built is a miracle. 
AMH: And from an iwi point of view? 
TAP: The iwi have had amazing influence in the city. Perry Royal and I recommended that every building has to be able to welcome, to tell stories of the local area and accommodate Māori ritual and values.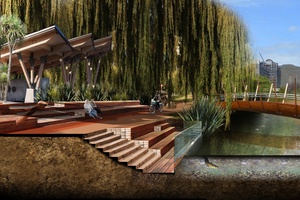 I think that has been successful to an extent. The justice precinct has just been finished and they've got some larger spaces for welcome. There's a feeling of procession and they've done a lot of work on the art side of things, such as manifestations on the windows. Ngāi Tahu feel really proud of what they've done in Christchurch, I just think we had greater aspirations. 
AMH: You were at Royal Associates for several years and then moved up to Auckland in 2014 to work with Chow:Hill, which must have been quite a change!
TAP: Yes, it's where I learnt a bit more structure and about the processes of architecture and how to actually realise projects. In Christchurch I was working at quite a high level, mainly concept design phases. I spent a lot of time with a pen and not a lot of time on the computer – which is kind of backwards for most architects!
AMH: Instead of starting with designing doors, you started with designing whole cities! And now you've been with TOA Architects since November 2016. How are you finding it there?
TAP: The main thing I like about working at TOA is the opportunity to turn up as myself each day, and turn up fully. I do a lot of presentations and consultations with clients myself. Just to be given that trust means a lot, I think it's really important when you're developing your career.
AMH: What sort of projects are you working on at the moment?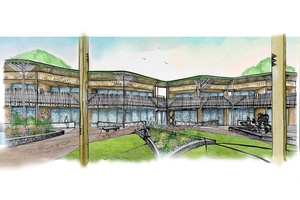 TAP: Quite a broad range, we're really busy. We've got a Māori housing project in Auckland and a marae up in Whananaki, which is great because we get to stay at their bach for the weekend! We're also working on a large commercial project in Rotorua for the Te Arawa iwi, and an eco resort by the lake, also in Rotorua. We do a real breadth and range of projects which keeps everything exciting and moving.
AMH: You've recently become a design mentor at the Akina Foundation, have you completed any projects thus far with them?
TAP: I've been advising Spectrum Care, who try and transition people with acute mental health problems, and give them skills to find employment. They do great things with little money, so we're looking at how we can design their space to be more pleasant.
I have a very strong interest in workplace design and wellbeing. For this project, it comes back to those health by design principles and how we can improve mental wellbeing by using things like colour, nature, daylight and creating communal areas, just like you would design an office.
AMH: That sounds really worthwhile… and design obviously has a huge impact on our physical and mental wellbeing at work as well as our productivity.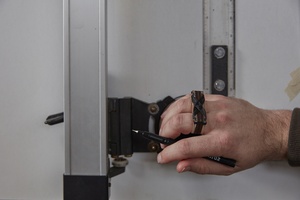 TAP: The workplaces that we work in are killing us. People go to the gym not because they want to get stronger, but just to try and fix the damage that we're doing from sitting all day. I think that's counterintuitive – our workspace should improve our wellbeing and health, not deteriorate it.
I want to know how can we make work work for us. Sit-stand desks are great, but standing too long is just as bad. You need to be constantly moving, and that gets you circulating but also bumping into your colleagues which creates that community.
AMH: You also design rings. Do you want to take that any further?
TAP: Yes, I'm looking at putting on a little exhibition soon. Making jewellery has always been a creative outlet outside of architecture because I don't have to worry about buildings falling on people's heads and dealing with councils!
My rings are called Amai, which means 'to be bound', because they are based on traditional bindings, which is an architectural element in itself. I've had them sold in galleries but I've been re-invigorated with Adrienne Whitewood featuring them on the catwalk in Fashion Week. I'm looking at making some bracelets and bigger pieces next.
AMH: Any other future plans or directions you'd like to go in architecture?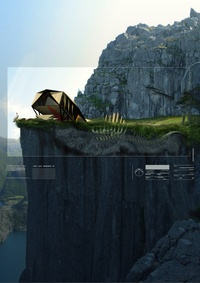 TAP: I really want to set up my own shared office using the productivity and performance hacks I've learnt. I want to be my own client, design my own space and really test how people approach it. I'd also love to do an eco-resort in Tahiti, hopefully next year!
AMH: What aspects of the jobs do you enjoy most? 
TAP: The ability to express your creativity and be yourself is probably the most important for anyone, and for that you need to be in the right firm. If you are comfortable in who you are it sets the client at ease and they can get an idea if you are going to work or not.
I think what's really important with architecture is that trust relationship with your client, because I find a lot of the time is spent convincing them of change, and change is hard for everybody. 
AMH: It's great that you're at a place where you are encouraged to be yourself. And what about the most challenging parts of the role?
TAP: It's more how we're working that frustrates me. I love the projects and the people I work with, it's just that the realities of architectural practice mean we're stuck at a computer all day in Revit and CAD land. I'm interested in new technologies like AI because then I could just talk to the computer and it would do all the CAD work for me!
AMH: What's one piece of advice that you'd give to current architecture students?
TAP: Your final thesis is crucial in discovering yourself and the architect that you want to be. One of the key pieces of advice I got from my thesis tutor Daniel K. Brown was "describe the building like you're holding your daughter's hand and walking her through it." That completely changed how I saw architecture.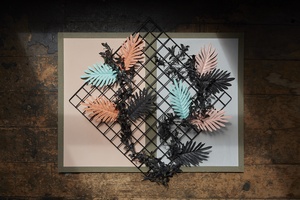 Also, create your own brand. Really dig into identity because identity is everything in architecture. If you don't know who you are, you're not going to be a good designer. 
AMH: From a Māori view point, what do you think the architecture industry in New Zealand could be doing better?
TAP: It needs to do everything better! The way I view it is that our ancestors walked and inhabited every inch of this land so there's always going to be those traces of a Māori identity no matter who the project is for or where it's located.
Having stories and a history to draw from enriches the design but it also enriches your own experience of the design process. That's something I would encourage all practitioners. It doesn't mean your building is going to have korus everywhere, it's just realising what lens you are viewing the project from, and if it's not a Māori one, then what lens is it?
AMH: As part of the series, we asked you to create a mood board to illustrate your influences and inspirations. What ideas are behind this and why did you use these particular Resene colours (Half Bokara Grey, Riptide, Cornflower and Ruby Tuesday)?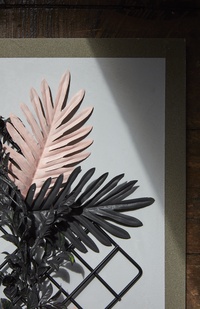 TAP: I have always liked South American residential architecture where they combine cool concrete structures with the deep greens of the rainforest and use vibrant pastel colours and renders for texture. It's great to also look outside of architecture and I was inspired by the great resurgence of colour in Māori design as seen in Adrianne Whitewood's and the Miramoda show at Fashion Week.
AMH: Lastly, what are five essential things you need to do your job?
TAP: Ethical/organic fashion is a great way to start the day, helping the world just by getting dressed! I definitely find the week less stressful if I can get to a Ludus Magnus workout, even though I nearly die each time. I use Artline pens – what do suppliers expect us to do with promotional ball point pens? Project managers and other consultants that understand Māori clients are essential, and finally, the ocean – an instant connection to anyone of the Pacific.
Read the first On The Rise interview with Haley Hooper, the second with Geordie Shaw, the third with Maria Chen, the fourth with Ed Dromgool, and the fifth interview, with Beth Cameron, here.
The ArchitectureNow On The Rise series is generously supported by Resene.