Opinion: revitalisation of Tauranga CBD
In this opinion piece, Damian Simpson, associate director at Ignite Architects in Tauranga writes, "Retail and commercial opportunities must be invited back into our CBD."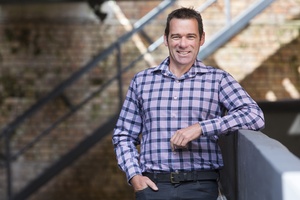 Despite its stunning location on the water, Tauranga's city centre hasn't met its full potential as a liveable, people-centric, thriving hub. Still ruled by the car and with a waterfront screaming for attention, the city could be so much more with some good planning and design. With the phenomenal growth of Tauranga in recent years, it's time to make the CBD a fitting showcase for all that's great about the city.
Bay of Plenty planning group SmartGrowth has estimated Tauranga's population will grow 37 per cent in 20 years (from 2013 to 2033) and the city will need to accommodate an additional 45,000 new households. We're seeing young professionals and families move into the area and with the labour market expanding, new businesses are being initiated, and the local economy is on an upward trajectory.
Provisional GDP growth to March this year was 3.8 per cent, house prices are up 16.6 per cent and retail trade increased 7 per cent over the last year. In addition, Tauranga has an array of lifestyle benefits, with a great coastal way of life.
The challenge is to make the central city the centrepiece of the new Tauranga, without detracting from what the rest of the city offers. What we've seen over decades is a decentralisation of retail and commercial facilities away from the city centre. We've come through an era where people haven't needed to venture into the city. Suburban retail complexes contain everything from retail to hospitality, entertainment and social facilities.
However, this is what now makes Tauranga's CBD a unique proposition for retail, restaurants and businesses – its central position at the heart of new developments.
Globally, we can see a move towards an urban renaissance. Melbourne, for example, has become a city where retail in both large-format suburban complexes and urban shopping can co-exist. While the boutiques in Toorak Road, the buzzy Prahran and St Kilda markets and the enormous Chadstone mall are still popular with Melbournians (and the floods of Kiwi tourists), the central city is now drawing more people back. Laneways have been created out of former service access lanes, in conjunction with shared pedestrian zones that offer better access to restaurants and shops while being inviting spaces in themselves.
The venerable Queen Victoria Market area is currently getting an overhaul, with space previously used for parking or traffic now being transformed into open public spaces, reinforcing that the market is for people, not cars.
Closer to home, Auckland is another example of a successful CBD renaissance, where laneways have also played their part. Just a decade ago, the city centre was all but abandoned by shoppers other than office workers during their lunch hour, students and occasional tourists. If a city's centre is its heart, Auckland's was in desperate need of a transplant.
Now, with the street-scaping of the Queen Street area, including the transformation of Fort Street and Fort Lane into textured and intimate spaces, city life has returned. More paved pedestrianised areas invite people to wander, recall the feel of a European city. With the Silo Park and North Wharf precinct, including mixed-use retail, hospitality and accommodation developments, people now have access to their waterfront again, with walkable access to the harbour edge, water front and the marina.
Tauranga is just beginning to experience a similar transformation. The Tidal Steps now give children the chance to walk down and literally touch the water, with an urban park providing somewhere for people to relax and play. The Tauranga City Plan also contains proposals to transform service access lanes into cute laneways as in Melbourne and Auckland. Central Tauranga has a real appetite for more open space, but like the laneways, these needn't be supersized. Pocket parks and squares are the perfect complement, providing spaces for unique experiences as you move through the city.
What Melbourne and Auckland have done so successfully is to create mixed-use developments, combining convenience retail, office space, hotels and residential accommodation together with large format retail offerings. The North Wharf commercial and residential precinct is just one example. The Commercial Bay development due to open opposite Britomart train station in 2019 will be the jewel in the crown, offering both retail and office space on 39 levels – the largest mixed-use development seen in Auckland for decades.
Tauranga won't see towers on quite the same scale as Commercial Bay, but with several buildings proposed of approximately 10–12 storeys, coupled with mixed-use developments, plans are already afoot for its transformation. People can step from restaurants to their homes down safe, inviting laneways, and work closer to where they live.
As well as being the best use of land, this will encourage Tauranga residents out of their cars, and to get more active. Currently 91 per cent of locals prefer to drive to work. A more intensively-developed city centre will help reduce the strain on Tauranga's roads and encourage the use of public transport.
Bringing residents back into the city – not via the old poorly-constructed budget accommodation but newer, quality apartments that will stand the test of time – has brought life blood into Auckland's once-ailing heart. Savvy boutique redevelopments full of dining options have given workers a reason to stay after hours. Having everything at hand is also a great attraction for tourists.
Bringing life back into Tauranga's CBD will require a network of spaces for all to enjoy, whether that's better access to Tauranga's harbour and waterfront, inner-city pocket parks, or our own laneways and retail precinct.
With the population booming, Tauranga city centre should be a bustling, dynamic and thriving place. These are exciting times. Let's bring retail and commercial into the city and open up our harbour. Let's take more of a 'placemaking' approach to our city. The vision and framework are already in place – now let's get on with it. 
Ignite Architects has been heavily involved in bringing the NZIA Festival of Architecture to Tauranga for the first time. The designers will discuss the future of their city at the festival's Smart Panel discussion on September 13. Register here for this free event.