Partner content: Formica AR Touch
Dave Sweatman, associate at Space Studio, has created a futuristic moodboard using the new Formica AR Touch.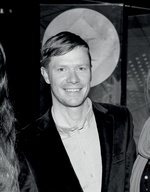 This assembly of materials is about being futuristic in form and colour, while intensely tactile and warm in texture. The starting point was the new Formica, AR Touch. A few months ago, Kathie, our Laminex rep, dropped off the new product and it has a super matte surface, which is almost like a rubber tile to the touch. It's soft and fingertips leave no trace. Surprisingly it's also suitable for horizontal surfaces.
This product promises to solve a lot of the detailing challenges we face each day. For the hotel and hospitality projects we work on, the guest needs to feel like they are the first person to ever use that space; so, little scratches and finger prints are a big challenge. Our selections need to be durable, but we also need to create a warm, inviting residential experience.
Our details push commercial products hard to ensure they maintain a softness and warmth. In the case of timbers and stone, a glossy surface can detract heavily from the quality of the material that you're trying to bring to the fore. I'm amazed by the depth you can get out of a very plain granite once you take the polish off the surface.
– Dave Sweatman, associate at Space Studio
ArchitectureNow works with a range of partners in the A&D supply sector to source appropriate content for the site. This article has been supported by Formica and first appeared in Interior magazine.