David Hockney, the wunderkind of British contemporary art in early 1960s' London, has now notched up almost 60 years at his easel. His paintings, drawings, prints in various media and collaged photographs are amongst the world's best-known and most popular art.
A touring retrospective exhibition, celebrating his 80th birthday, has broken attendance records in London, with Paris and New York still to come. Depicting architecture, including houses and domestic interiors, is an interesting facet of Hockney's work.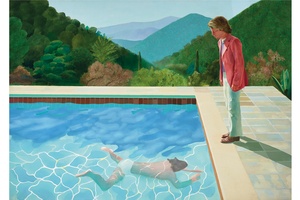 He painted Domestic Scene, Los Angeles (1963) in London, before his first visit to LA in 1964, when he described it as his "promised land". The effects of brilliant Californian sunshine on the city's mid-century modern houses and their ubiquitous swimming pools immediately entranced him. "People then didn't even know what it looked like," he recalled later.
Thinking that LA deserved someone like Piranesi, the 18th-century Italian artist who chronicled Rome's ruins, he decided he was that person. Twentysix Gasoline Stations (1963), Ed Ruscha's book of dead-pan monochrome photographs taken along Route 66, includes Bob's Service in LA, but Hockney's paintings added a chromatic dimension. Gas stations are undeniably functional, but sunlit swimming pools are seductively hedonistic.
Peter Getting Out of Nick's Pool (1966) shows Peter Schlesinger exiting the water in front of a modernist house. Portrait of an Artist [Pool with Two Figures] (1972) shows Schlesinger standing poolside observing an underwater swimmer, with a valley stretching downwards in the background. Both paintings distil a particular mood at a specific place and time.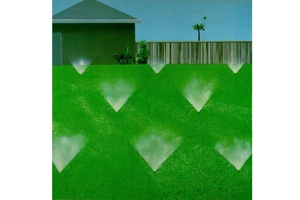 Paintings of commercial buildings silhouetted against azure skies, a tall rectangular Medical Building (1966) and a squat cuboid Savings and Loan Building (1967), achieve a geometric monumentality. A Lawn Being Sprinkled (1967) by eight automated water sprinklers symmetrically arranged in front of a timber fence, critiques the banality of verdant manicured suburban lawns.
An almost life-sized double portrait, Christopher Isherwood and Don Bachardy (1968), shows the English playwright and novelist looking admiringly at his American artist partner, in their Californian home. Despite their informal pose they seem constrained, walled off behind their coffee table, seated in identical armchairs behind symmetrical piles of books. Perhaps they would rather have been by their pool.
The paintings and drawings Hockney made of LA between 1964 and 1968 defined its visual identity for a generation; and it's impossible not to view that Californian decade through the artist's eyes.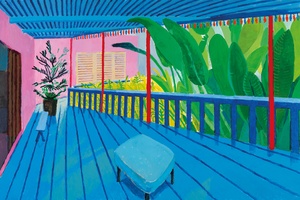 Hockney's later paintings of Californian domestic architecture are more abstract and riotously coloured, often depicting his own Hollywood Hills' house, garden and swimming pool. Model with Unfinished Self-Portrait (1977) and Hollywood Hills House (1981-82) depict spatially ambiguous interiors, scrutinised from multiple viewpoints. Red Pots in the Garden (2000) provides a vertiginous view down into his garden and pool, from a corner of his terrace.
Garden with Blue Terrace (2015) and Garden (2015) are reminiscent of the French impressionist Claude Monet's retreat from the world, to paint his Giverney garden. Perhaps Hockney will eventually refill his pool with unchlorinated water and plant some water lilies.
David Hockney Tate Britain will be shown at Centre Pompidou, Paris until 23 October and The Metropolitan Museum of Art, New York from 27 November until 25 February 2018.