Back from the dead: Pitches Store
There must be something quite special about a restoration project where the architect – in this case Michael Wyatt – carefully retraces the original 130-year-old façade signage. He did so in March 2011, at the culmination of the six-year project, which turned a largely derelict former town store in one of Central Otago's heritage precincts into a restaurant and boutique bed and breakfast.
Michael Wyatt Architect, the clients, a team of builders, historic restoration experts and engineers had rallied around the building to breathe new life into it, and this was the final touch.
"It had good bones," says Wyatt, "but it was pretty rickety structurally and really, those bones were leaning." The history of those bones dates back to the gold rush and a certain Mr Pitches, who set up a general merchant store in Ophir, now very much the proverbial one horse town. As the rush subsided, so did the store's viability. Not only lack of patronage but blighted by fire, it closed its doors in the 1950s, recovering only just to serve as a bus station, petrol pump, leather tannery, woodwork business and storage facility, suffering many modifications as it went.
The various fixes, additions and subtractions - including a hole in the wall to fit a bus - had been unkind to the building, says Wyatt.
"Really, its life was chugging to a halt, until Colleen and David Hurd saw the potential in it."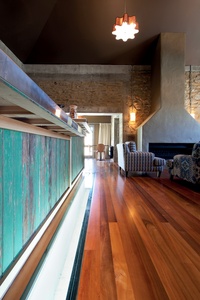 With the clients' blessing, Wyatt consulted Dunedin-based restoration expert and engineer Lou Robinson, amongst other building experts. Also on this bill was Amalgamated Builders' Cromwell manager and a heritage stonemason from nearby St Bathans.
"Like me, these guys have a sense of empathy for old buildings, so we were approaching this from the same perspective. Lou also had the blessing of Historic Places Trust, which was a rescue."
This was important. Ophir is registered Category 1 by Heritage New Zealand, at the time known as New Zealand Historic Places Trust, and already laid claim to a couple of historic buildings. The protective mechanism for the store was administered by the local District Plan policies and heritage listings under the Resource Management Act of 1991. 
Whatever the architect and owners were planning, it needed to look authentic.
Comparing historic photos of Pitches Store with the restored building shows a successful intervention. The building has essentially been disassembled and seamlessly glued back together.
The bus-sized hole was replaced by a door and window and a new corrugated roof, in keeping with the original, was fitted. The stone cladding was repointed, which in doing so, served to strengthen the structure. The second level timber floor also effectively braces the stone. The beams, walls and roof tie the building together. Much of the build is original and recycled, for example the team were able to reuse discarded bricks that had been left onsite after various extensions had fallen into disrepair.
Where the necessities of modern day life intervened – such as the warm water central heating system - every care was taken to ensure such systems were seamlessly integrated into the building to minimise visual impact.
Strengthening the rickety building was crucial to meet a number of conditions, notwithstanding being earthquake proof. Furthermore, consent needed to be granted by the council to allow the premises to operate commercially in what had since become a residential zone.
Patience, experience and a large dose of veneration has brought this building back to life, and while six years may seem a lengthy project, many more years of life have been breathed into it.