Architectus has designed well-known buildings around New Zealand – from the Christchurch Bus Interchange to the masterplan for Auckland's Wynyard Quarter and St Peter's College Technology building on Khyber Pass. The practice has also produced many equally elegant and accomplished houses and apartments.
Justine Harvey sat down to discuss its residential design approach with founding director Patrick Clifford, recipient of the NZIA's 2014 Gold Medal (the Kiwi architectural equivalent of an Oscar), and associate Severin Soder.
Justine: When and where did Architectus start?
Patrick: Architectus was started in Auckland in 1986, so that's 30 years ago. Over that time we have developed some offices in Australia but we began here with Michael Thompson and Malcolm Bowes, and it stayed that way for a period of time. Back then, we were a reasonably small-scale practice but with ambition to do larger projects as well.
The three of us had come back to New Zealand from working in practices offshore in the UK and we wanted to explore the opportunities to work particularly in public architecture, with a process fed by collaboration and competition. At the early stage of that practice, residential architecture formed the predominant diet, which was often house alterations and many of those were referrals from other firms of architects.
Justine: Do you design your houses independently as architects or together as a team, or would one of you lead and then have a discussion and glean feedback from the others?
Patrick: On individual houses we probably work like many firms. The relationship with the client usually involves one or two of our architects on each project; certainly Severin and I have worked together on houses. That model would involve more individual relationships with the client because of the scale of the work but also discussion in the office about what's happening, as well as model making. The model making is a very visible thing that means what's going on is evident to all of the people who work around and amongst you.
Justine: When clients come to you and want a house designed, who would they potentially talk to at Architectus, other than the two of you?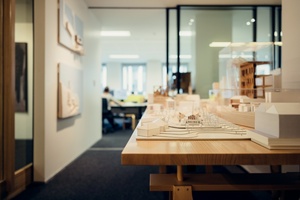 Patrick: Carsten Auer has re-established an office in Christchurch; we did have an office there before, when we worked on projects at the University of Canterbury. We have re-established that office because we had quite a few requests to do work there after the earthquakes.
Justine: Like the Bus Interchange…
Patrick: Yes, the Bus Interchange and St Andrew's College Memorial Chapel and we're working again at the University and in medium-density housing. Severin and I have often worked together on all sorts of scales of projects and we have an overall approach to this, which is guided by a common view of collaboration.
It's quite an international team: Claire and Manuel are French, Carsten is from Germany, Eduardo is Spanish, Anders is Norwegian, Lu is Chinese, and Severin is from Austria, among others. Severin rocked up about 10 years ago, having studied and worked in London and then Paris.
Justine: In terms of your house designs, there is an aesthetic but it's not distinctive. Some architects have a very distinctive style but yours is a philosophy, perhaps.
Patrick: I'd like to think we have an approach. We're interested in type and by that I mean the ways in which you do both houses and housing – so, for example, the Trinity Apartments in Parnell is a project where we wanted to make some great apartments.
Severin: They have a double aspect with east and west orientation, as well as having an urban response, built right up to the street edge, and maintaining both the public and private. We were making a clear statement about how you organise that, with respect for the neighbours, which was probably somewhat exceptional at the time, from all those points of view.
Justine: In various discussions I've had with architects about good apartment building in Auckland, they always cite those apartments as one of the few early precedents.
Patrick: We're aware of the precedents of type and that would equally apply to the individual houses, whether it be pavilions or courtyards for example. We've completed Number 5 house, which is a pavilion on the one hand yet, together with the two other buildings we designed on that site, forms a group that makes a courtyard; so Number 5 is a part of that investigation.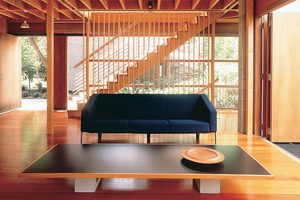 Recently, in Herne Bay, we've worked on a project that is simply a courtyard house in itself. We built a house near Wellington at Te Horo, which is organised around an earth wall so it has a tectonic element – there's something to do with the way you make it, the central structure of it, that is the idea behind the design.
Severin: That's a very strong theme on Trinity also, because it's so raw you can see every piece that comes together. Some people might think that it's not even finished.
Patrick: Which, I think, is a compliment.
Justine: That rawness is sort of a theme throughout much of your work though, isn't it?
Patrick: Yes; for example, the house I built for my family (Clifford-Forsyth House).
Justine: One of the things I really enjoy about your work is that there is a simplicity and honesty and a timelessness about it. I mean, it's hard to be timeless in architecture, but if you're going to seek to attain that, I guess it's about allowing a level of flexibility over time.
Patrick: I don't think architects set out to be timeless but they like to think, relative over time, that a building is not reduced to a caricature within four or five years of being completed.
Justine: For this issue of Houses [issue 42], there is an article on the London Design Festival, in which an architect created Monopoly houses as a folly or installation and they actually look like Monopoly houses, all in red and green. There does seem to be a current trend for that over-emphasised gable roof form. From your perspective, fashion is not really your thing, is it?
Patrick: I don't think anyone will admit to that.
Justine: Architecture is inevitably part of a moment in time.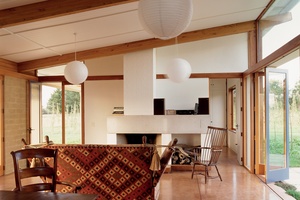 Patrick: Absolutely. We enjoy looking at and studying what other people are doing, of course. That said, we want to have our own conversation as well, so that one project leads to another and is based on our thoughts about context. Everybody looks at context in their own way and, with houses, one of the really interesting things is what the brief says. What can you elicit from the conversations you have with people?
Justine: That's a good point to make because you are trying to understand what the client wants.
Patrick: There are a couple of examples; if you look at Edwards House, the client knew a little bit about the work we'd done and Kate [the client] had been to my own house and, later, she contacted me and said, "Look, I would really like you to design our home but you guys don't do houses with roofs and we'd really like a roof."
We agreed and I said, "Why don't we just design something and if you think 'this is good', then we'll go ahead and if it's not good, we'll suggest a few other people who might be better suited to do it for you because we've known each other for a long time and we're not going to fall out over this."
Similarly, the house at Te Horo is for my brother and his wife, who were thinking about house ideas for a big 7-hectare site – an old piece of a farm. It's quite hard to put a little house in the middle of 7 hectares.
Justine: Unless you're surrounded by bush, but if you're plonking it in the middle of farmland…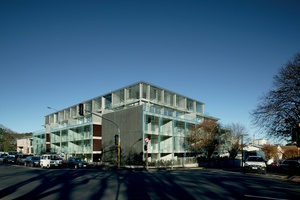 Patrick: There was nothing. They were thinking of building some kind of walled garden so we suggested to make the first wall part of the house; so that's the way that house came to be – from the way in which they described it in our initial conversation.
Justine: You see a lot of schools going up that are just plonked on the site, pretty much. I find that very sad because these are places where young people grow; so, in fact, they are far more important than any other building and, also, because they have so many people going through them over time.
Severin: Yes, that is why public architecture is so important.
Patrick: One of the characteristics of our work, and that applies to our designs for schools, universities and other places, is that we've really tried to mine the thinking that sits behind the project; the impetus to do the project. What is it that compels this project to happen and how can we build on that and develop its personality… and that derives from those initial conversations.
I feel very strongly that the ability to see the connection between things is the fundamental challenge and opportunity of being an architect; how do you make this connection and, then, how do you make it manifest in some kind of physical construction?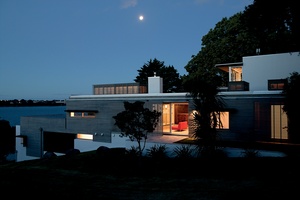 One of the key aspects that has informed our house designs is around climate. What is important, particularly in Auckland, is the way in which you make spaces and organise the edges of buildings to enable the occupants to use the edges happily through the course of the year. That may sound incredibly obvious but I think it is just fundamental that you can open the door when it's raining and there are covered edges and thresholds to occupy. That's helped by the ability to open walls etc., so you can enjoy the climate – because it does get hot but not really hot and we know it's going to rain on a regular basis.
Also, our houses go back to using essential or primitive kinds of materials that are quite beautiful. If you have good materials – concrete block and wood put beside each other – then both benefit from the experience; it is about the relationship between one material and another. We also have a real interest in craft and how you join things together or physically construct.
Justine: Severin, you've come from quite a different climate and way of working in Europe. How have you found the transition – do you have to think differently working in New Zealand?
Severin: Not really. It's pretty easy to get into the groove in New Zealand and the way things are done in this office. The one thing I really like is that everything starts with a very strong idea.