Profile: Bull O'Sullivan Architecture
Some of New Zealand's most handcrafted homes are created by Andrew Bull, Michael O'Sullivan and Glenn Watt's architecture studio. Justine Harvey spoke with the trio at their Shortland Street, Auckland office.

Justine Harvey: Where did you train and how did you come together as a studio?
Andrew Bull: We all went through the University of Auckland. I was working just along the road on High Street and, in fact, Glenn was there as well, on a different floor. Rick Pearson and Bill McKay (fellow architects) were there and it was quite a good community. I had spare space and Michael, having returned from overseas, was looking for an office and that's how we started in 1994. It seems like a long time ago now. In 2000, we moved into here (the South British Insurance Building). Four years ago, we moved from the fourth floor to the ninth floor.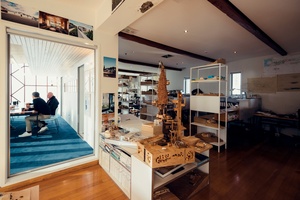 Justine: Is it a better-sized space?
Michael O'Sullivan: The price was quite good at the time and it's conducive to what we do because it's a domestic-scale space. It's like having a 1950s' West-Coast-of-the-South-Island bach in Auckland's CBD; it's like Janet Frame's crib on the top of a historically-classified building. Well, it is now.
Justine: It's a lovely space, which does have a domestic and homely kind of feel.
Michael: We're happy up here; there is plenty of light and sunshine in the mornings.
"It's like Janet Frame's crib on the top of a historically-classified building."
Justine: Do you naturally have similar thinking about what you are trying to achieve within your work?
Andrew: We feed off each other. While we do work together on the larger projects, the residential work is a bit too small to have everybody involved. We might all have a go at tackling a scheme for a house but it proceeds down one path or becomes a combination.
Justine: Does it keep you on your toes to continue striving?
Michael: The strength of our thinking lies in the fact that we're very different thinkers architecturally and yet we're mature enough to crit each other's work to a level where it's always productive.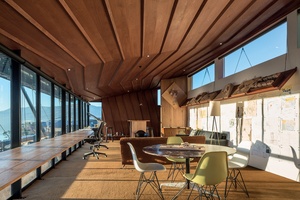 Andrew: We start with a client and their brief. We spend as much time as we can on those areas and always bring the clients along during the process. But sometimes we drop something down from a great height and say 'this is what it is'.
Michael: For example, I wouldn't show anyone a scheme unless I thought the project was finished. Either Andrew or Glenn would come and say 'stop', then I'd attend to that deficiency before showing it to a client.
Justine: So you're self-regulating.
Michael: Yes, and most of the clients coming to us probably know a fair bit about our work.
Justine: In terms of your approach to space, light and materiality, how would you describe that?
Michael: When you start your career architecturally, you're taught to think about how the building stands in a pragmatic sense and it's only through trial and error and experience, as well as from success and failure, that you understand the implications of spatial compression and expansion, and how that relates to the sun moving across the sky. You only learn that with practice.
No computer program can tell you what an amazing sitting room could feel like at four o'clock in the afternoon on 21 June, the shortest day of the year, or if you're trying to hide from a 35-degree heat on 21 December in Central Otago, for example. You have to have built things before to understand what those implications are spatially.
The planning of some New Zealand houses might have been really sophisticated in 1910 but that was based on European frigidity, horrific climates, and building during the Depression. Building had to be ruthlessly simple; so to bring intrigue into it was a very advanced line of thinking. We're now free from that in this country; we're so lucky that we don't have that constraint and can be quite expressive.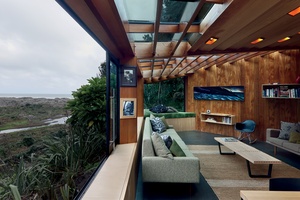 Glenn Watt: Materiality probably only develops as the project goes through and starts getting built, not from Day One.
Justine: One of the things that's unique about your work is the handmade or craftsmanship element. Michael, you typically have a very hands-on approach that's probably fairly unusual for an architect nowadays.
Michael: Yes; look at the Health and Safety Act in the workplace that came in at the beginning of this year. I'm confident that it will be responsible for the dullest movement in New Zealand's architectural history. Unless architects can step away from that crap, we're going to end up with more pre-cast concrete mediocrity, like what's being built in Canterbury where just about every street you go down in the (Christchurch) grid has it. I'm sure it's a by-product of that really controlling reaction to risk thinking, which the Act has put in place.
But that probably doesn't answer your question; architects spend an extraordinary amount of their time checking regulations and building codes and whatnot. Imagine how architects like Plischke [Austrian émigré architect Ernst Plischke] must have felt when they came to New Zealand and saw this free uninhabited landscape which they could build absolutely anything on, especially having come from the European tradition.
Andrew: Mind you, it was a brave new world back then. They pushed the boat out, but there were a few mistakes along the way.
Justine: Maybe we're just too afraid of failure. Australian architect Andrew Maynard made the point to me that there are some really crazy buildings in Melbourne, but he said that it's great because you look at them now and see the progression of people being experimental, trying different things, even if they're not always wildly successful. They just become part of the character of the place. He actually has a point.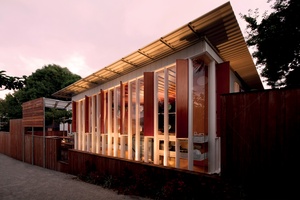 Michael: Well, it's part of the historical lineage of a place.
Justine: If you're involved in the actual making of a building, presumably you can be a bit more experimental; you can change your mind. It's not just a set plan where you say to the builder: 'Off you go'. You actually become part of the process.
Glenn: Our projects are seen through to completion; they're not given to the builder with, 'There you go – start the next one'.
Michael: With many of the homes we've designed, we've tried to insist that we make the dining-room table to have a wee bit of involvement at the first stage of a family living in the home. People often think it's weird until they get to the end of the process and come to the space and see a table that we've made for them. It's a nice gesture to think that we've made a table for them and that their family will sit around and enjoy meals together.
Justine: Well, it's the heart of the home, isn't it?
Andrew: I suppose it's about bonding with the place.
Justine: How do you model your houses to respond to climate?
Michael: Many of our starting points are with watercolour paints.
Justine: Do you actually go to the site and sit and paint?
Michael: You watch the sunrise come up and you paint to figure out the intensity and quality and orientation of the sunrise.
Glenn: You can rush out to a site, take a few photos and rush away again but, to actually sit down and draw something on site, it just slows the whole process down; it's invaluable. We keep returning to site as well; it's not just one visit but at different times of the day.
Michael: Then, the built model is taken to the site to see if it works. You hold it up in the right orientation and you watch the sun in the morning, at lunchtime and in the evening; you work on it and pretty quickly you can see if you've got it wrong. Some people say, 'Oh, why do we need to have a model made?' You need a model to ensure you get it right. But, still, it's only paper and cardboard and timber and plastic; it's not until you start building that you can really contribute to what Glenn talked about.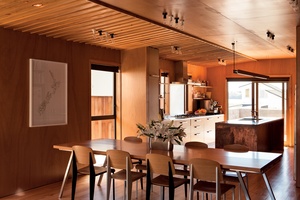 Andrew: You can quite easily start a project on the computer but the immediacy of the hand and eye means that you free up and things come out of the page, which probably wouldn't happen if you were on the computer.
Glenn: It's a slower, more tactile response. With the computer it's just, you know…
Michael: …Fast and horrible, really.
Glenn: It's a necessary evil but we need it.
Justine: You talked about expansion and compression. Explain how you approach that.
Michael: It's the intimacy of a small space, the way Frank Lloyd Wright received people into a little compact entry model. Wright brings you in rather sneakily through the side door in a really compressed volume, takes you on a wee journey, then unfolds you into a big delicious palette of materials and a very generous expanded volume. Then, he compresses you again into utility spaces. All that rhythm!
Justine: I'm not sure that a lot of New Zealand housing is thinking about legacy. People tend to think, 'this is all I can afford right now', rather than 'this home is going to be here for a hundred years'. Perhaps we need to be thinking more about the generations ahead of us. As a culture, that's something we have to work on.
Michael: Well, that's the exact mind-set that prevents people from engaging architects. It's risk averse, as well as people wanting a fixed price.
Justine: It's possible to build what you can afford now to a high quality but, at least, make sure the spaces and materials are right and, then, all the extras can be added on later.
Michael: But you've got to get the compositional nature of the spaces right.
Justine: Exactly. Michael, your home in Mangere is pretty special; was it a long process to build? And did you build it yourself?
Michael: Yes, we spent 22 months building it, pretty much ourselves, and lived in the garage at the back. It was an old classroom that I just dropped on site without a consent and told the council it was a builder's hut. Well, I was the builder and I was living in it, so it's a builder's, isn't it? I'd never built a house before.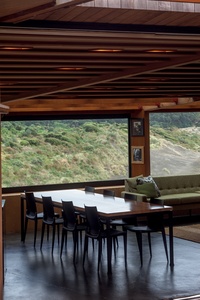 Justine: Did you already have an idea for what you wanted?
Michael: No; the final home is vastly different to the drawings we submitted for building consent. It was Glenn's idea to lower the platform at the back, which just turned out to be one of the most successful spaces in the house; it's where we sit for the sun at the end of the day and to see the view of the mountain. It's the classic example of building a model and going, 'Oh yeah, that works' – and then Glenn sees something completely different to what I see.
Justine: Did that happen during construction?
Michael: Yes, it was during construction and it was a much more sensible idea. The ability to change projects is quite easy when you're doing it yourself but to convince clients to make changes is fundamental as well.
Similarly, at (former Waitakere mayor) Bob Harvey's house in Karekare, we were walking down the stairs where there was an inclined roof plane and Melissa (Michael's wife) says that it would be nice to see the hills on the other side, which you don't see until you're standing there. So I said, "Well, you tell Bob" and she did – and they went with it. But this approach relies on the clients having a sense of fluidity and a bigger picture beyond the drawings and model stage that we talked about before.
Justine: And the trust as well.
Michael: Yes, and trust that the final product will be capable of leaving a suitable legacy.