Q&A: Patchwork Architecture
Amelia Melbourne-Hayward chats to Sally Ogle and Ben Mitchell-Anyon, co-directors of award-winning Wellington studio Patchwork Architecture.
Amelia Melbourne-Hayward: In 2011, you both left your jobs at Melling Morse (Ben) and Studio Pacific (Sally) to move to Whanganui to build the Dogbox. That must've been a big decision, what was the inspiration behind this?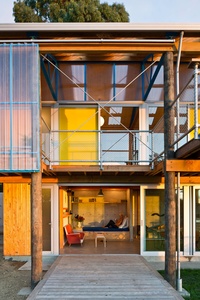 Patchwork Architecture: We wanted to learn about building, and throwing ourselves in the deep end seemed like a good way to do that! The reason for Whanganui specifically was more pragmatic – we'd been looking for land for a while, and this was the best, cheapest bit we found – $18,000 for the section.
AMH: What were your personal goals with building this project, and do you feel you achieved them?
Patchwork: It's been a while since we finished the Dogbox (five years since it was completed), but I think its safe to say we learnt a huge amount about building that year, which has shaped the way we approach design and detailing since. We wrote a piece about the experience of building the Dogbox, which is a good summary! The Dogbox was also the project that launched our practice – we probably wouldn't be where we are today without that experience.
AMH: Which aspects of the Dogbox project are you most proud of, why?
Patchwork: We're happy that it still looks great after 5 years. We built that house super cheaply ($162,000, not including our own labour), but being extremely conscious of the budget didn't mean using crappy materials, and that shows now. We are really aware of this when designing – we always choose durable, low-maintenance materials that will weather and wear nicely.
AMH: Did you have any unexpected challenges during the building process?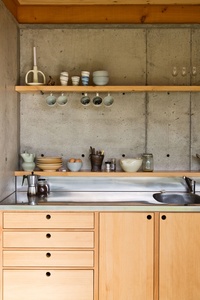 Patchwork: There were definitely stressful moments, but overall building the Dogbox was heaps of fun! Although we were both the designers and the builders (along with Tim and Caroline of Spacecraft Architects), the process was a fairly traditional one, with the design completed before building began. Design-build gives the freedom to make some changes during the process in terms of finishes and detailing but doesn't tend to mean reinventing the project along the way – it would be a nightmare to get anything consented if that were the case!
Building is stressful for anyone – there are always unexpected challenges, and a myriad of decisions to be made through the process. But it can and should also be a really fun and exciting process – part of our job is to try and keep the balance on the side of fun rather than stress for our clients.
AMH: Your project Stealth Bomber, a 135sqm house in inner-city Wellington, is situated on a small, steep site. How did you design around this?
Patchwork: Small, steep sites aren't unusual in the windy city, so the process of working on a site like this isn't unfamiliar. It definitely adds complexity – in this case the section has neighbours on all four sides, so there are concerns of privacy and shading in all directions.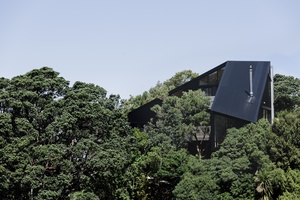 The way that the building recession planes worked on this site informed the design (this is the invisible tent that the local planning rules create), as did the aspect (designing to maximise sun), and, of course, we considered Wellington winds. This house has outdoor spaces to the east and west of the dining room, and one will usually be more sheltered than the other depending on the wind of the moment.
AMH: You both work and live in the Stealth Bomber. After spending some time in the space, are there any changes you would have made?
Patchwork: There are always things to learn from to improve the next project! This house works really well, and it's great having the office in a building we've designed and been involved in the build of – it's invaluable for discussing specifics with clients as we work through their projects. In hindsight, we might have made the office a bit bigger – we'll probably outgrow it soon!
AMH: A strong indoor-outdoor connection features in all your homes, with the Dogbox even featuring an external corridor and semi-enclosed rooms. What are you hoping to achieve with this?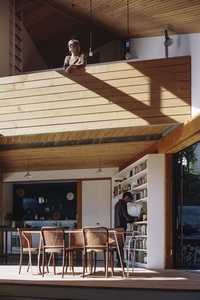 Patchwork: In part it's about the way New Zealanders live, with frequent connection to the outdoors. Having functional outdoor spaces – particularly covered or partially enclosed ones – can also be a cost effective way of increasing the usable area of a house (decks are cheaper than rooms!) On steep sections, the design of these spaces and how they relate to the house is critical, as you can't just walk outside and onto a flat lawn.
AMH: So far you've worked mainly on small residential homes – are there are other types of work you'd like to branch out into?
Patchwork: We've been working on some larger-scale projects recently – both multi-unit residential, and multi-use buildings. These projects have different challenges to a single residential house, and we've been enjoying them – it's certainly something we're hoping to do more of in the future.
AMH: What do you both enjoy about working on residential architecture?
Patchwork: It's great to work closely with clients, and to create something that they're really stoked with when complete.
AMH: What design principles are key to Patchwork's work?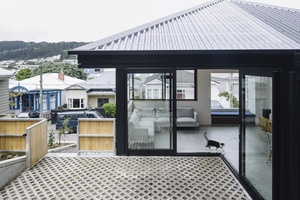 Patchwork: We're both really interested in efficiency – how projects can be spatially efficient but still feel really generous to the people who live in them. Achieving this generosity within a small floor area might mean increasing the height or volume, or having full height glazing out to views that give the feeling of increased space. It might also mean considering where the space is allocated in a house – being generous in the spaces you spend time in (kitchens and living rooms), and minimising other spaces (like bathrooms or hallways).
AMH: Wellington must have many challenges building wise, but what is it about working in the area that you like?
Patchwork: Wellington is home base to part of the office (Ben's currently working from the Dogbox in Whanganui), but we're actually working on projects all over the country. It's nice to have a variety – the differing climates and topography and views of different sites all offer something different to respond to when designing.