Nick Sayes and Luke Jackson are two young architects who have recently joined forces to form Sayes Jackson. Their practice focuses primarily on bespoke residential architecture and commercial interiors.
What are you having for lunch?
Nick: One of the best coffees in Auckland to accompany the infamous pork and fennel sammy – both from Ceremony in Grafton: pork and fennel sausage, over-easy egg, cheddar, slaw and sriracha mayo in a brioche bun. Really, though… we don't even go for the food anymore – more so for the team who runs the place. Hospitality as it should be.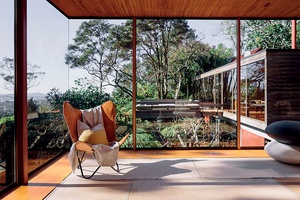 What home in New Zealand inspires you the most?
Nick: The Brake House, designed in the offices of Ron Sang in 1976 for New Zealand photographer Brian Brake. The house is a composition of glass pavilions nestled within the Titirangi bush, which bridge a small stream and pond. Projecting from the house is a seemingly unsupported balcony and tatami room which floats within the tree canopies. The home is furnished with all the classics – Eames, Corbusier, Arne Jacobsen, Hans Wegner… all of 'em. 
Where is your escape pod set to?
Luke: Kyoto, the former capital of Japan. There is a simplicity in life in Kyoto and it is inherent in all things architecture and design. Good design is an expectation of the Japanese, not the exception. It is ingrained within the culture. When in Kyoto, we are surrounded by true craftspeople. Architects, designers, artists, chefs – all are striving for perfection in their own discipline. These are our kind of people.
What's hanging on your walls?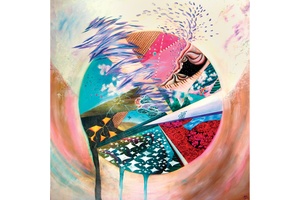 Luke: Flourish II by my fiancée, Meghan Geliza. Meghan is an exhibiting artist whose works explore connection, oneness and union through fundamental principles in nature and Eastern philosophies. This painting is alive.
Nick: Three Max Gimblett quatrefoils from The Art of Remembrance project, which raised funds for the preservation of St David's Memorial Church. I never thought I would have a chance to own a Max Gimblett – now I have three.
What's your poison?
Luke: Recently I've been drinking Junmai Tatewaki – a dry, warm sake. There's nothing better during these cold months, especially with food. There is a sake flavour and style you can pair with pretty much anything!
Nick: Same, same – and in between it's the home brew I make with my partner, Yvonne. Currently on tap is a Motueka Pilsner and a Grapefruit Belgian Witbier. Everything tastes better when you've made it yourself.
What gets your 'inner geek' going?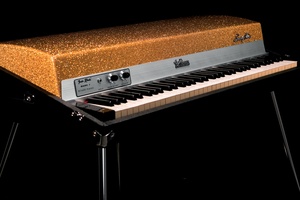 Nick: My Fender Rhodes – an electromechanical piano as used by Herbie Hancock, Gil Scott-Heron, Stevie Wonder, Ray Charles and many of the 70s' greatest. Electromagnetic pick-ups amplify an array of vibrating tines – the result is an electric sound, however not without the rich character and soul of its analogue source.
Luke: A collection of well-worn tools inherited from my grandfather. In particular, a handcrafted spirit level meticulously crafted by E Preston in 1864 – really great design and rich history. As architects we should never allow ourselves to become too detached from the tools that make the things we draw.