Guy Marriage investigates the effects of the recent 7.8-magnitude Kaikoura earthquake on Wellington's city buildings and offers some experts' advice.
An hour before midnight on 13 November, I was looking up at the big, bright supermoon beaming down over Wellington, through a brilliantly clear sky. Just an hour later, the whole city was woken up by an unusually long and violently climactic earthquake, the 7.8 express direct from Kaikoura.
While my apartment block is heavily reinforced against earthquakes, the one set of shelving in my room that was not bolted to the wall jumped forward, spraying a decade's worth of Architecture New Zealand magazines around the room. I really must get around to restraining that set of shelves, I thought, and then I went back to sleep, like after a good martini. Shaken but not stirred.
In the morning, I saw things in a different light. It is that 'really must get around to doing something about that' feeling which is currently gripping Wellington – and, hopefully, much more of New Zealand. With the latest series of shocks centring on either the swiftly ravaged Kaikoura, or the more slowly slipping Porangahau in southern Hawke's Bay, I'm uncomfortably aware that Wellington sits smack bang in the middle and our turn for a big shake is well overdue.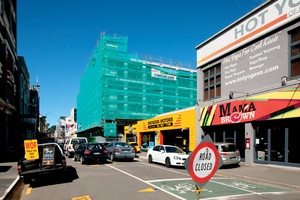 Opinions differ widely about whether Wellington was 'badly damaged' or 'got off lightly' – your view may reflect whether your wine glass is currently half empty or is half full. After the Earthquake-prone Buildings policy was moderated by Environment Minister Nick Smith in 2016 to allow councils some flexibility in strengthening buildings, some smaller councils may have thought they were off the hook. Not so for Wellington.
Notably, under the new mayor, Justin Lester, Wellington City Council is looking to accelerate the strengthening process, not to slow it down. What it has forced people and businesses and property owners to do is to take a good long hard look at the state of their building and their land.
Victoria University's School of Architecture was seismically strengthened less than two years ago, with the addition of new structural walls in the basement, for which I am very grateful – the building came through the latest quake without a scratch. All bookshelves had been restrained in the new library fit-out, and they had even installed rubber bungy cords in front of the endless files in lecturers' rooms. Stairs in stairwells were all checked and bigger brackets welded on where necessary, as they did all across Wellington. It is a good result. But not everywhere is so sensible or can afford to be as proactive.
In 2011, Wellington's Earthquake-prone Buildings list had 172 buildings on it. In November, just before the Kaikoura quakes, the list had enlarged to 650 buildings, with most of the original buildings still on the list. Now, obviously, it will have grown again. What Wellington really wants to do is to not lose all its heritage, and livelihood, as happened with Christchurch. Perhaps the Christchurch Red Zone was inevitable, but it was more destructive to the city than the actual earthquakes.
Wellington desperately does not want to go down that blanket Red Zone pathway. We are now standing at over 10 per cent of our prime building stock being cordoned off for checking and structural work, with contractors and engineers working flat tack to get the buildings back safely online again. We need our public servants back behind their desks, instead of all 'working from home'.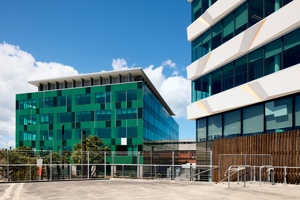 The question everyone has been asking is: why did some modern buildings fail and, yet, the older 'earthquake-prone' buildings appeared to be fine? Peter Smith, the president of the New Zealand Society for Earthquake Engineering (NZSEE), notes that every earthquake is different but that the 14 November quakes were surprisingly complex, rupturing the land down south and followed by a series of 10 ruptured faults making a line pointed directly at Cook Strait.
Alistair Cattanach, a principal at Dunning Thornton, notes that this caused shaking in certain Wellington sites well outside the design parameters. The resonant frequencies particularly hit buildings of a certain height, and especially on reclaimed soil. Much of Wellington CBD sits on reclaimed soil, some of which came up from the depths in the 1858 quake that created the land in front of Lambton Quay, but much more of the land is more recent – reclaimed by the Harbour Board up until the 1970s. It is the structures on this land that the recent quakes have affected the most.
Inevitably, the edge of the harbour furthest out from solid land has been hit hard, and CentrePort is suffering. Buildings like Meridian, right at the water's edge, are piled right down to the bedrock and have weathered the quakes well. Others, like the old Chase Corp parking building next to Reading Cinema, have exceeded their use-by date and will need to be removed. Car park buildings are especially prone as they have wide spans and are relatively simple structures. Their ramps, particularly, seem to cause issues, clashing with the rest of the structure and, inevitably, coming off worse.
The next question that inevitably follows is whether our existing building codes are appropriate for the quakes we've had. Win Clark, executive officer of the NZSEE, is fairly confident that the New Zealand codes are adequate but notes that our attitude to risk is the thing that may change the most. While engineers view an earthquake-damaged building that has not caused loss of life as a success, perhaps the general public feels that the true test of a successful building is one in which they can just continue on with business as usual.
There is a big cost attached to that, though – and no one is sticking their hand up to pay for the extra construction cost. The New Zealand code only covers life safety. But new buildings can be designed to stand up and survive, snapping back into position with seismic fuses at the structural joints, as they are doing in Christchurch and in a precious few in Wellington.
Some of Wellington's modern buildings came off poorly, mainly due to lower-quality soil conditions, being closer to the sea and unfortunate building/ground resonance. Be wary of flexible buildings built on soft-ground sites. In some circumstances, actual floors have collapsed or come near to collapsing. The long duration, slow frequency, highly directional forces of the quakes in Kaikoura caused the beams in some buildings in Wellington effectively to elongate a bit: the floor slab insufficiently strong and lacking a structural diaphragm to prevent it.
Yes, the 'quake was outside the parameters of the engineers' design curves but, just quietly, I think a few engineers are a little shocked at how some hollow-core slabs have cracked or some double-tee beams have slid, and how some slabs have left the security of their perimeter beams behind.
Expect greater grip on these details in the future and much more head-scratching on how to resolve these issues in existing buildings. In most cases, it is fixable. But is public confidence fixable, too? As Clarke says, we need a public conversation about "what is society's expectation around risks?" Economically, we can't afford to bring everything up to date.
Certainly some of the smaller standards are in for a strong upgrade, and the NZIA has already advised that the ceiling restraint code upgrade is happening now. Hedda Oosterhoff, an architectural consultant at T&R Interior Systems, explained to me in layman's terms that this means that architects will need to think a lot more about ceilings. They're going to have to be much stronger and better braced than has been done until now – and heavy ceiling tiles just aren't going to cut it any more.
Stronger ceiling grids, better restraint, lighter tiles and, probably, bigger movement joints around any clashing areas. There have been instances of suspended fittings (like big pendant lights) swinging around so much that they have swung up, hit the ceiling and set off the sprinklers. A lot of the messy damage in commercial buildings has been caused simply by inadequately restrained services in the ceilings –and that is such a simple thing to resolve. Restrain before the event – it's a helluva lot cheaper than waiting 'til afterwards.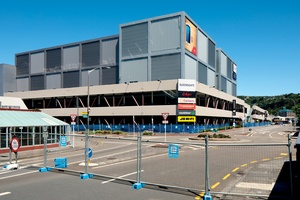 But it is the bigger things that will change. Base isolation is the big, obvious ticket I'm hoping we will now adopt more often: Te Papa, built on reclaimed land, sailed through with only two small bones broken in a whale exhibit – everything else was safely cosseted in a base-isolated world. New buildings should view this as a starting point (both the two new projects on Wellington's waterfront have base isolation – hooray!), but it can be difficult and expensive to retrofit with base isolation.
There are other things that need to be considered. Pre-cast stairs fell down stair shafts in Christchurch six years ago, which should never ever happen again. The MBIE directive to check stair-seating details and allow for over 100mm movement has worked well where it was installed.
Michael Davis, at Studio Pacific Architecture, agrees that more attention needs to be paid to the egress routes. Protect those egress stair shafts, as they protect the people. Anything mobile on the office floor: tie it down, don't just rely on gravity. Storage shelving on wheels: not a good idea any more. In a decent quake, they're getting momentum and smashing into things – mobile battering rams just doing wanton damage. Bolt into place anything that moves and fix it to the structure, not to the ceiling. Design in movement joints, both in the horizontal plane and also the vertical. Inter-storey drift is a real thing, both inside and outside a building – allow for it.
Bruce Green, also at Studio Pacific, notes that even simple solutions can help. Drawers and cupboards flying open and disgorging contents can easily be remedied by installing catches (hint: Te Papa has catches on ALL its thousands of drawers, and no damage there). Green notes, too, that momentum on large, heavy items can lead to extraordinary results and cites a massive, free-standing marble basin that 'walked' 2m across a bathroom.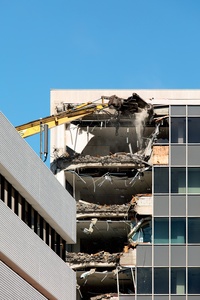 So, again, fix it to the structure securely. Green agrees with me that simple steps like removing old brick chimneys now, before the next big quake, is a very sensible action. Do it now. As a detail, square-stopped plasterboard is out. Open, negative details are better and more flexible, with no cracking. Allow the building to move and expect it to happen, but don't allow the fittings to move. Oh, and those shelves of mine? Yeah, they're structurally fixed to the wall now.
The façades are elements that receive considerable attention. David Hayes, CEO of Thermosash, notes that they have been testing their façades for over 25 years to ensure they meet or exceed the capabilities for building movements in NZS 1170, in both the horizontal and vertical directions.
Their façades have performed well in both the Canterbury and Kaikoura quakes, but he comments that the building movements experienced by some of the Wellington buildings must have been at the high end of the specified ULS movements nominated by the structural consultants.
As he says: "All structures are designed to withstand a certain degree of forces and if those forces are larger than what the structure has been designed to withstand, then you will get a level of damage/failure which should be expected." Of course, the more movement you design into the façade for seismic reasons, the weathering performance of those movement joints needs to be considered, too.
Overall, then, it has to be said that Wellington got off incredibly lightly, in that our more vulnerable heritage buildings were relatively unscathed, even if the slow resonance of the quake caused major issues with some of the more modern buildings down on the seabed and foreshore. But we really don't want to have to rely on luck once more. The old line is best: Fix, Fasten and Forget.