Raglan House by Dorrington Architects and Associates
Raglan is a small west coast town a short drive from Hamilton. It attracts visitors from far and wide to its beaches for sun and the famously good surf breaks. It has a small resident population that fluctuates during holiday periods.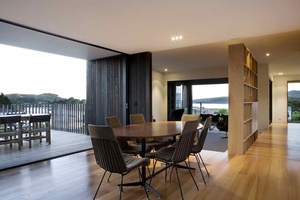 The current owner of this Tim Dorrington designed house was part of the holiday population when she was visiting her sister from Sydney. She saw the house was for sale and knew right away that this house would be hers.
The house sits tall above the street and has a distinctive presence amongst the bungalows and holiday cottages surrounding it.
The previous owner commissioned Dorrington to design a new house to replace a holiday cottage that was already on the site. He had been living on the site for a few years and wanted to make more of the views of the river estuary and harbour entrance.
To do this, the house needed to be as tall as possible. Dorrington achieved this by placing one of two large timber boxes on top of a concrete ground floor that operates like a plinth, raising the living floor up and out over the site.
The client wanted a series of spaces that could be opened right up or closed and separated into smaller rooms. Nooks and alcoves were part of the brief, Dorrington says. This mix of open and shut spaces also assisted with the balancing of views and light and maintaining privacy from the neighbours.
The in situ concrete box creates a private space for rooms and utilities. Behind the wall that houses the front door there are two bedrooms, a garage large enough for a boat, a bathroom and a laundry. The entry is a double-height hall with stairs to the upstairs living spaces housed in a polycarbonate box.
The white panels of the polycarbonate sheeting let in sun and light from all sides, and offer the occupants privacy that wouldn't be possible with glazing.
The main living space on the second storey is made up of a kitchen, informal dining area, sunken lounge and formal dining area. It opens out onto two outdoor dining decks on the north and west sides. It also has a small office that is so well concealed that I didn't see it on first inspection.
The second timber box contains another two bedrooms and a large bathroom. These rooms have large sliding doors that let light pour in from the east through a glazed hallway.
This house has a clever balance of private, cosy spaces and light open spaces. It makes the most of the great views and is a chic modern addition to its street.