The view's the thing. Andrew Watson's hillside home in Christchurch takes full advantage of its stunning view across the estuary, over the beach and to the Kaikoura Ranges beyond. The view draws visitors in from the main entrance to a full-height glass wall that is the main feature of the home's living space.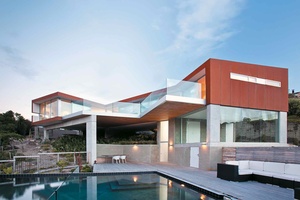 This angular, modern home floats on a steeply sloping site in the Port Hills above Redcliffs, turning its back on the cold, easterly wind, but opening every room onto a generous deck and that view.
The gallery not only provides a handsome location for his mother's collection of original art, but is also the arrival point for visitors, with sight-lines from the main entrance into the living space and the view beyond.
A small carport at the top of the site gives level access through a side door to a small laundry, so his mother can bring in the shopping without having to worry about stairs. From the long, thin laundry you enter the wide 'gallery' space, which snakes down the back of the home, giving access to the main living area, a spare bedroom, bathroom and the master bedroom at an angle on the end. Stairs lead down from the gallery to the glass-walled garage and the swimming pool area below.
The single living space includes a kitchen, dining area and lounge. A discreet, sliding white panel opens to reveal a 'rumpus room' where the client's five grandchildren can make a ruckus.
The plan of the home was dictated by the local climate and the topography of the site, Watson says. The home 'sits its bum' on the highest point of the site and spans across to a concrete block bridgehead at the lower end. Integrated into the bridgehead is the main garage, which may be adapted into an art studio for the client, and beneath that the pool area. This means the building floats above its sloping site, providing a shaded space beneath that will soon become lush with ferns and can be seen through a glass wall in the stairwell.
The pool area at the base of the site is cleverly shaded from the icy easterly wind and is a perfect suntrap. The thin pool points out to the view and appears to float above Christchurch, but is in fact supported by a hidden concrete block platform beneath.
From the outside, the facade that is guarded against the local easterly wind is clad in Corten steel with 'Ned Kelly' clerestory windows. The red rust has been allowed to bleed into the raw finish concrete block base, giving the building a rugged look.
The open aspect facing the view is largely glass, with aluminium cladding and garapa timber deck flooring that has weathered silver. The building defies its setting, rather than embracing it, but provides a sheltered, sunny and handsome home that would make any mother proud.