Rivers, mountains and plains: Christchurch Convention Centre
Ōtākaro Limited has today released preliminary design images of the Christchurch Convention Centre. Architects Woods Bagot, in association with Warren and Mahoney, has worked on the design with Matapopore Charitable Trust.
The convention centre will be capable of hosting up to 2,000 delegates for a variety of national and international events. It will include a 1,400 delegate auditorium, a 3,600m2 exhibition hall and 1,600m2 of meeting rooms that will overlook Victoria Square.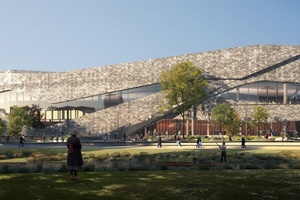 The main entrance to the centre opens out to Oxford Terrace and the Avon River, and has been designed to reflect the fluid curves of Canterbury's braided rivers.
This gives visitors easy access to Te Papa Ōtākaro/Avon River Precinct and creates a space for civic powhiri and welcoming events. The flowing river quality also extends to the curved roof of the auditorium and pre-function areas. The use of various timbers will give the interior warmth.
"The Convention Centre presents a significant opportunity to design a world-class facility that reflects the unique identity, culture and values of Christchurch, Ngāi Tūāhuriri/Ngāi Tahu by paying homage to our rivers, mountains and plains," says Matapopore general manager Debbie Tikao.
The Armagh and Colombo Street sides are straighter to reinforce the traditional edges of Victoria Square and Cathedral Square, and to tie in with the restored Lady Isaac building. The Colombo Street side will be lined with hospitality and retail outlets and space has been created for the potential construction of a hotel that would further increase the level of activity around Cathedral Square.
Armagh Street will include areas for public use designed to encourage people to linger and enjoy the view of Victoria Square.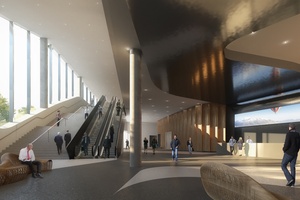 "We want to create an attractive facility for Christchurch, that draws people towards the Centre and its associated cafes and shops. The 'River Walk' on the south side will take people from Cathedral Square, through the Centre precinct to the restored Victoria Square and the enhanced waterfront of the Ōtākaro/Avon River Precinct," says Ōtākaro chief executive Albert Brantley.
"Estimates put the direct economic benefit of the Convention Centre to the Canterbury region at $300m to $400m in its first eight years of operation," says Mr Brantley.
Earthworks on the site are now well underway and the developed design process has commenced. A call for tenders from a shortlist of contractors has now been issued and Ōtākaro expects to appoint a Main Works contractor around July.
A practical completion date of late 2019 is being targeted and a detailed construction schedule will be established with the Main Works contractor as part of the tender evaluation process.
View a video of the earthworks footage here.