Melbourne-based Roland Snooks is the director of the architecture practice Studio Roland Snooks and research lab Kokkugia. Focusing on the impact of new technologies on architecture and construction, the studio is at the forefront of new computational design processes and robotic fabrication techniques.
In addition to his work with algorithmic design, Snooks is a director of the Architectural Robotics Lab at RMIT University in Melbourne, where he also holds a post as a senior lecturer at the School of Architecture and Design.
Ahead of his presentation at Semi Permanent Auckland 2016 on Friday 12 August, Snooks chatted with Amelia Melbourne-Hayward about robotics, algorithmic design and some of the studio's current research.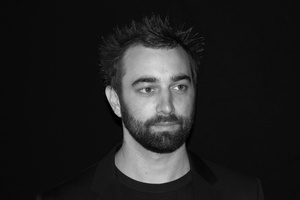 Amelia Melbourne-Hayward: What impact do you think robotic technology and fabrication is having or will have on the architecture and construction
industries?

Roland Snooks: Robotic fabrication has been gaining momentum within academic research groups over the last decade and we are now beginning to see this trickle into industry. The potential impact is substantial, however it will take some time to gain traction in the construction industry, which is notoriously slow to innovate.

As an architect, perhaps the most interesting implication of robotics is how it will impact design and open up new spaces of design possibility. Architecture is always constrained by the available construction methods and their specific constraints. Robotics will radically change some of those constraints and shift what is feasible in terms of architectural form, structure and tectonics. My interest in robotics is to explore these design possibilities.
Within the RMIT University Architectural Robotics Lab we have been developing techniques for fabrication and assembly that enable highly intricate geometry. In particular, our recent work with large-scale 3D printed concrete and polymer demonstrates a very different set of possible forms.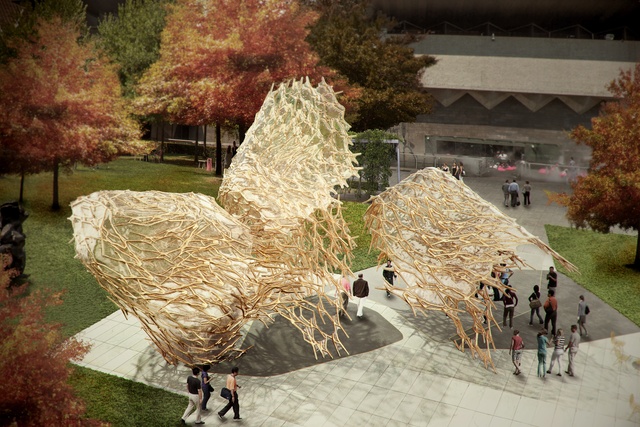 AMH: What are some exciting research developments Kokkugia are working on at present?
RS: Perhaps the research that I am most excited about involves the formal possibilities of large-scale 3D printing and the design implications of real-time robotics. We are currently developing building skin systems using 3D printed polymers and exploring what their tectonic ramifications are.
At the more experimental end of the research we are working on real-time feedback between the behavior of algorithms and physical materials through robotics and vision systems. This aspect of the research is less concerned with how we might construct buildings, and more focused on how we can involve materials and robotics in algorithmic design processes.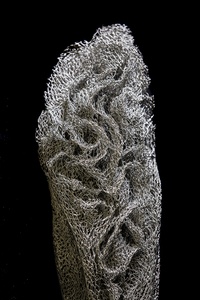 AMH: Is there a strong relationship between your work in Studio Roland Snooks and your academic work as a lecturer at RMIT?
RS: There is a relatively close and synergetic relationship between my practice and the research group I direct at RMIT. The research conducted at RMIT focuses on developing algorithmic and robotic fabrication processes, predominately through prototypes. The practice is focused on architectural commissions, however we try to test some of the experimental research through these building projects.
AMH: What do you see as the future of algorithmic design, which must be constantly changing as new technological developments occur?
RS: Algorithmic design has begun to take advantage of parallel processing, which is dramatically increasing the intensity and intricacy of the forms and patterns that can be generated. These high-population models are finding greater relevance with the emergence of digital fabrication technologies, such as 3D printing, which offer a method of constructing these intricate forms.
An example of this is the Mace we designed (in collaboration with Scott Mayson) for RMIT University. The generative process involved a multi-agent swarm algorithm, in which approximately a million agents interacted to self-organise the geometry. This complex lattice form was then fabricated with a direct titanium printing technique.
AMH: Could you tell us about the ideas and processes behind your Meeting Pavilion project in RMIT?
RS: The RMIT Meeting Pavilion project is an expansion of our research into fibre composite fabrication techniques. We are examining both the high performance structural characteristics of composites such as carbon fibre and glass fibre as well as their expressive potential. The exterior patterning is designed algorithmically through a process that negotiates between structural necessity and more esoteric ornamental concerns. The Meeting Pavilion was conceived of as a smooth, hard protective shell with a highly intricate, almost luxurious interior.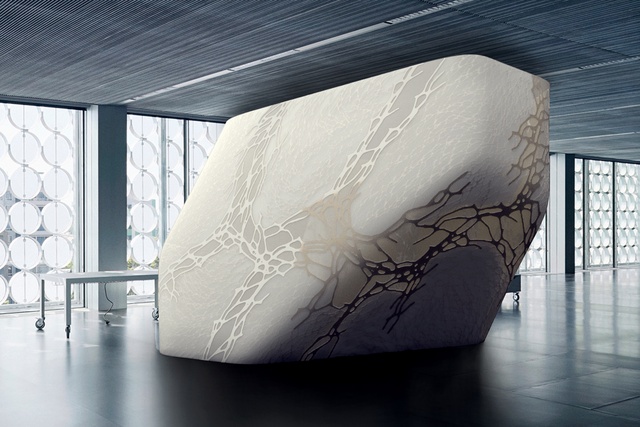 AMH: What are a couple of projects Studio Roland Snooks is currently involved with?
RS: We are currently working on a pretty diverse set of projects ranging from a large institutional project through to smaller public art. We are collaborating with NMBW Architecture Studio on a project for Monash University's Art Design and Architecture faculty, which is largely an interior project redesigning their workshop and studio spaces. At the other end of the scale we are working on a 3D polymer printed lobby interior for a residential tower and the design of a robotically carved bouldering wall.
Roland Snooks speaks at Semi Permanent Auckland on Friday 12 August.