The Smoko Room and Sawmill Brewery sit on a rural setting and take pride in their farming and agricultural surrounds.
"Timbers on acid" is how Rachel O'Malley and Mike Petre describe the restaurant and brewery they designed in Matakana. And that, it is. Its interior includes, among several others: Old Man Pine, Birch, Japanese Cedar, Totara, Macrocarpa, Beech, and Pohutukawa. They are all used in a variety of ways ranging from furniture and structural through to cladding and finishes.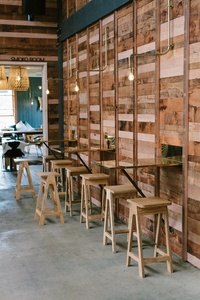 In many instances, saw marks are visible on the surfaces as a sort of physical representation of the name of the beer brewed here (Sawmill). On others, there are stains and accidental patinas. What is clear, however, is that the natural material is a perfect complement to the ethos behind this eatery and its food.
According to O'Malley, the idea was to have a space that is relaxed and natural but with a touch of elegance. The food is "peasant food, garden-to-table feel. Rustic but sophisticated," she continues. To counterbalance the raw nature of the timbers, the design team has created shelving and furniture in simple and quietly elegant steel geometries.
Pops of brass are used sporadically throughout the interior, which, when combined with a restrained colour palette and carefully selected art from a local gallery, take this place from organic Kiwiana into something slightly more considered.
According to Petre, the key was to stay rooted in the facility's rural context while maintaining a foot in urban comforts: "It has to be true and honest to its locality but careful… as you are always a wagon wheel away from making the design into something it isn't," he says, referring to interior design with aspirations for French country or cowboy Americana.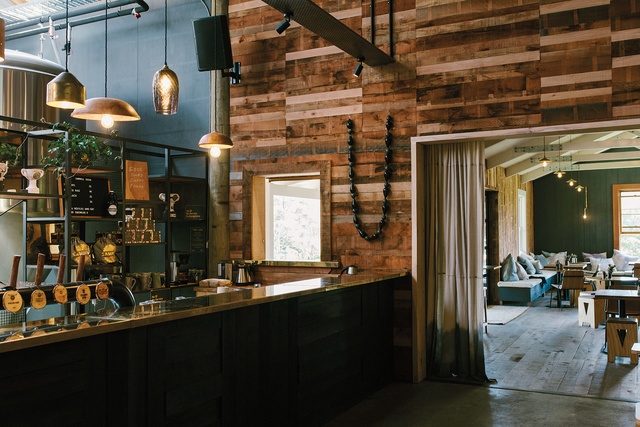 Petre, who doubles as a visual artist with a bent for rural themes, says his main influence is that of the kiwi woolshed, a space he studied in depth during design school and which continues to pepper both his two- and three-dimensional work.
"They seem simple and utilitarian but there is a lot of thinking that goes into them," he says. "You need ventilation; you need techniques to move animals, especially from light to dark as they don't like that, production areas, as well as compliance. They are very complicated systems within a utilitarian structure: height of ceilings, etc… and a lot of people don't quite get the detail."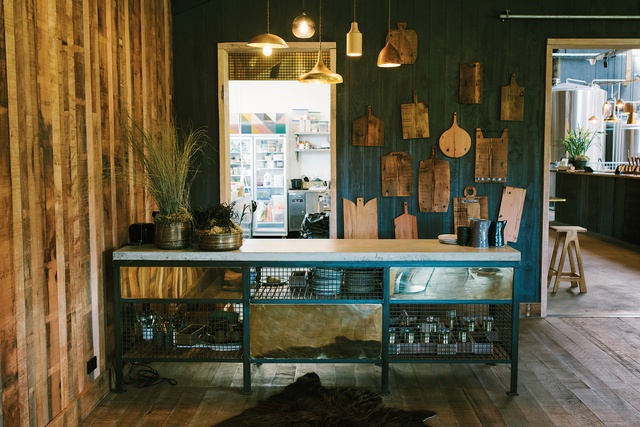 At the Smoko Room, much like in the nearby Vivian Gallery, which he also designed, this architectural influence is first apparent in the minimalist, unassuming façade, drastic interior height variations (from compact to triple height in a single step) and the way light is syphoned in.
The designers also insist that a key to the success of this space was its community buy-in from early on. "We hand-dyed the fabrics with all the kids from the team. We did it all in [the owner's] garage," says O'Malley of the curtains and some of the soft furnishings which they decorated using traditional Japanese Shibori techniques.
The mothers of some of the people here travelled from as far as Oamaru to help hand-stitch everything. Construction staff were also asked to pitch in with creative design solutions, the most impressive being a steam-punk-influenced chandelier at the brewery's entrance made in collaboration with the plumber. O'Malley: "A lot came from relationships and the ideas from those relationships."