We are, all of us, in our professional and private lives inspired by the works of those that went before us. In some instances they are household names whose legacy is widely known. In architecture these include Frank Lloyd Wright (1867-1959) and Charles Rennie Mackintosh (1868-1928). Both men pioneered techniques that continue to influence the profession today.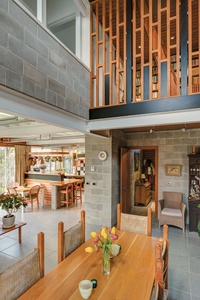 Looking at the house Bruce Dickson designed for himself and his wife, it appeared to me to have a Lloyd Wright-esque sensibility with its layered planes and deftly designed open-plan interior spaces.
"I'm definitely a fan of Lloyd Wright and there is a suggestion of his layer effect technique in the 14 or so roof planes that make up this house, but it was more about designing a New Zealand house using the materials of my early architectural career that drove the design," says Dickson.
Those materials include insulated concrete block and macrocarpa, both of which Dickson has used extensively on the exterior and interior of his home.
"The material palette was deliberately kept simple, aside from the concrete block and macrocarpa, there's structural steel and sustainably grown cedar from Canada, which was chosen for its ability to stand up to the weather
"Whether its been used inside or out each of the materials remains exposed. We were conscious of creating a house that revealed its structure; each of the materials has a role to play in how the house comes together and we wanted that to be easily read by anyone."
In a similar way the delineation of internal spaces has also been left exposed with a high degree of flexibility being built in allowing for the house to adapt to changing needs.
"Aside from the bathrooms, every other internal wall in the house is open in some way with only either a screen or blinds to enclose them. I particularly like the concept of the screen; it creates a physical barrier, much like a wall, but the space beyond remains accessible. It gives a sense of privacy but there is an openness as well," says Dickson.
"It is quite a selfish house, if you will. It was very much designed with my wife and I in mind. There are spaces that can accommodate visiting friends and relatives, but these are secondary uses. Essentially, there is one core element, which is the three-storey atrium and then all of the other spaces flow from this in a variety of configurations."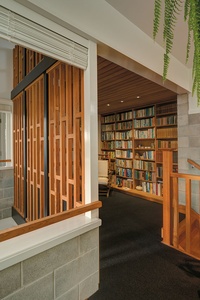 This is where those layered roof planes come into their own. Each associated room or space beneath is flooded with natural light either throughout the day or at a different time during the day, which Dickson says contributes to every room being used to the full extent.
"There are no wasted spaces in this house, inside or out, they are simply an extension of each other. If you look at the site, it is a relatively small square. What we did was to position the house in the south-east corner of the property with the remainder of the block contained within a walled courtyard. In this way, just as the interior spaces are oriented for use throughout the day, so too are the outdoor spaces, further maximising the functionality of the whole property."
Dickson says the house is a response to the stage of life that he and his wife are now in – empty nesters but not quite ready to downsize.
"It's our post-family pre-retirement house. We'll probably build again in ten years, but for now I'd say we got it pretty right for us."