In an increasingly diverse and interconnected world, the sharing of ideas between different creative industries is providing new, enriched experiences.
New Zealand Fashion Week 2016 showcased one such collaboration, featuring a dynamic installation by design firm Taylored Studio that was created for Perth-based brand Salasai's 'Life in Theory' opening show. The combination of creative forces in architecture and fashion merged to stage a unique performance.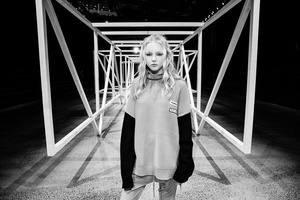 Known for their womenswear, at this year's New Zealand Fashion Week Salasai also presented a new menswear line, S.A.M, as part of their autumn/winter 2017 collection.
With a domestic flavour to the production, the catwalk was framed with a 20 x 5 meter-long structure that demarcated the boundaries for the performance and created a series of rooms and implied windows.
The installation housed hanging photographic prints by Adam Bryce and furniture by Anthony Robertson, with 20 models displaying the Salasai clothing range for men and women.
Each model entered and stood (or sat), framed within a frame as part of the installation, which allowed the viewer to get a close-up view of the garments in a fresh and exciting way. The play between moving model and portrait layered the visual experience, creating a montage of fashion somewhat like the layering of clothes.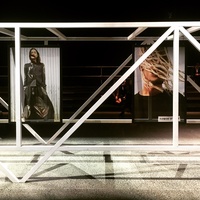 Kirsha Whitcher and Kelly Watson from Salasai comment, "We wanted to work with the team at Taylored Studio to create a concept that had never been done before on our shores. The installation celebrates our return to NZFW and the development of Salasai Home, alongside our love of architecture and the collection's domesticated aesthetic."
The design of the space frame was made up of a series of ordered panels that had a structural logic to their arrangement. At the same time the panels needed to be a transportable size and fixed into position with ease.
Constructed from timber, the installation was required to be installed and uninstalled in under 30 minutes while presenting the contents of the show at a relevant scale.
William Taylor, director of Taylored Studio, says, "Architecture is about everything else except architecture and we have always appreciated creative excellence in other industries. The invitation to collaborate with the excellence of Salasai provided Taylored Studio with a great opportunity to celebrate the fusion of other art forms with ours."