Leanne Amodeo talks to Kiwi in China Briar Hickling about her experiences working with design stars Neri&Hu and setting up her own shop in bustling Shanghai.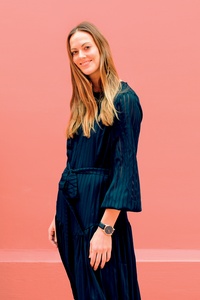 When New Zealander Briar Hickling moved to Shanghai in 2009, she never expected she'd still be living there to this day. As luck would have it, the interior designer, who graduated from Wellington's Massey University, met her current business partner while working at Neri & Hu.
Hickling and Swedish-Chinese architect Alex Mok were both senior associates at arguably China's most internationally renowned contemporary architectural practice when they collaborated on a major hospitality project. The experience reinforced their shared design sensibilities, cementing a solid professional relationship that eventually saw them branch out on their own.
They established multi-disciplinary studio Linehouse in 2014 and continue to exercise the holistic design approach and careful attention to detail each developed in their previous roles. Hickling and Mok, who grew up in Sweden and studied architecture at The Bartlett in London, maintain an unwavering architectural methodology respectful of building pragmatics. Most appealing about their work (the majority of which is based in Shanghai) is that it bristles with an energetic sense of poetry and narrative.
As Hickling reflects, "An important thing for us is to have a strong poetic concept and to ensure it's realised in the final outcome. Alex and I are always trying to create unique spatial qualities, rather than simply decorating, so everything we do; every decision we make has meaning."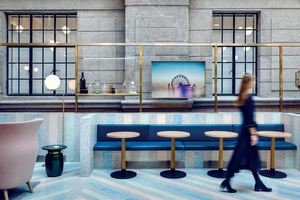 They are prodigious in their output, no doubt aided by a local construction industry that's as fluid as it is fast paced. A number of recently completed workplace interiors highlight their adeptness at adaptive reuse, however, it's Linehouse's retail and hospitality portfolios that reveal the design strengths of an emerging practice at the top of its game.
These projects are dynamic in their spatial configuration, making for intelligent planning that articulates intuitive circulation paths and embraces any volumetric challenge. Fit-outs such as Deli, Shangri-La Futian are defined by an economical scheme that clearly pronounces Hickling and Mok's design intent. The six-metre-high space features a centrally placed display counter that channels patrons either towards the coffee station or in the direction of bench seating.
Most impressive however, is the lattice installation of thin brass poles lining all four walls from the first level upwards. It injects warmth into a space that would otherwise feel cavernous. It fills the space without adding clutter.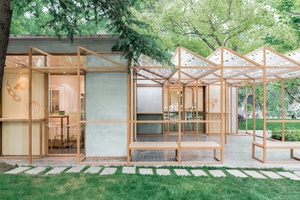 If there's a distinct Linehouse signature it's the use of robust, raw materials in ways that are honest, inventive and quite often unexpected. Recycled, solid timber sections form the bar in New York-style gastro pub Tribeca for example, while concave, perforated white metal panels are inserted into N3ON's retail space to create a bespoke display system. And the exposed timber framework in the recently completed Baobao eatery at Tongji University offers structural support, while also lending the modest-sized project its most compelling design expression.
Hickling and Mok spend quite a bit of time on-site during the construction process because a lot of the coordination and decision making happens so quickly. They work closely with local tradespeople and frequently scour salvage yards and markets for materials, objects and products to incorporate into their designs. This hands-on approach ensures the best outcomes and deliberately imbues each fit-out with a strong sense of place.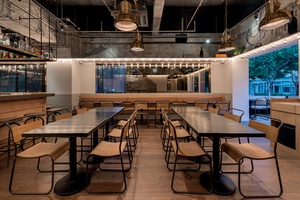 "We want each of our projects to be in context with the city or environment they're built in," explains Hickling. "A lot does depend on the client's brief, but when Alex and I start a job, we'll always begin by researching the history of the site and its surrounds, as this often informs our architectural concept."
It's no surprise the Linehouse co-founders' greatest source of inspiration is Shanghai itself; a thriving municipality they find endlessly fascinating. Of particular interest is its 'performative' nature, where everyday rituals such as washing one's hair, cooking or bathing often take place in the street.
"Boundaries between private and public are blurred, and our projects reflect this aspect of Shanghai's urban environment," Hickling explains. The fit-out for Tribeca especially plays on this element of performance, with exposed services, concrete beams and walls that are dramatic in their reveal, making for a lively ambience.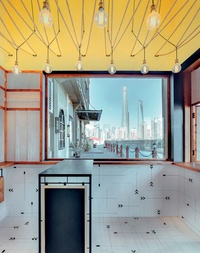 In one of Linehouse's early projects, the waterfront Lone Hot Dog Shop, generous sized windows let the outside in, heightening this breakdown between private and public space. It makes the fit-out all the more compelling because the views are of the Hangpu River, and the interior's floor space is a mere 19m². The fast food outlet is one of Linehouse's most compelling designs, showcasing their innovative thinking as well as a love of whimsy, evident in the arrowhead motif tiles and yellow ceiling.
Hickling and Mok are currently working on a workplace project for Canadian brand Herschel, a tea house in the arts district of Shanghai and the fit-out for street wear brand ALL SH's second Shanghai store. Hickling is also excited about designing a food and beverage outlet that's located in a Thomas Heatherwick-designed building. These projects add to a rigorous body of work characterised by precise detailing, sensual materiality and an inherent synergy with place.