Smaller and smarter: First Light Studio
Amelia Melbourne-Hayward was invited into the offices of First Light Studio to chat with two of the directors, Ben Jagersma and Nick Officer, about the roots of the company, its ethos and the challenges of off-site building in New Zealand.
The buildings of young Wellington practice First Light Studio are born from a deep-seated interest in smart, energy-efficient homes that create less of a footprint on the earth, while still remaining highly functional and comfortable. In an age where the average New Zealand house is almost twice the size of its 1960s predecessor, First Light is providing architecture that doesn't need to be big to be beautiful.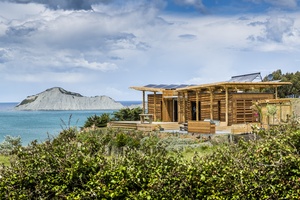 The origins of the practice date back to 2009, when a core team composed of Victoria University architectural undergraduates Ben Jagersma, Nick Officer, Anna Farrow and Eli Nuttall entered a project into the U.S. Energy Department's prestigious Solar Decathlon.
Set up as a hypothetical entry only, the team was surprised and thrilled to learn that their proposal – the first from the Southern Hemisphere – had been accepted into the competition. Fast forward to 2011: the student team had grown from four to forty and their hypothetical project was a full-scale, fully solar powered kiwi bach built on Washington DC's National Mall.
Competing against 18 other international universities, the team took home a number of victories for the Meridian First Light House, including first place in engineering, second place in architecture, third place in market appeal and, ultimately, third place in the competition overall.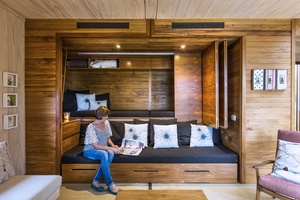 On return to New Zealand, the core group decided to capitalise on this success and teamed up with fellow Victoria University academic and architect, Guy Marriage, to create First Light Studio in 2012.
This auspicious start has shaped both the ethos and working methods of the now nine-strong studio. Director Ben Jagersma says, "Because we had to create a small house in components that could travel around the world and the construction had to compete on an international level in terms of energy efficiency and design, we were introduced to architecture in terms of looking at the best we could possibly do with the materials and technologies that we had available in New Zealand. So we're constantly challenging our ideas and methods and continuing to innovate."
The focus of the highly collaborative studio is very much on designing simple, healthy homes that respond to and create a connection with the environment. Director Nick Officer explains, "What sets First Light apart is that we build clever houses that are a pleasure to live in: they are comfortable, healthy and warm without question. And the footprints are smaller, but they don't compromise on space, or even the perception of space."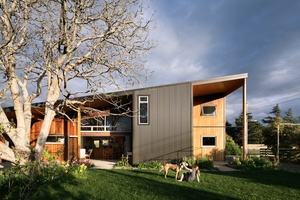 "Our process is very client-focused and collaborative. A big part of this is taking the ego out of the equation – there's no 'starchitect' here. We're an open plan studio and a tight-knit team, we all work together to reach the best possible outcome for our clients," he says.
Building prefab, high-performance modular housing is one of First Light's passions and a founding principle of the studio, but Jagersma laments that they have come to realise that off-site construction is not always so easy in New Zealand. He says, "One of the big issues is that there are a really limited number of outfits with the skills and the wherewithal to prefabricate buildings here. A lot of people build offsite in sheds, but we are lacking the industry silver bullet: a sophisticated, en-masse production facility large enough to deal with everything seamlessly."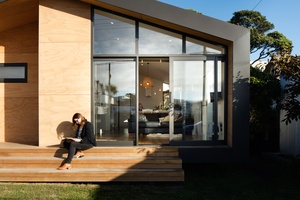 The flagship First Light Home is still offered up by the studio as an energy efficient, pre-designed solution that can potentially be prefabricated, but, as with many of their housing projects on the go at the moment, until the industry catches up, a lot of the work will end up being constructed the traditional way.
This realisation around the current challenges associated with prefab has changed the studio's approach, which is now positioning itself as a design consultancy that can offer its in-depth knowledge of prefab to other businesses. "We are not builders, so we can't change the construction industry by designing for prefabrication without also partnering with construction specialists who have the capability and desire to build differently," says Officer.
First Light is currently designing a range of homes with a company called Genius Homes in Timaru. Designed for the Queenstown Lakes, the Genius First Light Remarkables series will introduce a competitively-priced architectural housing solution that needs only 30 days' assembly time and can be transported via truck throughout the region.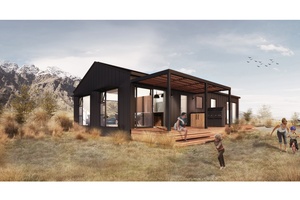 The studio has also designed the Nook Home Studio: a flexible, modular, stand-alone 10sqm studio that can be constructed in people's backyards without consent. Officer says, "Having renovated before, our client understood the complexity and cost of altering an existing structure and realised that there could be a better way to provide the extra space many homeowners need."
The team is also working on a series of short-stay ski lodges in Jacks Point near Queenstown. The small eco-houses utilise the rural vernacular of the tin shed and boast an interesting dichotomy: the 'sheds' combine ancient rammed earth building with CLT, an advanced new-age material designed for rapid construction.
While most of First Light's projects have been in the residential realm, they are making steady forays into medium-density housing and commercial projects and are currently working on a series of townhouses and stand-alone dwellings in the mixed-use Ngārara development on the Kapiti Coast. Ngārara's core values "align with us perfectly in terms of environmental responsibility, connectedness and community," explains Officer.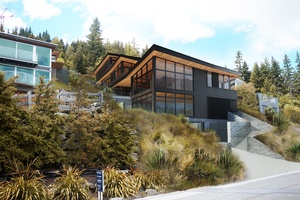 A 6-tenancy commercial rebuild is also currently under construction in Christchurch – the studio's first – and on the drawing board for the medium-density housing market is a 4-unit luxury apartment block in Queenstown. This change of scale has provided the practice with new parameters and clients, but the fundamental focus on energy efficiency, sustainability and comfort remains the same.
Looking ahead, Jagersmas says, "While we love working on one-off bespoke homes, we feel a big sense of social responsibility. The larger-scale projects, particularly those that can be prefabricated, are where we can make more of a difference in an urban context and, most importantly, on a social and environmental level. This is what really matters to us at the end of the day".