Sounding out TVNZ's state-of-the-art refit
Acoustics engineer Christian Vossart of Styles Group Acoustics & Vibration Consultants writes on creating optimal acoustics design in TVNZ's newly refitted headquarters.
When a brief hits your desk that asks for 'Open and Live' contemporary architectural and 'building acoustics design allowing for collaborative behaviour and an ambience of communication and energy', you know that the project is going to be a lot of fun.
As an acoustics consultant, it's my job to ensure that noise is not disturbing and the acoustics are optimal. With this brief from TVNZ we knew that the national broadcaster needed the best for the production of their shows, music and programs.
News room, main atria or the sound studios?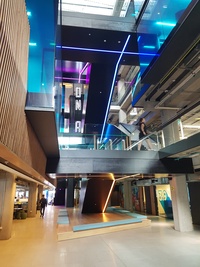 When we first started the project there was no mention of the sound studios. We quickly picked up though that the sound studios were considered by many to be the jewel in the crown of the project. This was really saying something, as other areas of key strategic importance were the news room and the main atria.
The new sound studios main uses are for recording, mixing and editing to a broadcast quality standard for shows such as My Kitchen Rules NZ and Seven Sharp. These spaces are where acoustics forms the paramount design consideration.
So how do you make sure such a noise-sensitive space works within a generally free flowing and open-plan design? We needed to create numerous, high specification audio-suites and voice-over-booths of identical dimensions and in close proximity to each other and within the constructional limitations of the existing base building. Aesthetics were also a primary design consideration for the iconic refurb.
How do you go about making the perfect sound studio?
Good acoustics are critical to working sound studios. Their functions are to either record, mix or edit audio. To be functional they require the level of sound within them to be what is generally considered by anyone that has visited a well designed studio as 'unnaturally' quiet. The intrusion of outside sources of noise however slight, or services noise that is anything but barely audible or rooms with an 'echoey' acoustic all work directly against the focus required by an audio engineer for pin-point listening to achieve clean recordings.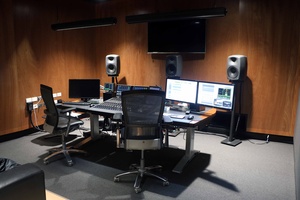 A dysfunctional sound studio will prove to frustrate and fatigue an audio engineer and can significantly reduce productivity, which in turn costs money.
The production of audio recordings suitable for broadcasting require facilities with a very high level of sound isolation from adjacent spaces, extremely low sound levels produced by the mechanical/electrical/plumbing systems, excellent room acoustics that provides a smooth and neutral sounding room, and as-built rooms free from construction defects that would otherwise degrade the acoustic performance. The acoustic design for these spaces is generally very complex.
Is a six-lane road too noisy?
The original location for the sound studios was overlooking a six-lane road leading to Auckland's city and next door to the busy TVNZ news room, which has the highest activity and associated sound levels of anywhere on the site.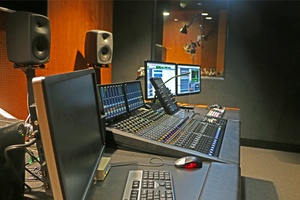 Our advice was to locate less noise-sensitive rooms and spaces adjacent to a facade, thereby acting as an acoustic break from road traffic noise and allowing wall constructions to be slimmed down. We then created a lobby to prevent through-access for foot traffic and to act as an acoustic buffer zone from the news room.
As the project moved swiftly through design into construction the challenge was to stay true to the acoustics principles that needed to be achieved to deliver fit-for-purpose studios. Key to delivering a successful project was remaining receptive to ideas and being creative with solutions to build issues, being passionate about achieving the desired outcome and educating people as we went.
Did it work?
Paul Hedges, general manager Production Services, TVNZ, declares yes, saying that the audio engineers all agree that the rooms are outstanding and have a great feel to them. "They have exceeded our expectations and we are very happy with the results. We now have a modern, attractive facility that we feel confident meets the needs of all our clients."