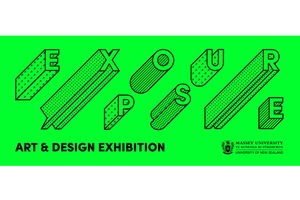 The Massey University of Wellington College of Creative Arts' Exposure grad show took place in mid-November and featured three interesting apps by Spatial Design students that speak to an exciting future that mixes technology, architecture and urbanism.
The Spatial Design programme at Massey University is an emerging discipline operating at the intersections of architectural, interior, urban, landscape, performance, event and digital design. Spatial design explores transdisciplinary practices that challenge the ways in which we think, use and make places.
Amongst a broad range of talented students' work on show at Exposure, the work of emerging spatial designers Emma Solomon, Madison Duxfield and Anna Engels all offer a new, interactive way of looking at and experiencing our built and natural environment.
Meg Rollandi, fourth year Spatial Design lecturer at Massey University, comments, "These Spatial Design students have proposed apps as tools to explore, enhance and inform the experience of physical and digital environments as well as the relationships between them. These apps incorporate audio, narrative and historical elements to suggest a more meaningful engagement with site and place." 
Emma Solomon's PlaceHolder app is motivated by inclusive design practice, and is inspired by a collection of spatial insights about the communication of our built environments that was written by people on the autism spectrum. 
"The app is designed with the intention of bringing an element of cohesion and a spatial system to our urban environments, while also referencing the idea that the foundation of a space is made up of the experiences and stories each individual creates there," Solomon explains.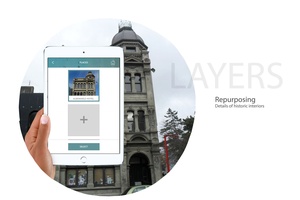 "You are able to load any city that you have unlocked in your PlaceHolder to generate a personalised memory map. The footings of each site within a city is displayed and act as a placeholder until you experience it and unlock it with the PlaceHolder app. Unlocked sites then give meaning and narrative to a space for an individual using the app," she says.
Encouraging renovations of historic buildings to preserve the smaller, more refined intricacies of the interior is the idea behind the project Layers by Madison Duxfield. The app works by breaking down the existing interior to four key elements: colour, form, materiality and history.
Duxfield explains, "Using the Layers app, you can photograph and capture these throughout the historic building. This then creates a mood board that allows you to repurpose these aspects into the same space after renovations have occurred by generating patterns for wallpaper, furniture or light fittings."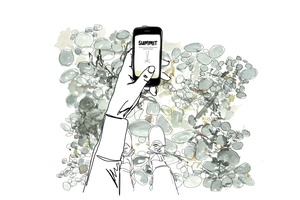 The final project focuses on urbanism and its relation to the natural world through the development of an app. Anna Engels' Unearthed includes a digital tool, Summit, that provides the necessary information that is needed to access, experience, document and rediscover natural ecologies. 
"Unearthed is a toolkit that facilitates spatial practice. By prompting urban dwellers to discover their local areas of native bush, each tool provides a change in perspective for the user by framing, focusing or locating a view or position within space. This helps to form an agenda for further care towards our natural environment," says Engels.
For more information on the projects, see the Massey University College of Creative Arts website.