Post World War II, New Zealand's burgeoning middle class found themselves in the position of having more recreational time coupled with greater mobility. These two factors contributed to the tradition of the annual beach holiday and subsequently to the, now iconic, accompanying bach dwelling. A shortage of readily available timber usually meant that these early baches were a hodgepodge of materials and this, along with a lack of amenities such as town water and electricity in most beachside areas of the time, resulted in fairly modest structures.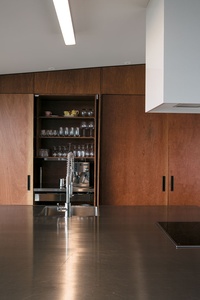 Despite, or perhaps because of, these shortcomings, baches and the lifestyle they represent have become an intrinsic and defining part of our recent history and culture.
It is perhaps not surprising then that architect Glenn Brebner would receive a call to design a bach for a London-based expat.
"It's a case of you can take the boy out of New Zealand but you can't take New Zealand out of the boy – particularly those formative experiences. The brief called for an unassuming, two-bedroom property offering open-plan living with transparency to the environment," says Brebner.
The site, outside of New Plymouth, offered a natural amphitheatre, which Brebner used to nestle the property into the hillside, thus using the natural contours to offer protection from the prevailing winds.
"I knew from the outset that the house needed to be of the ground rather than raised above it. As a result we created a solid earth plinth retained by concrete that the house sits atop, giving it the appearance of hunkering down into the landscape.
"This also gave us the opportunity to create a number of sheltered outside spaces that could be used despite the weather conditions."
Brebner's design also incorporates an in-built sheltering device, which he refers to as the building's exoskeleton.
"Wide, columned overhangs create a false facade at the edge of the building envelope. This protects the inner, glazed facade, making it possible to have such a wide expanse of glass in such a changeable environment."
A pared-back material palette of concrete, steel and cedar, both inside and out, speaks to the unfussy nature of the property's intended use and to the desire to let the landscape take centre stage.
"This is a very rational design response to the setting and the client's brief. The site calls out for as seamless a transition from the built to the natural environment as possible and the repetition of materials helps achieve this. Similarly, the open-plan nature of the design, with the circulation routes along the outer edge sets up a simplified, experiential situation. In the best tradition of the Kiwi bach, this is not a house of grandiose pretensions but rather somewhere to gather and enjoy what it means to live in this part of the world."