Amelia Melbourne-Hayward speaks with the Wellington-based team behind Makers of Architecture and Makers Fabrication about the ever-evolving digital design space, prefabrication in New Zealand and how architectural design can – and should – enhance people's lives.
What was the impetus behind forming Makers of Architecture? What did you see lacking in the design/construction industry in New Zealand?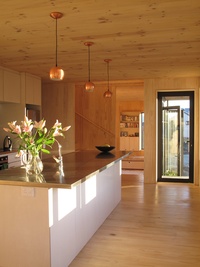 We formed Makers of Architecture to improve and develop a more efficient method of designing and building quality custom architectural projects using digital design and manufacturing tools. We wanted to consider the design and build process as a 'whole' as opposed to the more traditional model where those two roles are fundamentally disconnected.
Our design principles and methods are grounded by the continual need for increased flexibility and precision throughout design and construction, allowing for fast and efficient project delivery. This approach consistently engages with the 'act of making' as a productive means of testing and developing design and building solutions.
Can you explain a little about the background and role of Makers Fabrication?
We always intended that we would be an architectural company that built, tested and developed efficient ways of designing and making buildings. This intention become a reality when we officially formed Makers Fabrication at the beginning of 2015 – a building company to facilitate not only the construction and delivery of our own projects, but also to provide a digital manufacturing and prefabrication facility for the wider architectural and design community.
So far we have been fortunate to work with many other architects and designers delivering projects of varying scales. An example of this is our close work with Chris Moller at CMA+U, supporting the manufacturing and assembly of the click-raft system.
How did you find the funds to set up the studio and workshop and what did you learn from the process?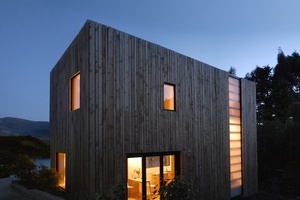 We were self-funded, so we took on a lot of risk but it also meant that we could maintain control of the two companies' directions. We learnt that the tools we needed to legitimately test, exercise and realise our companies' vision and mission were fundamental to our success. This could not have been achieved if we didn't have these facilities and tools on hand to support us.
What are some of Makers' current goals for the business? Have they changed since conception?
We want to see architectural design perform to enhance people's lives, and we want this to become more attainable and flexible.
With this in mind, the company ethos is fundamentally centered around the creation of environments that 'better' the environment. We consider this in very broad terms – from a sustainable, environmental, holistic lifestyle perspective – as well as from an operational perspective, where we look at how we as 'makers' function within the architectural and building environments and how we can generate productive change within the current methods of working in these industries.
Our goals going forward are always moving relative to project opportunities, but they involve continually increasing the number of projects we are building/delivering, and ultimately supporting robust growth that will see positive change within the industry.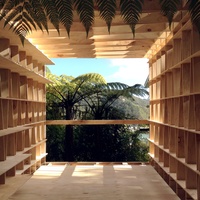 What current projects are you working on, and what are some future plans for the studio – do you want to get involved in larger or commercial projects?
We have many residential projects in the pipeline. They are speckled all over the country, from Northland to the West Coast of the South Island and vary in size from 55m2 to much larger family homes.
We are also involved in the planning and design phases of larger commercial and medium density projects. It's fantastic to see high-quality medium density sustainable housing models being integrated within these developments and providing an alternate housing model for home owners to consider.
Engaging with these larger scale projects has enabled us to work alongside other architectural practices and disciplines. It has always been a goal to work collaboratively with other designers, and having the tools and technology to facilitate various modes of working allows us to interact with many projects we wouldn't otherwise get the opportunity to be a part of. We feel very privileged to be in this position.
What are some exciting technological developments Makers are working on right now in the digital design/construction space?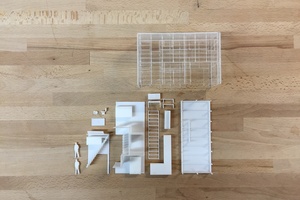 At the moment we're working on developing and creating software that allows us to exercise 'live pricing'. This technology is a method of obtaining 'material quantity' information that enables us to assess our designs for their cost efficiency.
This method of extracting data from the digital design model brings architecture and building closer together as the information allows us to share and communicate with one another with accuracy around the various components and costs involved.
What types of sustainable design principles and technologies do you utilise in your buildings?
Minimising waste is a big one. Through the use of CNC technology to manufacture components, we're able to 'nest' these components for material optimization, leaving as few off-cuts as possible. Basically, the computer programme chooses the most optimal arrangement for the components to be laid flat ready for CNC cutting. This method of automation saves both time and unnecessary material waste.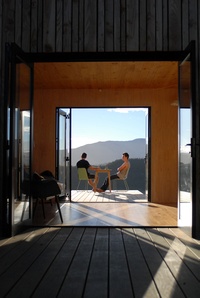 We also like to use local, sustainably sourced materials where possible. Timber products perform well for their carbon offset properties and we have used Cross Laminated Timber (CLT) panels for many of our builds and designs, as they are able to be CNC-manufactured, while also being locally and sustainably sourced.
While we engage with technological efficiencies to achieve sustainable results, basic sustainable design principles are also applied to our buildings, allowing them to maintain healthy and stable interior environments. Passive solar design, geographic orientation, ventilation, high insulation value, plus a strong connection with site, context and natural resources are attributes that we respond to in every project.
Financial sustainability requires spending more time at the beginning of the project confirming some of the unknowns, as this ultimately saves on time and material costs.
How do you structure your process after getting a commission?
We structure our architectural design and build process somewhat traditionally, adhering to the standard architectural project design and documentation stages, however throughout these stages, we communicate and consult with the build team around project design and assembly.
Understanding the project as a whole team improves the ability for us to continually improve our methods and systems, creating a productive feedback loop.
What are the benefits for the client in having their home built with Makers? How do your projects differ from other prefab homes?
Our digital processes (design and manufacturing) allow for 'custom' prefabricated builds, providing flexibility and surety around the timing, cost and project delivery, all of which are fundamental for our clients.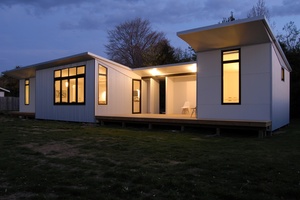 Another advantage is that we are able to take our clients from design conception to build completion; this is unique and allows for communication between all parties throughout every stage of the process.
Early engagement with the build team is a huge advantage, not only to obtain preliminary project pricing, but also to ensure that we all understand the design and assembly logic from the outset.
Where do you think New Zealand is at with prefabrication in general – what could we be doing better?
There are some great projects and companies working within the prefab space. We're lucky to have PrefabNZ as a representative body for off-site construction in NZ. They recently held their annual CoLab conference in Auckland, bringing together many facets of the prefab industry.
Events such as these facilitate valuable interdisciplinary sharing and networking, generating better connections and momentum for understanding the potentials and future of off-site construction both in New Zealand and globally.
To allow prefabrication to flourish, it would be great to see more investment in technology-focused research and development, while also supporting more skilled career training in this area. It would also be nice to see increased critical thought around the practices and potentials of digital design and manufacturing.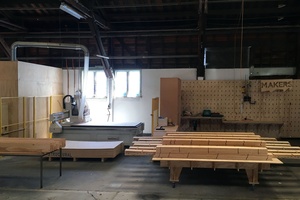 Lastly, are there any other creative projects you're currently working on outside architecture?
Yes, we are and have been involved in some installation-based experiential works – most recently a collaboration with Athfield Architects at PARKing Day on March 10, and a collaboration with Chris Welch for the Wellington LUX Festival coming up in May.
It's always wonderful to take part in these types of events, as it not only allows us to experiment and design to a completely different set of criteria, but it also allows us to push our technical and manufacturing abilities further, testing what's possible using design and CNC fabrication capabilities.
www.makersofarchitecture.co.nz