It could be said that a revolution in lighting is occurring. New technologies are changing the way we light up our homes, especially through clever connectivity and innovative designs to improve our well-being.
There are many design elements that affect the way people experience spaces within the home. Lighting isn't just about its illuminating function: thoughtfully considered lighting can personalise a space and even transform its overall look and feel. Incorporating beautiful, unusual or downright wacky lighting is actually an easy way to inject some character into a space, and it's relatively inexpensive to buy if you fancy a change later on.
The way we experience space is actually a course of study called 'experience design'. One expert, French-South African food designer and interior architect Chloe Morris, has spent a considerable amount of time watching the way people interact with spaces, all the while asking the question, "how does the body feel comfortable?"
Through her London-based Edible Stories business, she has experimented on the way people interact while dining and, as a result, chooses to light up her dining events mainly with candles. "I don't like white light; I mainly use candlelight," she explains. "I don't use artificial light because I don't think it has enough personality; there is something about the way candlelight reflects off people and objects and food – it has a magical element that adds to a space."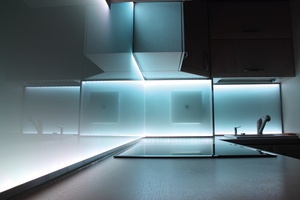 At the dining table (or in the bedroom), candlelight is a wonderful way to add drama and sensuality to a space; however, through new technologies and design concepts, in everyday life there are now a significant number of artificial lighting options that can also aid in transforming the way people interact with spaces in exciting ways.
These can include connected lighting, such as personal wireless lighting systems like Philips Hue, which is run via an app and improves security, room ambience and offers 'enhanced' entertainment, whereby lighting is synced with music or a film. The term 'human-centric lighting' has also been coined to explain how new light designs can actually enhance our well-being, and greener energy light sources can help us to achieve low-carbon lifestyles and much more.
While LEDs have been the force majeure within the lighting industry in recent years – creating an evolution in lighting with their warm, natural white light, longer lifetime and energy savings – in the future, integrated intelligent lighting systems will become far more prevalent. It also appears as though the humble light bulb will become obsolete with the development of LED sheets and organic LED (OLED) panels.
OLEDs are currently used to create digital displays in devices such as television screens, computer monitors, mobile phones, etc., but a major area of research is the development of white OLED devices for use in solid-state lighting applications, changing the very nature of the way we light our homes in the future. You can already purchase LED glass countertops, for example.
In the meantime, we look at some of the new trends in lighting, showcased at this year's Light+Building fair in Frankfurt.
Outside in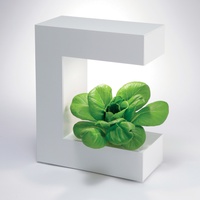 The ongoing push to bring more 'green time' into our lives was explored at this year's Light+Building fair. Some recent lighting products were created especially to incorporate planting into the home, even in spaces where there is no natural light; while others use recycled and natural materials to introduce elements of nature into an interior or to reflect aspects of nature, such as flowers and branches, as well as astral elements like stars and planets.
Omer Arbel, designer at Canadian-German company Bocci, creates beautiful handblown glass pendants containing hollows where plants can be grown, and his cloud lamps – 'Bocci 73 series' – have a celestial quality.
The 'Akarina' range from Olympia Lighting Fixtures Industries comprises attractive hydroponic lamps that grow vegetables on the benchtop using LED technology, and designer Duncan Meerding's lights are created out of recycled logs, where the light spills through the cracks in the timber. His 'propeller' lamp in Tasmanian eucalyptus is like a flower and can be positioned fully open or slightly closed.
Playhouse
Bright and tactile lamps go further than being purely decorative, they are marketed both for kids' rooms and for those who like colour and fun. Many were touchable and had an element of play to them. Some could be rearranged or personalised, while others brought about images of fairy tales and parties.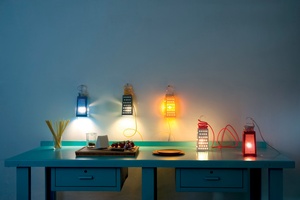 For example, in.es.artdesign's collections, 'Matt', 'Cacio&Pepe' and 'Be.pop' contain exciting objects to light up a room. 'Matt' comes in either concrete or blackboard. The blackboard can be drawn on. The shapes are simple: rounded or geometric.
'Cacio&Pepe' references the shape and cut-outs of a cheese grater – the light shines its holes, as well as spilling out the bottom. These hang well in groups or used as a benchtop lamp. 'Be.pop' are made from laprene, so the lamp appears porcelain but can be squished, and some have an interesting seam where the material is joined, and the cables are brightly coloured.
Memory balloon, by glass lighting designer John Moncrieff, appears to have floated up and under the ceiling. It is a classic that can be switched on and off by pulling the string. While the 'Angelpoise Original 1227 Giant floor lamp' makes any room feel like a doll's house – it's a familiar object but in a new scale.
Rough and beautiful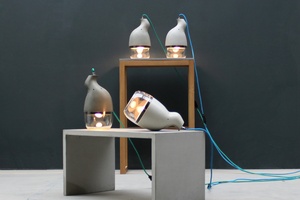 The texture and grit of concrete was celebrated at Light+Building, with several designers creating lamps that juxtaposed the roughness of the material in its raw form with soft, warm light. Concrete was used in place of stone or marble, reflecting the current trend towards industrial style in interior design.
German lighting company Concrete Home Design's 'Beton Lampens' are formed out of smooth concrete, with the texture highlighted by the warm light. The shapes, especially in the 'Idee Folle' lamp, are natural and skewed; while Studio Achim Manz's designs bring about ideas of planets and the moon, with the texture of the concrete illuminated.
Fine lines
Some great linear forms were created by light fixtures and fittings in Frankfurt. In particular, many designers carried lines around the edges of walls, creating either free-standing linear 'screens' or ceiling-mounted fixtures that continued onto walls or through doorways. They allowed track lighting to move away from the ceiling and become three-dimensional.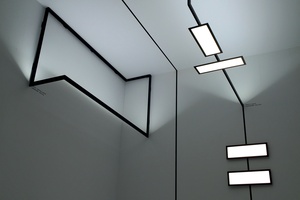 'Buschfeld O-light' by Danish designer Sebastian Herkner is a world-first in its use of OLEDs, which do not generate heat. The light moves from the ceiling across the wall, framing a space.
Trizo21 from Belgium's range of linear floor lamps are very simple but refined, no-frills-style lamps, while the ceiling fixtures, such as 'Austere-Elements', use thicker metal arms that shoot off from each other in angles to create a more playful linear form.
Flos's Architectural range, available at ECC, contains a series of LED fittings in different shapes, including circles that can be fitted to ceilings and walls, and lines that carry across walls and ceilings.
Moving light
Lights that move or can be moved were popular among fair-goers. Some had mechanics that created movement, while others could be moved by the user for visual effect or to direct light for specific tasks.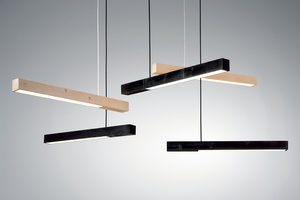 Artemide design's 'Les Danseuses' was the winner of the Design Plus Award at the fair. With lace 'skirts', it appears like a dancer twirling. Kinetic Lights displayed a whole range of bright and coloured lights on cables that moved to music – and were a real crowd-pleaser.
Kai Linke's 'Blasted' lamp, cantilevered from one end, has a cable that appears to be solid but is just a normal cable. The trick is in a weight that can be moved in the base of the cable to make the lamp tip up or down, or protrude straight ahead.
Connected homes
Smart home technology was huge at Light+Building, too. Entire model homes were created for visitors to walk through and experience the future of automated houses. These places could talk to your smartphone to find out when you're approaching the driveway and prepare your home for your arrival with heating or cooling and lighting.
If you locked your keys inside, these homes had systems that could let you in using your smartphone and a security system that recognises your face or voice. Lighting systems could be set for different moods and times of the day, with lighting coming on gradually in the morning to wake you up. 
THE FUTURE IS HERE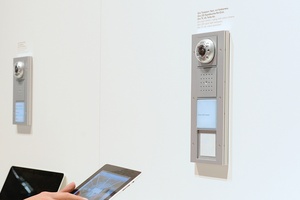 There are many recent technologies that are currently revolutionising the industry. Everything in lighting seems to be shrinking, resulting in ultra-small downlights, in-ground uprights, super-slim linear fixtures, as well as lowering the cost of materials during manufacture.
Camera technology is now so cheap that it is being used in lighting control because it is less likely to trigger falsely or switch prematurely when people are stationary – a problem that can occur with infrared, ultrasonic or microwave sensors to detect movement. Light fixtures are also starting to incorporate sensors not related to lighting, such as ambient temperature and air quality, which can be shared with other building services.
The latest smartphone technology works with lighting to locate people with 10cm accuracy within an indoor space. Once your building owner knows where you are, they can mine the data to create better services or, more scarily, interact with you to deliver real-time marketing messages.
Self-learning control systems is a concept for a device that learns its own settings in its thermostats. Pioneered by Google's Nest Labs, the concept can be adopted to enable the system to learn how a space is being used over time.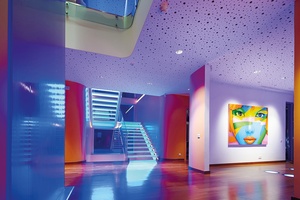 LEDs and the rapid growth of low-power devices mean that Power over Ethernet (PoE) bundles electric power up, along with data, on ethernet cables as part of a computer network, to both power and control smaller LED light fixtures.
Lighting technology may well even change the way we use the internet. Giving new meaning to the term 'faster than light', WiFi over lighting, known as 'LiFi', can transmit data 100 times faster than WiFi by modulating the light, so you can download a handful of movies in around one second. It works by pulsing the LED light at very high frequencies that are undetectable to the human eye and ensures faster and more secure delivery of information.
Experts aren't entirely convinced just yet as there are still a few hurdles to overcome, but LiFi is a bona fide possibility for the future.