Welcome to the Living House
Tucked away in a quiet corner of Auckland is a quiet little beach community called Beachlands. However, these days the once-sleepy suburb of Beachlands is going through a transformation only exceeded by the extreme transformation in Hobsonville in West Auckland.
Thousands of houses are currently being constructed in the suburb, mostly to Building Code. One of the exceptions is a project my husband Joel and myself have undertaken called the Living House.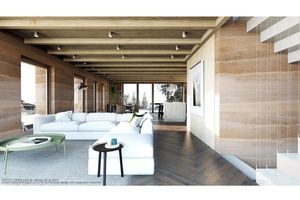 Designed by Collingridge and Smith Architects (with interior design by H Architecture), the Living House is a four bedroom, two-storey house with an attached single-storey one bedroom apartment.
The house will be made out of rammed earth with a low pitch green roof complete with solar panels. Rainwater tanks (50,000L) are being provided to satisfy both fire department regulations as well as provide the potable water for the house.
Composting toilets are also being installed, along with a grey water filtration system with subsequent dispersal into evapotranspiration beds.
The Living House is our family home and we have decided to target the 'trifecta' of sustainability rating tools: Homestar, Passive House and Living Building Challenge.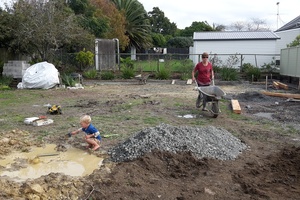 Homestar focuses on energy, health and comfort, water, waste, home management and material. We have already achieved a 10 Homestar Design rating and aim to achieve a 10 Homestar Built rating, the highest rating available.
Passivhaus certification focuses on energy efficiency and occupant comfort. This means that the house will use minimal energy for heating and cooling. This is achieved with super insulation, orientation to the sun, air tightness and very precise ventilation systems. The house will then be warm without the need for standard heating systems. 
Living Building Challenge-certified buildings are required to generate all their own energy, produce all their own water and collect, process and reuse or recycle all of their own waste water, amongst other things. These are very challenging targets, especially to achieve in an urban environment.
Traditionally, only buildings in a rural environment, (such as Te Whareou O Tuhoe in Taneatua and the Glenorchy Campground), where these types of challenges are more easily met, have targeted full certification. The Living House is aiming to be the first residential building in New Zealand to achieve Living Building Challenge certification.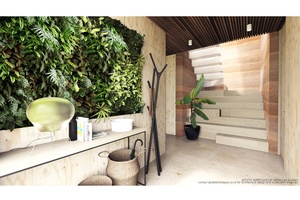 So, why take on all three at once? Well, someone had to be the first to target the 'trifecta' and we wanted that to be us. Strangely, we have found that targeting the 3 different certification schemes, rather than bringing about conflicts between each scheme, has actually enhanced the aims of each scheme as well as the overall design of the house. I think that we have actually ended up with a better house design than if we had only targeted one scheme.
Against the advice of our architects' (sorry!), we have decided to proceed with incorporating some costly design features into the house, including a roof top garden and basement wine cellar.
To help keep the overall project costs down, Joel has decided to ram the walls of the house himself and will be winging off to Canada in July to take a rammed earth course from SIREwall, who specialise in structurally insulated rammed earth walls.
We've decided to thoroughly document the process of designing and building our house as we want to show other people how to do it. We believe that a lot of people won't attempt these types of projects because they have the perception of it all being too hard, so we want to show that it isn't.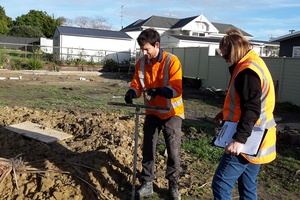 We also believe that once we have broken the path with Auckland Council, others should have an easier road. We are putting up all of our design and documentation on our website for people to freely download and copy, so they have an easier path to building sustainable homes.
The Living House has completed works on its subdivision Resource Consent and is currently working through an approval process with Auckland Council for a Discharge Consent for greywater discharge. We are expecting Stage 1 Building Consent to be issued by the end of June.
ArchitectureNow will be following the progress of the Living House, and you can also subscribe to the blog here, or follow the project on Facebook.