Sugar Lane Studio in Auckland's North Shore suburb of Birkenhead could be seen as the epitome of the modern workplace.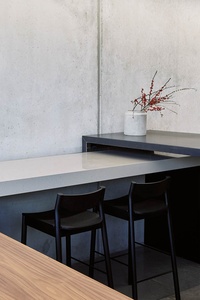 Rather than being created for a specific mode of work, the office is highly flexible, with the capability to cater to multiple work environments and host social events.
Created by Think & Shift for New Shoots Children's Centre, which does architectural builds and high-design fit-outs for the childcare sector, the space features a long desk that allows for different users to work in an inclusive environment.
This includes a standing desk that overlaps with the meeting table, explains Think & Shift Creative Director James McNab. "The bar leaner slides on a track system and the other table slots in underneath so that they can either extend from the kitchen and be used as a working space, or be used as a drinks table to cater to events."
A refined yet slightly industrial material palette of black and unfinished concrete is softened by the use of timber in one of the benchtops and in the base of the stools.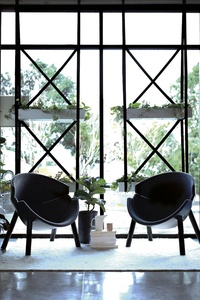 "We were trying to pare the space back as much as we could and leave it with some strong, bold lines, and also to create a blank canvas for the inhabitants' work to be displayed, with boxes for shelving and a raw material palette. The concrete is a nice aesthetic, which works well with the tone of the company. Desks can be moved to allow for different working modes, meetings and events," says McNab.
Think & Shift created the Hideaway Chair for New Shoots' childcare centres, a low chair that creates a comforting enclosure for children. This same chair in a larger, adult scale has been specifically designed for Sugar Lane Studio. Situated in the entrance next to some hanging planters, it softens the interior and provides a space for relaxation.