This year's Milan Furniture Fair brought together some of the best exponents of industrial design alongside the most innovative furniture brands. Below is a selection of our objects of desire from the fair.
From the Toasdstool collection by Masquespacio for Missana. missana.es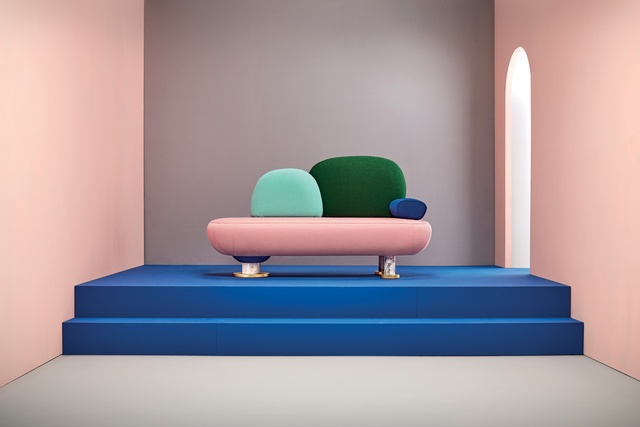 The Memphis design bang was unleashed in the Milan Furniture Fair over 30 years ago and began a revival of sorts in 2014. These chairs exploit some of Memphis' most revered elements: bold colours, geometries and a good dollop of postmodernism. The metals however, offer a glimpse at something else creeping into the style.
Solometallo by Nikita Bettoni for De Castelli. decastelli.com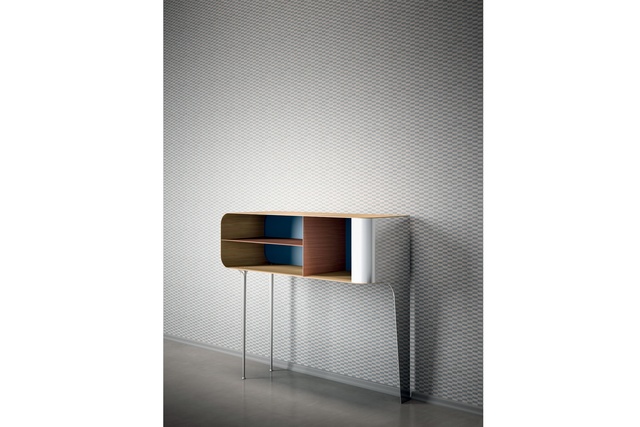 Frailty and asymmetry seem to find an unexpected balance and magnetism in this cabinet. Its materials: copper, brass and stainless steel illuminated with sparkling light give it a delightful, industrial je ne sais quoi.
Minima Moralia by Christophe de la Fontaine (for Dante Goods and Bads) dante.lu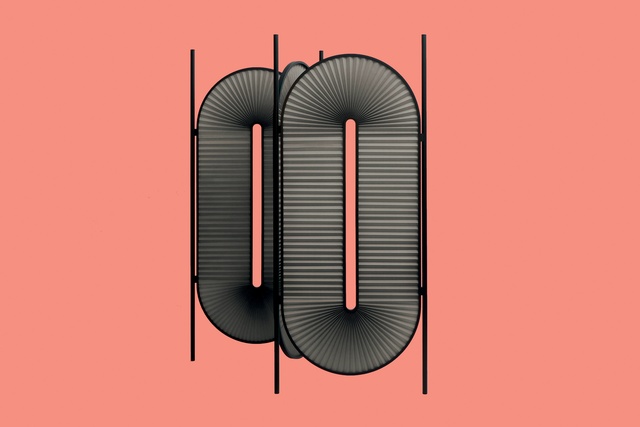 A structure of powder-coated aluminum serves as a delicate frame for pleated fabric. This divider seems to reference uchiwa (traditional Japanese rigid fans) with a touch of science fiction architecture.
By Grace Souky. gracesouky.com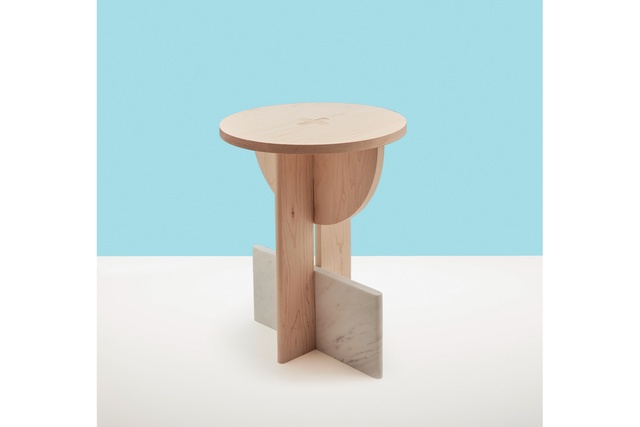 From the Planca series, a set of tables constructed out of planks of wood and marble and inspired by geometric shapes and puzzles. 
Connesso armchair by Caroline Eriksson. ikkionno.com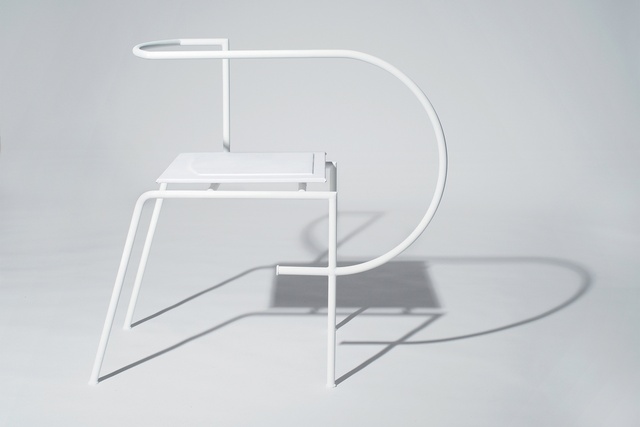 Although we can't attest to this chair's comfort, its boldness and flair is undeniable. Conceptually, it began as a criticism of "Le Corbusier and his hierarchic and fascist ideas of the pure modern city", but it also reads like a sculptural approximation at what 3D-printed furniture might one day look like. 
From Spectra project by Rona Meyuchas-Koblenz for KukkaStudio. kukkastudio.co.uk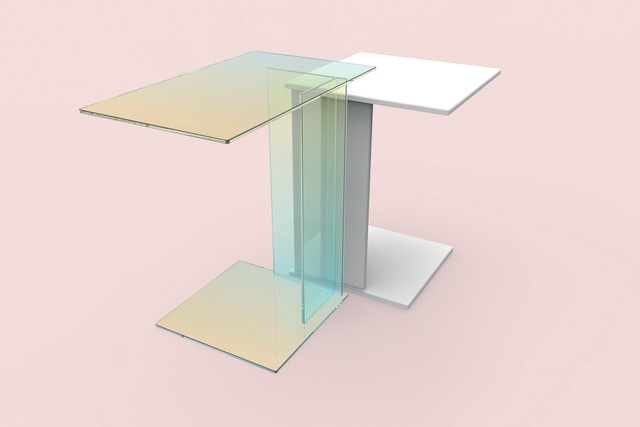 Following Milan's trend of coloured glass, this side table is made of dichroic glass and quartz and plays on reflections and refractions, as well as somewhat unbalanced shapes and colourful translucency.
Layers, by Nendo for Glas Itali. glasitalia.com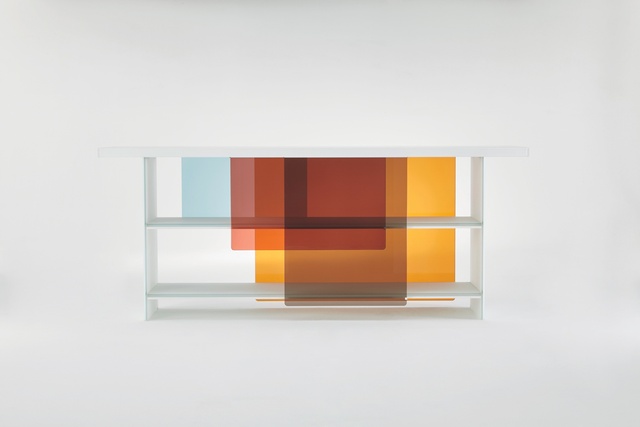 Piet Mondrian but without the clichés. This bookshelf in white matt creates rectangular layers of transparent, coloured glass that change according to their overlaps. 
Divider screen from the Credenza collection by Patricia Urquiola and Federico Pepe. spaziopontaccio.com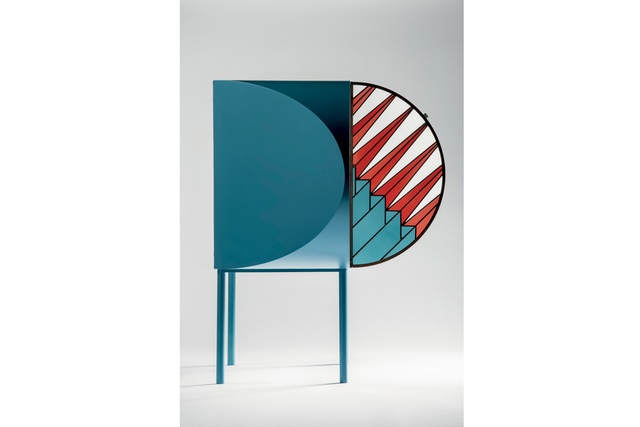 The millenary and sacred tradition of stained glass has been incorporated into this radiant and unexpectedly shaped room divider. That temporal tension along with the translucency of the materials make this an exciting and entirely contemporary piece.
Crest & Trough bench by Studio Michael Schoner. michaelschoner.de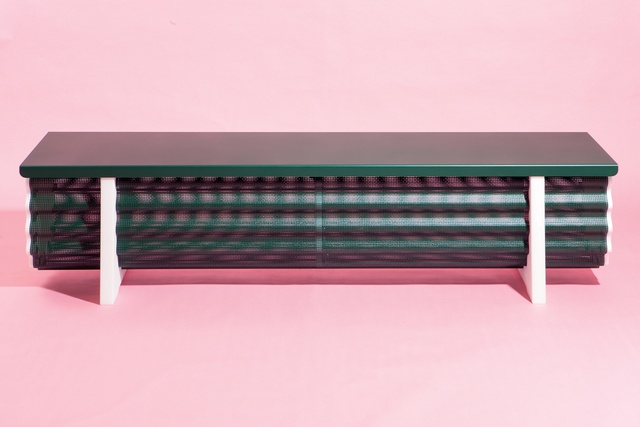 A bench that looks like an oversized construction material, chest, or trough. Its perforated corrugated steel and U-shaped legs are contrasted by friendly rounded edges and soft-white end caps.