Timber is an ancient building material and one that has been used widely across New Zealand for many years in the construction of residential buildings, but less so in the commercial building sector. However, this is quickly changing thanks to recent innovations such as Precast Seismic Structural Systems (PRESSS) technology, which utilises post-tensioned timber, and the more widespread usage of engineered wood components such as laminated veneer lumber (LVL), glue laminated (glulam) timber and cross-laminated timber (CLT).
These innovations enable timber construction to extend into areas not engaged before, in particular multi-storey commercial, public or residential buildings. New timber solutions, such as light timber framing, give designers more options than ever for mid-rise buildings.
One of the first multi-storey timber constructions in New Zealand was the Nelson Marlborough Institute of Technology, with architects Irving Smith Jack, engineers Aurecon and the University of Canterbury working in partnership to test some ground-breaking solutions. This sustainable timber seismic design was recognised internationally at the Institution of Structural Engineers UK's Structural Awards 2011 ceremony.
Carl Devereux, Aurecon technical director and lead structural engineer for the NMIT project, commented that the NMIT building demonstrated that sustainable multi-storey timber buildings that also ensure a high level of earthquake protection are not only achievable but affordable.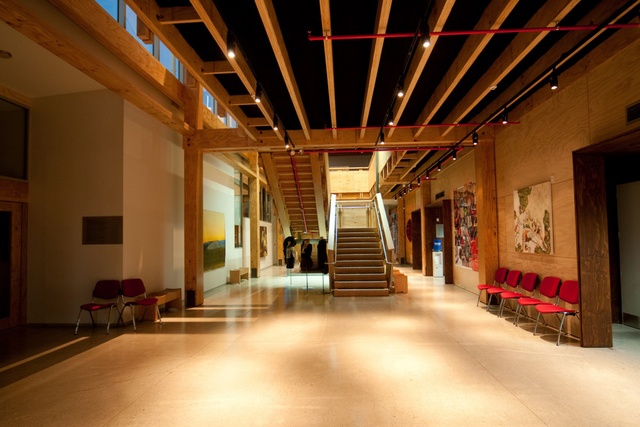 Kaikoura District Council's three-storey 'craypot' post-tensioned timber building was the first in the world to utilise shear walls made of CLT and LVL. The walls are 70 percent CLT and 30 percent LVL, and with the LVL being significantly stronger it was added to areas of maximum stress to provide added strength. Unlike most commercial buildings, there is no concrete in the flooring systems.
Constructed in 2014, the Kaikoura District Council is an example of an EXPAN building, which was researched and developed by a consortium at the University of Canterbury School of Engineering and uses raw material sourced from renewable, commercial plantation forest. Contract project manager Stuart Chadwick said the decision to use timber was not entirely related to the seismic and structural strength of the material; it was also about sustainability, "The hole I leave in the earth constructing this sort of building out of pine trees is nothing compared to the huge hole I would leave if I built this in concrete and steel."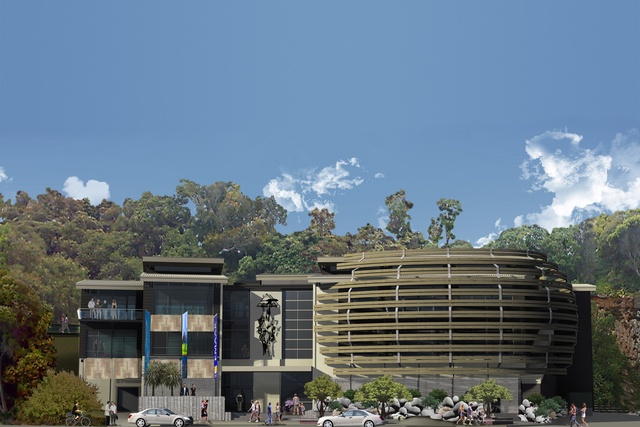 In Nelson, both Lucas House and the Upper Queen Street buildings have utilised timber to great effect, making the most of smart seismic structural solutions to create projects that are aesthetically pleasing, naturally ventilated and, importantly, earthquake-proof, thanks to innovative engineering and PRESSS technology. These buildings make a positive addition to the townscape while also being quietly successful in their use of structural timber technologies.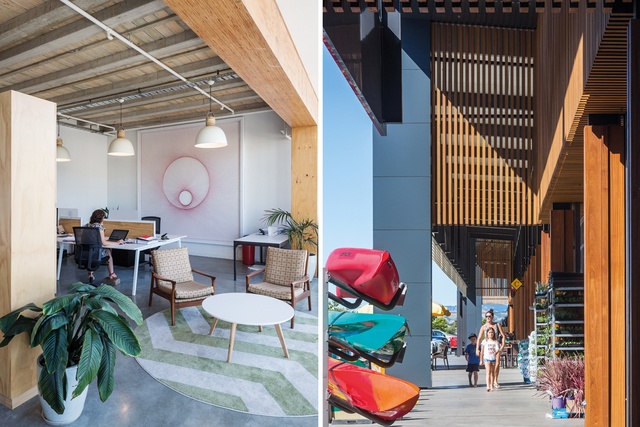 Wynn Williams House, finalist at the Resene Timber Awards 2015, is a new 6 storey building on the edge of Christchurch's CBD, replacing the 1930's lightly reinforced concrete 8 storey building known as St Elmo Courts. The structural design of Wynn Williams House combines base isolation and post-tensioned timber with concrete two way seismic frames. Construction of the bare post-tensioned frames was relatively quick thanks to prefabrication of the complex LVL box beams. Ruamoko Solutions have left the LVL beams partially exposed, giving an aesthetic appeal to the internal office space.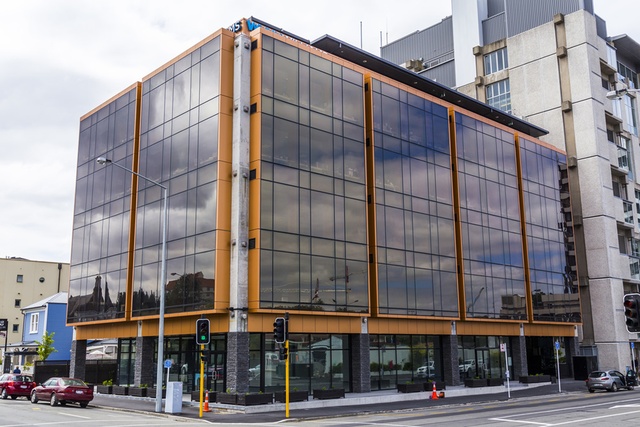 One of the most internationally-celebrated multi-storey timber designs in New Zealand presently is Young Hunter House in Christchurch. This Sheppard & Rout Architects' designed office is the first multi-storey commercial building to feature a self-centering LVL timber PRESSS technology performance-based structure. The building was so ground-breaking that the calculations, testing and performance reviews took place before the guidelines for the new technology had even been completed by the University of Canterbury. 
Tony Merritt, owner of Young Hunter House comments, "After the earthquakes, the biggest challenge was to rebuild in a way that would minimise damage and disruption while maximising safety. The final result is not only a structurally robust and safe building but, just as importantly, the exposed LVL system provides a natural, warm and reassuring element for those who use it."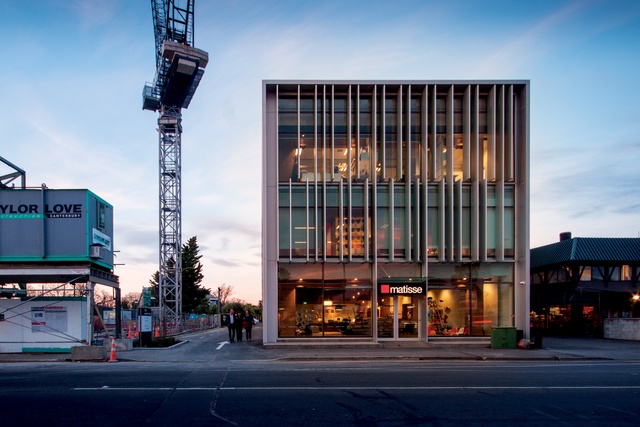 Cross laminated timber (CLT) is the latest addition to the engineered wood construction armoury, and it has been used quite extensively in Europe. The structural properties of CLT mean that it is easier for larger and taller structures to be built, such as in 2014, when Australia saw the first public CLT building open. At the 'Library at The Dock' in Melbourne, a library and community centre by Clare Design and Hayball, the utilisation of CLT and a range of other sustainable design features meant the building was awarded Australia's first 6 Star Green Star rating for a public building.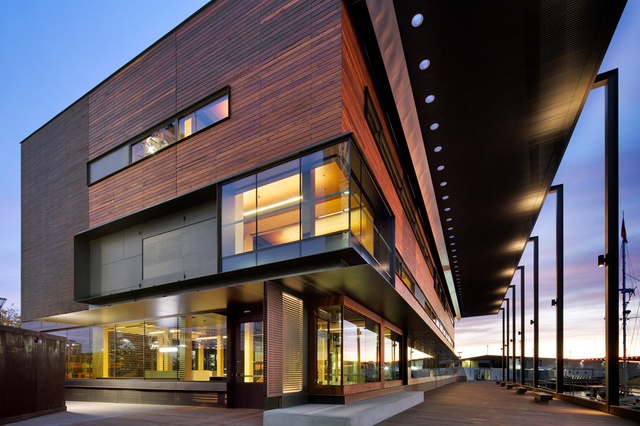 Further afield, the Puukuokka housing block is located in Jyväskylä, Finland. Designed by OOPEAA architects, it was completed in 2015 and is the first eight-storey wooden apartment building in Finland. Developed in collaboration with Lakea, Puukuokka is an energy-efficient trio of multi-storey wood-framed flats that are composed of prefabricated cubical modules made of CLT.
Puukuokka is constructed with prefabricated modules made of spruce that are fully prepared and finished in controlled indoor conditions. The CLT frame serves both as a loadbearing and stiffening element while also providing vapor barrier and partial heat insulation. There are fewer joints and less material is needed than in conventional timber buildings, and the presence of wood in the interior surfaces adds an element of warmth and quality to the living spaces.