Truth and meaning exposed
Photographer Paul Strand was a pioneering American photographer, whose work frequently captured architecture of the 20th century. Colin Martin reviews an exhibition of his work held recently at the Victoria and Albert Museum in London.
The American photographer Paul Strand (1890–1976) championed photography as modern art. Many of his pioneering innovations resonate in 21st century photography. Throughout his career he photographed architecture, including abandoned and derelict buildings, and architectural details.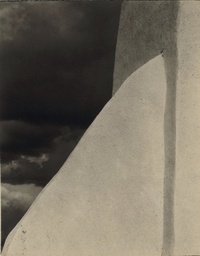 Wall Street, New York (1915) captures people walking to work in early-morning sunshine, dwarfed by the massive Morgan Trust Company building, which extends beyond the picture frame. It was among six images by his photographic mentor Alfred Stieglitz published in the journal Camera Work in 1916, who wrote "These photographs are the direct expression of today", marking a radical new direction for photography.
Strand also filmed the MTC building: a 16mm film, Manhatta (1921), made in collaboration with the painter and photographer Charles Sheeler, published evokes the modern metropolis's dynamic energy and the daily lives of its myriad inhabitants. White Fence, Port Kent, New York (1916), an exercise in pastoral rather than urban abstraction, is another highly successful early work.
Strand organised his composition via divergent diagonal lines and basic shapes, rather than perspective, and, in printing it, he exploited the full tonal range of white, black and grey. By focusing on the picket fence, rather than the home, it represents the restrictions of American society, as well as its aspirations.
During the 1920s and 1930s, Strand travelled widely, photographing Colorado and New Mexico, and Canada. City Hall, St. Elmo, Colorado (1931) is a cropped image of a weathered clapboard building in a deserted mining town. Its central door, flanked by paired double windows and surmounted by a curved roofline, hints at anthropomorphism, compensating for the lack of inhabitants.
Church, Ranchos de Taos, New Mexico (1931) isolates an adobe apse at the rear of an 18th-century building. The tonal contrast between the sunlit architectural extension and distant thunderstorm clouds has an abstract quality.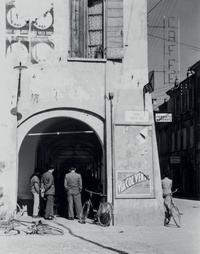 In 1932, Strand moved to Mexico, where he worked for the government, contributing to its efforts to rebuild a national culture after the revolution. Photographing labouring Mexicans, he embraced socialism and remained a committed socialist throughout his life.
Strand's last American project, Time in New England (1945), includes architectural details. Meeting House Window, New England (1945) is an ambiguous composition. When he photographed a shuttered 16-pane window, its interior surface was also reflected into his camera lens via a mirror hung on an internal wall.
In 1950, disillusioned by US anticommunist sentiment, he left for France, settling in Orgeval in 1955. His French shopfront photographs reflect his admiration for Eugène Atget's historical photographs. Strand produced photographic surveys of places and people in Europe and Africa, as well as in the US. His 1953 study of a single Italian village, Luzzara, is a notable example.
Published as books and photogravure portfolios, these surveys record the diversity of everyday life and the universal desire for social cohesion. He considered himself a "researcher using materials and techniques to dig into the truth and meaning of the world." What would he make of 21st-century computer-generated photography and animation? Most likely, very little indeed.
'Paul Strand: Photography and Film for the 20th Century' at the Victoria and Albert Museum, London, 19 March — 3 July 2016