Warren and Mahoney appoints Les Matthews to head its new Tauranga studio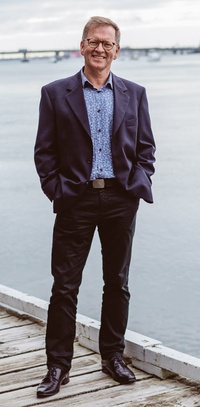 Award-winning architect, Les Matthews, has been appointed studio manager and senior architect at Warren and Mahoney's new Tauranga studio.
Les holds an Honours degree in architecture from the University of Auckland and a doctorate in architectural and urban studies from the University of Cambridge. He has worked on projects in the areas of civic, commercial, residential and urban design and has been involved in 35 celebrated architectural projects to date, including the new six-level Law-Management building at the University of Waikato which received an award at the 2017 Waikato Bay of Plenty Architecture Awards. 
Other high profile projects in which he has played a major role include the Science Innovation and Research campus master plan at Ruakura, a civic library in Te Awamatu, the Hamilton Transport Centre, redevelopment of the Hamilton airport terminal building at Rukuhia, and police and fire stations at Mt Maunganui.
Les is currently deputy chair of the Hamilton Urban Design Advisory Panel and is one of three architects on the Technical Advisory Group set up by the Tauranga City Council.
Les Matthews says Tauranga is extremely fortunate in that it has the bones of a truly great city. "Tauranga is a beautiful city set in an amazing environment. It has always had lovely views and many of the buildings have had some visual connection with the water but there is a wonderful opportunity to improve the urban environment itself. Tauranga is not unlike other cities in the world that are revitalising their central urban area within the confines of natural landform features."  
Les has relocated to Tauranga to lead the new studio team but will be working on projects from Tauranga, through to Taupo and Hamilton from the new location. The Warren and Mahoney studio is located at  76 Grey Street in Tauranga's CBD.