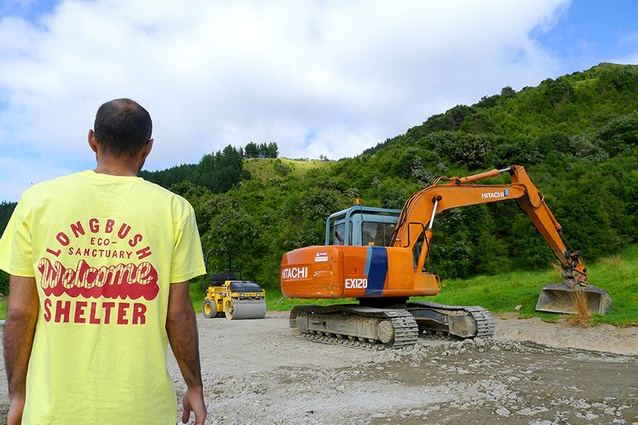 With the building consent in hand, site works for the Longbush Ecosanctuary Welcome Shelter have began. The road to the site has been put in and our great surveyors Grant & Cooke have set out the site for us. My focus for the upcoming weeks will be establishing the site and preparing for the assembly of the steel roof components in early January.
The past few weeks have seen lots of progress with the prefabricated components and in the logistics of getting all of this gear to the site. A special thanks to Weatherell Transport for getting all of our timber frames from Auckland to Gisborne in record time.
Our volunteers are a happy group at the moment as they cut particularly dashing figures in their custom-designed Welcome Shelter t-shirts. These t-shirts were donated by AS Colour and printed by Diffuse Screenprinters with a design by Steve HD Kirby. They look great on site! Thanks to everyone who made it possible to thank our volunteers for their hard work in this way.
I'm also pleased to announce that I have been awarded the AMP National Scholarship, worth $10,000, which will be put towards the final costs of the Welcome Shelter! Over 2600 people applied for these national scholarships and I am so proud to have been selected as a winner. Other winners included a researcher using echo-location to assist the blind, a 12 year old squash champion and an inspirational couple who provide food assistance to those in need. So, as you would expect, I'm chuffed that we were considered in the same league.
The Longbush website is also sporting a new Welcome Shelter page with text written by Dame Anne Salmond. Click here to read more.
And finally, a special welcome to our new sponsors, the Logan Campbell Residuary Trust and the Lion Foundation. With these new supporters the team has reached a total of 67 organisations and I am overwhelmed by the support and patience you have all had for the project over the past months. Together we are on track to create something really special for ourselves and future generations, in a way which has never been done before in New Zealand.
The Longbush Ecosanctuary Welcome Shelter is a community project developed by volunteers with the generous assistance of the following organisations:
Abodo Elements Timber, Fabric Structure Systems, Locker Group, Huhtamaki, Chartwell Trust, Mico Design, Otahuhu Engineering, Gib, Ecoinsulation, Thermakraft, Fletcher Easysteel, Calder Stewart roofing, IMO, Ecostore, Macdonald Industries, Metroglasstech, Devan Plastics, Nicks Timber Joinery Ltd., BioLoo, Plytech, Graeme Swan, Rosenfeld Kidson, AGM, Weatherall Transport, IPL, SnapIT HD, Grant & Cooke Surveyors, One Steel, Diffuse Screenprinters, Sika, Corporate Culture, Goldsworthy, KiwiSpan Gisborne, Holmes Consulting Group, LDE, Gisborne Bunnings Warehouse, Emmerson transport, Francis Yates Builders, Graham Ball Builders, Monkey Toe, FL Bone, CNC Pro Cut, Tumu ITM, Holmes Fire, Architectural Metalformers, Anzor, Red Stag Timber, Rosser Foundation, Greenpeace Educational Trust, CSP Coatings, AS Colour, New Zealand Steel, Design Denmark, Kukatai Transport, Peter Fell, Jukes Carriers, Pryda, WOCA, Resene, Stephen Kirkby, Gisborne Bunnings Trade, Salmond Reed Architects, Sarosh Mulla Design, Lion Foundation, AMP Scholarship, Mill Space, Logan Campbell Residuary Trust, Allied Work Force, Space Wise.