Westmere Kitchen by Dorrington Architects & Associates
Architect Tim Dorrington's clients needed more space in their Westmere home. The house is on a nice section, but had very little connection to it and the existing kitchen and living areas were taking up space that was needed for additional bedrooms.
Dorrington looked at the house and decided that its structure was good and would be suitable for the bedroom and bathroom spaces but wasn't large enough for the kitchen, living and dining as well. A new pavilion in the backyard solved the space problem and connected the living areas to the section. Budget allowing, there may be a second stage that would involve removing the original house and constructing an extension of the pavilion.
The brief for the new kitchen was for a family-orientated space with some things on display rather than everything hidden away in cupboards, and a rich variety of materials and colours. This was achieved with the mix of tiles and cabinetry materials. It needed to be able to function as a social space as both the clients like to cook for and entertain guests. The island bench creates an informal sitting space for guests to be while food is being prepared.
The cabinetry is made of Okouplex, a sustainably milled and managed marine ply. It links the kitchen area to the other spaces that make up the pavilion – the dining and living room. The tall cabinet is the kitchen pantry and houses a pull-out desk and office space, and on the back side it functions as a television cabinet, bookshelf and general storage cupboard. It also serves to screen the kitchen area from the others without completely separating it – as a wall would do.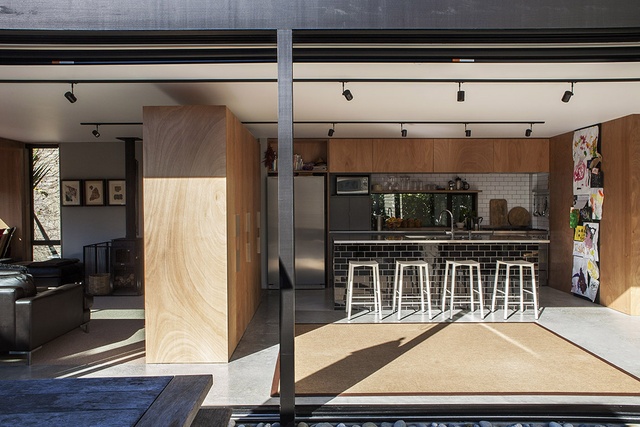 Dorrington wanted to articulate the different spaces within the pavilion so that each section can be used independently, but there is still an openness and easy connectivity between the spaces. A second structure – that was the garage – is now a flexi-room. This sits on the northern edge of the site and can be used as a playroom, spare room or office. This room can be seen clearly from the kitchen, so that the clients can keep an eye on the children playing in this area.
This is a small-scale project where careful attention to the clients' space requirements has resulted in a warm and user-friendly space without sparing good looks