David Hayes says managing complexity with simplicity is the only way to improve the quality of building envelopes.

In an industry fixated by low price, the risk of unsatisfactory facade performance is being transferred from architects and engineers to the main contractor and the client to create personal accountability and liability, instead of facade engineering experts.
Ten years after the report of the Overview Group on Weathertightness of Buildings, generally referred to as The Hunn Report, New Zealand still has a poor track record in the delivery and durability of facade solutions, which perform their required function. This was highlighted recently by David Kernohan in his October 2012 New Zealand Herald article entitled 'Industry yet to nail down its flaws'. On specific design projects the architect and structural engineer hold prime design responsibility for the delivery of an end product that complies with the New Zealand Building Code.
The architect is responsible for the design, outline scope of work, and specification of the cladding solution and has a duty of care to co-ordinate the specific performance features required of the selected system with the other specialist consultants. Generally there is then a transfer of design responsibility onto the specialist facade subcontractor/s as part of the general tender process. Often that specialist subcontractor is selected by a different party, the main contractor, based on presentation of the lowest tendered price. If facade systems were simple, this would not be a problem.  But we do have problems due to the complexities involved with specific design facades.
Effectively communicating the complexities of each project's cladding solution is critical to achieve a successful outcome. This includes communicating all the design, detailing, manufacturing and construction tolerances, material handling, and on-site installation junction intricacies to a cross-section of stakeholders. Other complexities involved with specific design facades include environmental factors that impact design including snow loading, water/vapour barriers, ventilation and drying, thermal insulation and solar gain among many others. These issues all need to be proactively managed.
It is challenging to get things right given the complexity involved and range of skillsets required throughout the whole process. This level of complexity is still clearly underrated within the building industry. It is generally accepted that construction has lagged behind other industries in productivity improvements for the better part of the last century, due in great part to the lack of investment and stability of employment due to workload fluctuations within an industry fixated on low cost (until problems arise). Just doing it right the first time would save a significant amount of money!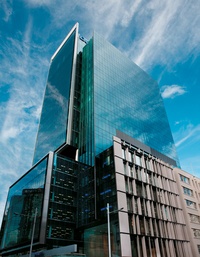 Using total clad integrated curtainwall technology manages complexity within one trade, thereby minimising junctions and manufacturing /installation tolerances between trades, which, in turn, manages risk. Unitized engineered cladding systems have been developed around a modular fabrication strategy, aimed at improving productivity and quality with factory controlled production conditions. 
Extruded aluminium structural frame members are fabricated (cut to length, drilled, notched by computer numerically controlled (CNC) machinery) very accurately to ensure quality of fit, weathering of joints and load transfer. The ability of curtainwall systems to incorporate thermally rated rigid air barriers and virtually any infill panel material; composite ACM, zinc, stainless steel, solid aluminium, natural stone, terracotta tile, and/or an extensive range of glass products, which can extend to integrate the support of external feature fins, solar shading, cable nets, walkways and blinds, thus managing interface complexity.
The risk of earthquakes is not going away; it is a clear code requirement for cladding systems to accommodate any building movements resulting from seismic events, and provide ongoing performance to sustain economic viability after such an event. By transferring the risk to engineers or contractors who are not facade engineering experts, and who do not fully understand the limitations of the chosen cladding system, durability and ongoing performance of facade systems cannot be successfully achieved.
Managing complexity with simplicity is an undervalued principle in the design of specific design buildings. As a general rule, cladding systems are valued at around 10 per cent of the total construction cost, with the addition of a safety factor of one to two per cent (which equates to 10-20 per cent of the cladding element) you can manage a lot of downstream performance risk (life cycle cost) for this premium.
Quality is remembered long after price is forgotten.