Winners: Resene Total Colour Awards 2017
Twenty-six colourful, creative projects were celebrated at the Resene Total Colour Awards 2017, held on Wednesday 30 August.
The Resene Total Colour Awards were launched to encourage and celebrate excellent and creative use of colour; to showcase striking colour palettes and combinations and provide fresh inspiration.
Sumptuous and rich Resene colours that led visitors on a journey from Te Po (The Darkness) to Te Ao Marama (The Light) have won Tuturu top honours this year. Darryl Church took home the Lifetime Achievement Award.
Full list of winners with jury citations below:
Resene Total Colour Master Nightingale Award
Tuturu by Sandy Adsett of MTG Hawke's Bay
"With a wide range of colours so beautifully chosen to work with each other, this exhibition warmly welcomes you in. The colour frames each artwork and draws you in for a closer look to appreciate each piece's individuality. It's a very sophisticated departure from normal gallery treatment. The colour brings out the best in each artwork, making each the star of the show."
Resene Total Colour Maestro Nightingale Award
Harewood Underpass by Mike Thomas of Jasmax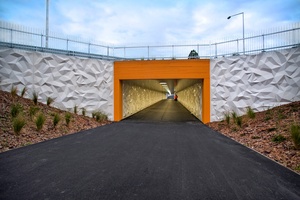 "This entry was a favourite – the shadow, light and colour – play so perfectly together. Underpasses are usually thought of as spaces you don't want to visit, but not this one. This underpass is truly one of a kind and shows you what a difference design and colour can make to what could be the most mundane of practical spaces."
Resene Total Colour Commercial Exterior Award
Harewood Underpass by Mike Thomas of Jasmax
"With faceted shapes inspired by the mountains and a wonderful play of shadow, light and colour, this underpass is nearly more art installation than underpass. This project creates a new vision of what underpasses can look like, banishing the normal dull grey in favour of an inspiring space that is worthy of a visit just to make the trip through."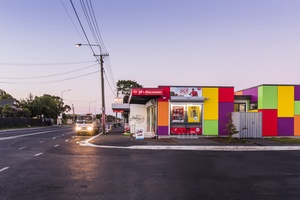 Resene Total Colour Commercial Exterior Colour Maestro Award
Hills Road Dairy by Dalman Architects
"Who would think a dairy could look like this? It takes a brave team to ignore the norm and create something unique. Moving away from the sombre colours and wall-to-wall advertising usually seen on dairies, this project is inspired from the inside out. Bright, bold and irrepressively cheerful jellybean colours are introduced in a blocked Mondrian way."
Resene Total Colour Commercial Exterior Colour Maestro Award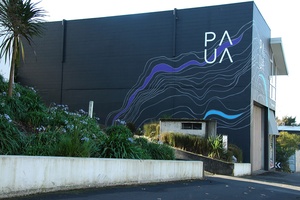 PAUA re-branding by PAUA Architects
"Telling the brand story in imagery and colour makes this project ever the more memorable. The brand is not just placed on the building, but is wholeheartedly wrapped around it. The colours are reminiscent of the flow of a river as it meanders along and a clever interpretation of the interior of a paua. It's lovely, whimsical and a perfect reflection of the creativity that lies within."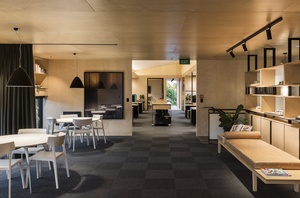 Resene Total Colour Commercial Interior Office Award
SGA Studio & Workshop by Dave Strachan & Brad Pearless of SGA (Strachan Group Architects)
"Colours and coatings are paired together on this project in a highly crafted and robust way. The beautiful detailing and uncomplicated colour palette is warm and welcoming, with a sense of space that invites you to think deeper. Eschewing the clutter of many offices, this project provides built-in breathing space."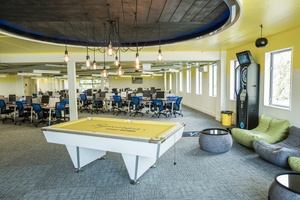 Resene Total Colour Commercial Interior Office Colour Maestro Award
Call Centre Fitout by Mary Jowett and Carolin Friese of Mary Jowett Architects
"Working with an existing tired space, colour was used as a hero on this project to bring the space to life. A once grungy area has now become a fresh, light and optimistic space. Life in a call centre can be high stress. Bringing in uplifting warm yellow gives staff a fresh hit of energy when they look skywards, providing a soothing atmosphere and helping with memory."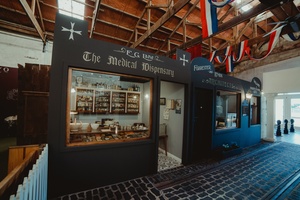 Resene Total Colour Commercial Interior Retail + Public Award
Whitestone City by Annabel Berry, Design Federation
"An extensive palette of colours is carefully wrapped into this project to celebrate antiquity and support the story telling of history. The colour palette brings a richness to the exhibition that couldn't have been achieved with duller antique shades. With such a wide colour range, it would be easy for the elements to compete, but instead they all come together supporting each other, gently evolving as you move through."
Resene Total Colour Commercial Interior Retail + Public Colour Maestro Award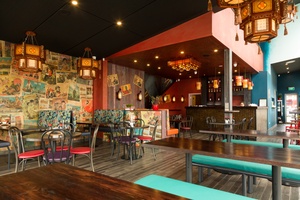 Shanghai Street Dumplings by Element 17
"The slightly chaotic design and colours brings a lively taste of Shanghai and a sense of haggling with vendors at the local markets to diners. The décor is carefully collected, with attention to detail to ensure all elements are authentic to the experience to complement the menu. The colour scheme is clashy but fun, the perfect backdrop to a fun night out."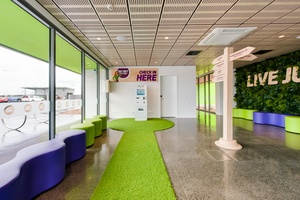 Resene Total Colour Commercial Interior Retail + Public Colour Maestro Award
"Crisp, fresh and clean, like a crunchy apple, this project has used colours with zesty appeal. Incorporating the Jucy brand colours, there is no mistaking where the colours hail from for instant brand recognition. Their use is reinvented to perfectly respond to the market of young travellers. The neutrality of space highlights the brand colour and provides space and a sense of anticipation for things to happen."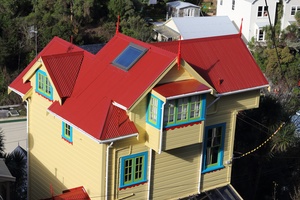 Resene Total Colour Residential Exterior Award
The Fairy Tale House by Daphne Carvalho
"This home is a celebration of colour and the fairy tale home young children dream of. With an oddly shaped design to work with, most would simply use paint to camouflage. Not on this home. The palette is brave and whimsical, with a sense of opening a child's paintbox for the first time. Cheerful and fun, this colourful home is guaranteed to bring a smile."
Resene Total Colour Residential Exterior Colour Maestro Award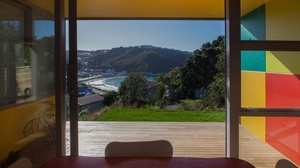 Spitaki House by Lovell & O'Connell Architects
"This colour palette is inspired by the Michael Smithers' artwork, which uses colours as musical notation. Wrapped into a more neutral exterior, it's like a bold jewel box that is enjoyed by its owners. The hue on this home's exterior provides a gentle halo glow of yellow to the interior. It's a warm and inspired use of colour."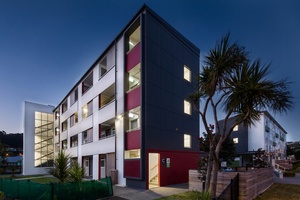 Resene Total Colour Multi-Residential Exterior Award
Kotuku Flats Upgrade by Opus Architecture
"When you're working with a multi-residential exterior, placement and quantity of colour is often as important as the colours chosen. This project has a restrained use of striking colour, with a Mondrian use of geometric forms that allows bold use of colour to be juxtaposed against a more neutral backdrop. Well integrated and welcoming, the colour is placed to perfection."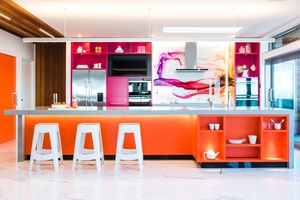 Resene Total Colour Residential Interior Award
Hill House by Neil Fenwick Architects
"With a colour lover as the owner, this project needed to truly embrace colour. It has not only embraced it, but created such a rhythm of colour, it just makes you want to dance. Sunbursts of colour provide an explosion of colour. The vibrations of colour and the organic design of the splashbacks are energetic and motivating. Cooking will never seem like a chore again."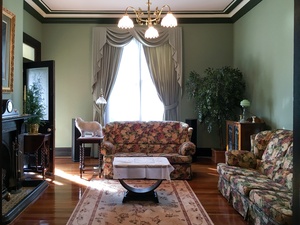 Resene Total Colour Residential Interior Colour Maestro Award
Victorian and Heritage Interior by Flow Colour and Design
"A classic heritage project, this home has been intricately handled with precise attention to detail. In true Victorian style everything is picked out, but not in the colours you may expect. Forgoing the common neutral or very deep palette, this home embraces contrasting warm colours, with stronger hues to accent. Appropriate for its era, this home's colour palette is full of personality yet respectful of tradition."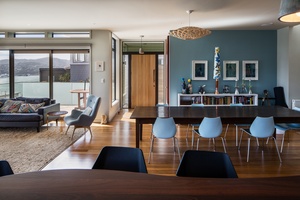 Resene Total Colour Residential Interior Colour Maestro Award
Crescent Home by John Mills of John Mills Architects
"A lovely palette of soft relaxing colour gently flows through this home. Washed tones and natural inspired hues bring an instant sense of calm, juxtaposed with the natural grain of timber. These weathered colours soften the strong light and provide a haven away from busy city life. This is a home of colour that brings the best of nature indoors."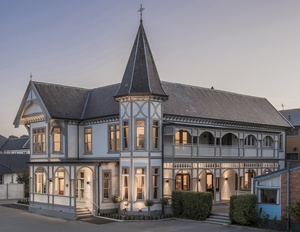 Resene Total Colour Heritage Award
Acland House by Dalman Architects
"This project is a grand building handled with confidence and beauty. The colours are empathetic to the architecture, yet still appealing to the students that use the space so that they too appreciate that heritage is worth saving. The restrained colour palette is thoughtful and respectful of the building, which deserves survival."
Resene Total Colour Neutrals Award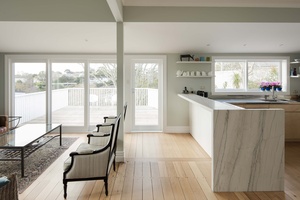 Bassett Road Renovation by Emma Morris and Lucy McGillivray
"Most see neutrals as the easy option, but choosing the right neutral colours can really make a home sing. Interesting shadowing and light in this home play with the neutral palette, adding an extra layer of interest. This home is simply beautiful in neutral – with a soothing and calming ambiance that many homeowners would love to have in their own home."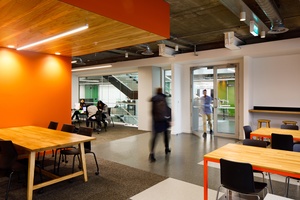 Resene Total Colour Education Award
Victoria University Business School: Rutherford House Redevelopment by Sophie Vial, Athfield Architects
"Colour interweaves its way through this project, linked back to a purpose of locale. It's a sensitive use of colour that befits an historical precinct and supports the strong purposeful architecture. The palette invites you in and encourages you to explore and spend time enjoying the spaces and as you move around there are new colour features and areas to discover."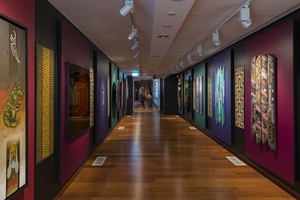 Resene Total Colour Installation – Experiential – Product (Interior) Award
Tuturu by Sandy Adsett of MTG Hawke's Bay (Also winner of the Resene Total Colour Nightingale Award)
"Wow! The colours in this installation are striking and sumptuous. Each colour has been coordinated to work with the artwork displayed upon it, encouraging you to stop and truly take in each piece of work. The rhythm of colour slows you, a calming influence on a space you might normally rush through. The warm hues bring the sense this is the interior of a Maori meeting house."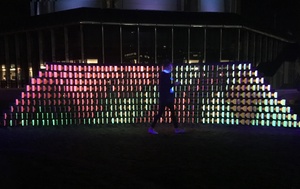 Resene Total Colour Installation – Experiential – Product (Exterior) Award
Passing Me By created by Makers of Architecture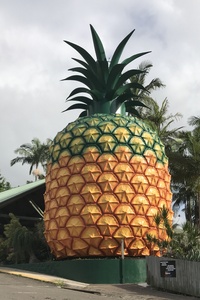 "Created for the LUX festival, this project plays to the darkness. Usually paint colours would be lost to the darkness, but using blacklit fluoro paint, this static installation appears to come to life as the night descends. A very engaging installation that you just want to be part of and a beautiful use of colour."
Resene Total Colour Landscape Award
The Big Pineapple by Vicky Pattison of Art of Crazy
"The sheer scale of this project combined with the attention to detail needed to transform a huge grey shape into an instantly recognisable pineapple is spectacular. This project has been given a new lease of life with a beautiful application of colour and paint technique. It's an impressively artistic and authentic use of colour on a local icon."
Resene Total Colour Landscape Colour Maestro Award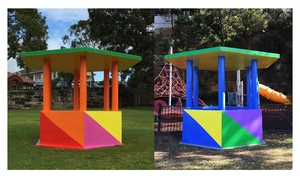 Kesterton Park Community Project by Zena O'Connor
"Taking inspiration from the environment, this project embraces the colours of international maritime flags to connect the park to the harbour that laps gently at the shore. Like follies in a garden, the bright colours draw you in to picnic and enjoy the spaces. Glossy and colourful, this project adds a sense of fun and excitement."
Resene Total Colour Rising Star Student Award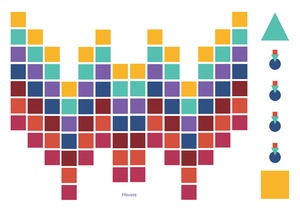 Architecture of Wearables by Chae Yun Christine Park
"An intriguing concept with a very direct and practical use, paint becomes an adornment for everyday wear. Harnessing geometric designs, this project explores how colour and shape can be used to change the mood of the wearer. A fascinating insight into how colour and shape can add power to your day and to your mood."
Resene Total Colour Rising Star Student Colour Maestro Award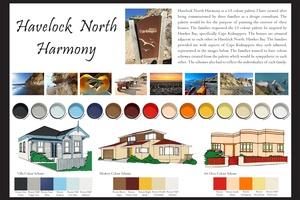 Havelock North Harmony by Louise Hammond
"Creating a colour palette for a mixed neighbourhood, each family with its own intricate back story, requires the ability to truly hone into what is important to each homeowner and design a colour palette to suit their lifestyle, their personalities and their home. The colour schemes also need to work in harmony with each other. This project has achieved both and is a careful and indepth exploration of colour, beautifully presented."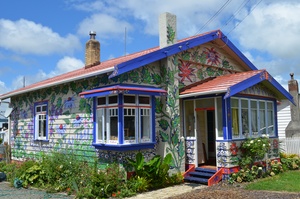 Resene Total Colour Creative in Colour Award
Morningside's House of Flowers by Brigid Sinclair
"Charming, enchanted and incredible, this home looks like it has grown out of the garden. Originally started as just a little creativity on the front of the home, with positive feedback and growing confidence, the artwork has grown to cover this home. It's become a local landmark, a striking addition to everyday suburbia. Created with paint alone, it's a fabulous showcase of the difference you can make with paint, colour and imagination."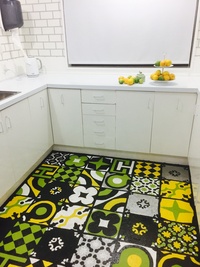 Resene Total Colour Creative in Colour Maestro Award
Lemons and Limes in the Kitchen by Sally Pulham
"What would most of us do with an old floor? Rip it out and start again. This project embraces the age of the floor and uses that to tell the story. Using citrus hues, the zesty colours add a freshness to this floor and kitchen. Each section was carefully painted and left overnight, creating a daily moving maze for this home's inhabitants to move around. A labour of love, it's a reminder to us all, that patience, paint, colour and a creative idea can be transformational."
Lifetime Achievement – Darryl Church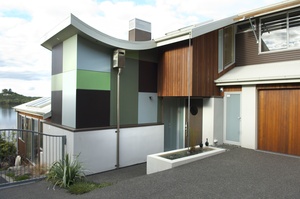 "Darryl doesn't just apply colour to a project, he interweaves it into the design, so that the design and the colour become inseparable. His placement of colour is always so precise, so carefully crafted. Rather than relying on vast planes of brights, Darryl applies the colours he chooses in such innovative ways that the colour itself is amplified, as are the surrounding materials.
Who could forget the impactfulness of the green Resene Impromptu peeking out through the timber batten walls of the Waiariki Institute of Technology Health + Science Building? Darryl won his first Resene Total Colour Award the first year the awards ran with his Youth Centre Project. We've had the privilege of seeing many colourful projects from Darryl Church and we look forward to seeing many colourful more."
For more information on the awards, see the Resene website.